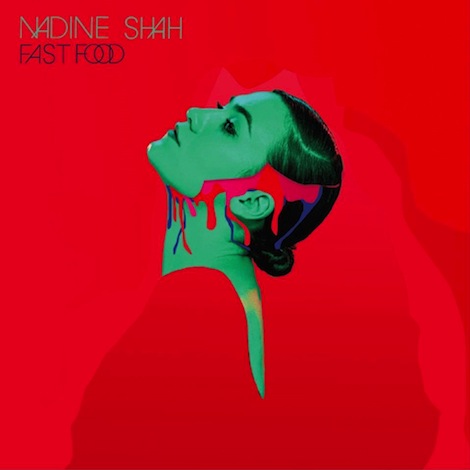 Last month, when Treble hosted a roundtable on our favorite unofficial genres, I brought up the enigmatic Nadine Shah in my discussion of "cerebro-pop." So it's only reasonable that she merits some recognition for her own genre-defying new album, Fast Food. Like almost every post-punk revival band with a female singer, Shah is heavily influenced by Siouxsie Sioux. But while most artists only latch onto one element of what Ms. Sioux does, Nadine draws influence not only from the post-punk goddess' vocal affectations and showmanship, but her knack for songwriting as well.
The album benefits greatly from Shah's rich alto belt. "Matador" finds her vocals in a league with with Antony Hegarty, and her knack for melodies holds down the song. "Divided" puts her in more conventional singer/songwriter territory, and the line "I didn't ask you to need me" is sung with an abundance of emotion, leaving ears raw and tingly as the guitar enters. This minimalist singer/songwriter direction continues on "Nothing Else to Do." Vocally, she doesn't have a spotty moment on the entire record. At time her voice goes in a direction closer to that of kd Lang than Siouxsie, and it explores varied shades of gray, like on "Nothing Else to Do," as her tone becomes more reflective and lighter. Once the stun of her voice wears off, and you begin to break down the actual songwriting, it's her ability to convey emotion that is the album's most compelling quality.
"Stealing Cars" is the first single that drew me, and it's one of those songs that keeps hooking you in for listen after listen. She uses odd instruments like steel drums to add organic elements into the sonic pictures she paints. The track also spotlights her ability to harmonize with herself. The album's production is rich in the use of vocal layers. There is an almost Radiohead-like style of indie rock to the guitar to "Washed Up," and a dark, dreamlike melody. She continues to dish out more indie-rock-flavored fare on "The Gin One," which is one of the more upbeat moments on the album. When it comes to songs with sparse accompaniment "Big Hands" holds its ground the best, with a sensuous melody that drips over the effects that swell into actual instrumentation. "Living," which closes out the album, has a strum to it that echoes PJ Harvey, and is a little more straight ahead than the other songs on this album. There is an interesting tone to album that juggles an androgynous longing in her lyrics and their delivery. It's the rare album that can cycle on repeat all day, and remains fresh with each new spin.
Similar Albums:


Celebration – The Modern Tribe


kd Lang- Watershed


Bat For Lashes – The Haunted Man