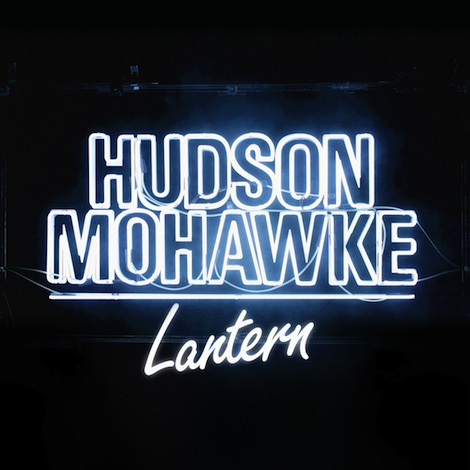 Lantern, the second album by Scottish producer Hudson Mohawke, gets off to a surprisingly slow start for an artist known in large part for his bombastic sounds. After a buzzing, static-laden intro title track not dissimilar to the opening 20 seconds of Yeezus (to which Mohawke contributed), first single "Very First Breath" seems like a miscue. Maybe it's just a poor choice of vocalist, as guest Irfane's voice—either through poor technique or manipulation—sounds thin and awkward, but even with steady beat it doesn't set the table well for the progression of the record.
Fortunately, the real beginning of the album is immediately after that, with "Ryderz." Mohawke has spoken about how he doesn't want to be pigeonholed as a rap/modern trap producer, but…well, he kind of does his best work with a hip-hop template. "Ryderz" uses an utterly gorgeous D.J. Rogers sample as the foundation to support a body of wildly blaring synths and skittering hi-hats. It's a mixtape rapper's dream, as is the similarly executed "Scud Books," the latter of which will sound particularly great to fans of TNGHT, Mohawke's collaborative project with Lunice. Despite the misstep of "Very First Breath," on a whole Lantern actually succeeds fairly well as a showcase of Mohawke's interest in a more diverse sound.
Consider how he follows up "Scud Books" with a run of vocal tracks (two of only five on the 14-song album). The first, "Indian Steps," is an extremely subdued ballad anchored by Antony Hegarty of Antony & the Johnsons. Its only loudness stems from the steady boom-bap drums as Antony whispers pleas to a long-gone lover or friend in his inimitable croon, and Mohawke lays subtle chimes and blips in the background in a manner reminiscent of mid-2000s M83. After brief, interesting-if-inessential instrumental "Lil Djembe," Miguel shows up on the aptly named "Deepspace" with his cosmic style of soul, over an ocean of reverb-laden synth and guitar noise. Mohawke tweaks his style to accommodate these guests without fundamentally altering the sonic elements his work always possesses—hip-hop drums, buzzy keyboards and swelling symphonic sounds (typically horns). Then after another video-game-blip interlude, "Shadows," Jhene Aiko takes the lead and is treated to better, more atmospheric production than she got for her any of her EPs or albums.
The instrumentals are no less diverse. Some, like closing track "Brave New World," are akin to power-pop, while others ("Portrait of Luci," "Warriors," "System") are best described as a superior, much more interesting version of the Flosstradamus/Diplo EDM-trap (read: white trap) style. On "Kettles," Mohawke creates a woodwind/horn-driven orchestral interlude with his synthesizers that still manages to carry the urgency of an impending explosion common to all of his work.
Making an eclectic, exploratory album is not the easiest way to create a cohesive flow within the confines of the album structure, especially not in electronic music. As a result, Lantern has its peaks and valleys, and you don't quite get a sense of a prominent direction Mohawke wants to go in for future work. It's almost as if he's examining options for musical identities. But this does ensure that the album is never boring, and that he can adapt his abilities to a wide range of vocalists as well as create intriguing sonic environments on his own. It'd be fascinating to see him work with a single rapper or singer on a project, and given the possibilities he's hinted at here, that could well be in the cards for the future.
Similar Albums:


Flying Lotus – You're Dead!


Rustie – Green Language


Arca – Xen