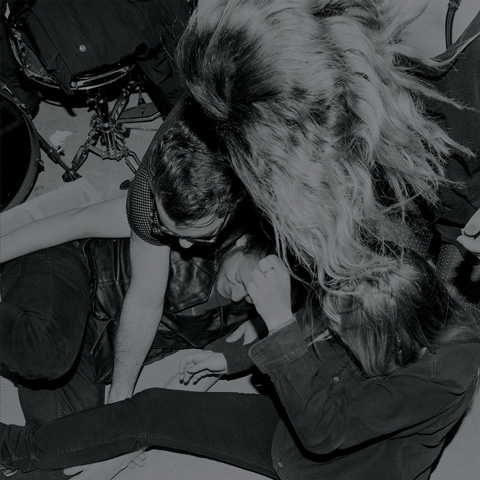 Let's break out the bad news first: You're not gonna hear anything new on More Faithful, at least not if you're familiar with the legacy of shoegaze and dream pop. Montreal's No Joy have studied hard, and under the guidance of stunning records like Loveless, Treasure and Nowhere, but the appeal of shoegaze never had much to do with dedication or craftsmanship. The genre's had its fair share of virtuosos, for sure, but its spark has always existed in innovation, experimentation and, well, intense volume. So the most disappointing about No Joy's third record is that it sounds an awful lot like a '90s shoegaze record.
This isn't entirely the band's fault. More Faithful follows suit behind a general trend in modern indie-rock—the inclination to pull directly from '90s greats and plug aesthetics, concepts and even entire riffs into new tracks. In a way this is natural; a pop-culture zombification of trends twenty years after their heyday. But it's leaves a particularly flat taste when one considers how important immediacy and authenticity was to a genre like shoegaze. While the oughts gave rise to bands that warped and re-appropriated the sonic and emotional landscape of their genre-of-choice, acts like No Joy seem a little more interested in paying reverence than creating something entirely new.
To be fair, there's nothing wrong with wanting to craft a simple, by-the-book shoegaze record; but there is, perhaps, something a bit boring about it. For the most part, No Joy construct driving, layered songs of youthful struggle; about anxiety and other not-so-tangible hardships. And, for most of the record, it's like a smooth train ride through a valley of fuzz. But it's in the few moments when that train stops for a brief detour that show the most promise. "Rude Films" and "Burials in Twos" both offer heavy nods to post-rock, twisting together odd rhythmic deviations and uncanny harmonies. The latter proves itself as the most interesting, dynamic song on the record, a three-minute odyssey that starts off like a tribute to Sigur Rós but slowly morphs into a dream pop explosion and eventually builds to incorporate a world-shattering bass riff pulled straight from My Bloody Valentine's "Only Shallow." Notice, then, that the difference here isn't that No Joy stops being referential in nature, but that they get smarter with their incorporations of those aesthetics  and cliches. "Burials in Twos" is a shining example of how to build something new out of something(s) old.
Most of More Faithful's triumphs, though, are more conservative, hidden here or there, within an otherwise more familiar track, in a breakdown or a subtle vocal line. "Hollywood Teeth" boasts a psych-rock referencing outro, "Bolas" gets pleasantly dark and spacey on its hook and "Chalk Snake" borrows a bit of '80s bravado for truly cathartic vibe. But these moments are usually the exception to No Joy's one cardinal rule: Shoegaze for the sake of shoegaze. And, admittedly, that's a cliche that the group wears surprisingly well. But if More Faithful's shiniest moments prove anything, it's that the band would benefit from a stronger injection of oddball artistry. After all, they more than prove themselves capable when put to the challenge.
Similar Albums:


Silversun Pickups – Carnavas


Nothing – Guilty of Everything


Superheaven – Ours is Chrome