10 Essential 21st Century Shoegaze Albums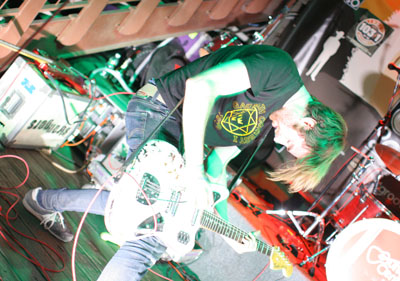 Earlier this year, we published a list of what we consider the 10 Essential Shoegaze Albums, which unexpectedly turned out to be one of the most popular articles we've run this year. But that was really just intended to be the first installment of a two-part primer on the genre. While that list covered the sound of UK and American shoegazers through the mid-90s, a first step on the road to blissful noise, if you will, there's been a large number of artists in the past 12 years who, likewise, have been focused on turning dense layers of distortion and melody into a heady, accessible sensory experience. But after the turn of the millennium, shoegaze has taken on new shapes and forms. Some bands adapted the ideals to an electronic format. Others blended it with different genres. Some decided it needed to be more painful. Others saw it as something that could be heavy, danceable, or even kind of folksy. So while My Bloody Valentine, Ride and Slowdive laid the groundwork and perfected the sound, these ten albums represent its next steps and bold frontiers.
We've also supplemented our shoegaze lists with an Essential Shoegaze playlist on Spotify. Listen here
M83 – Dead Cities, Red Seas and Lost Ghosts
(2003; Gooom-Mute)
Big, loud, distorted guitars are implicit in the description of any band's music as "shoegaze." That's pretty much the entire foundation of what the genre's all about, really. But French artist Anthony Gonzalez and then-partner Nicolas Fromageau had a slightly different idea when crafting their 2003 masterpiece, Dead Cities, Red Cities and Lost Ghosts. Built primarily on synths (with some guitars, of course), the album is the electronic equivalent of a shoegazer classic. While, in terms of recording, it may have more in common with something like Air's Moon Safari, sonically speaking it's far closer to Loveless. Heavy layers of synthesizer and dreamy effects make it the kind of stunning world in which one is likely to get lost and love every minute of it. Gonzalez later used a lot more guitar in his work, and for that matter embraced a more explicit pop songwriting style, but this is M83's prettiest by far.
---
Asobi Seksu – Citrus
(2006; Friendly Fire)
I'll admit to letting out a hearty chuckle after hearing that Asobi Seksu's name (a Japanese phrase that means, roughly, "playful sex"), was a translation of their original name, Sportfuck. The band's style, however, isn't so much giddy boudoir fare as it is a super-fun amalgam of bright, glittery J-Pop and classic shoegazer sounds. Their sophomore effort Citrus is loaded with energy, exploding with a kind of rush that might seem completely foreign to some of the hazier pioneers like Slowdive. On tracks like "New Years" and "Lions and Tigers," there's not so much a sense of sedated hallucination as there is a burst of adrenaline. But with standout track "Thursday," the band prove themselves adept at writing a classic, even timeless anthem as warm as it is mesmerizing.
---
Jesu – Silver EP
(2006; Hydra Head)
Justin Broadrick has been an integral part of some of the noisiest and most abrasive sounds ever to come from human beings, be it the grindcore of Napalm Death, industrial churn of Godflesh, evil hip-hop of Ice or Techno Animal's brutal electro sounds. With Jesu, however, Broadrick took a turn for the graceful, embracing shoegazer textures via massively heavy rhythms and density. Jesu's 2006 EP Silver is easily the prettiest and most dreamy of his efforts, offering four epic tracks of glorious distortion and melody, reaching an early high point in "Star," which downplays the project's metal roots in favor of a prettier pop tune.
---
Serena-Maneesh – Serena-Maneesh
(2006; Beggars Banquet)
Serena-Maneesh's Emil Nikolaisen had a long resume of band experience before forming Serena-Maneesh in the '00s, having played in a variety of punk rock and metal bands, ultimately settling on the psychedelic shoegaze approach that his current band employs. And that background in aggressive, heavy bands, while not necessarily explicit, makes sense given how abrasive Serena-Maneesh gets at times on their debut. Not that they don't show restraint; "Drain Cosmetics" is nothing if not cool, a noisy exercise in swagger and space. But then again, with layers of effects blazing, the band opts for full-on freakout mode in "Sapphire Eyes High." It's heady, it's trippy and it's dense, but Serena-Maneesh's debut album also rocks harder than a good many of their contemporaries.
---
Alcest – Souvenirs d'un Autre Monde
(2007; Profound Lore)
French metalgaze outfit Alcest's sole songwriter, Niege, claims that the music he makes isn't really shoegaze, it's metal. And that's only true to the extent of his intent, but the sound is a dreamy, ecstatic vision of light and positivity – qualities you don't often see in most metal albums. Souvenirs d'un Autre Monde occasionally drops a blast beat or two, but by and large, this is a work of delicate beauty, exploding into a huge wall of distortion when necessary, but always maintaining a commitment to grace and serenity. Which, when it goes against the expected norm of what a musical movement is all about, is pretty metal in the long run.
---
Blonde Redhead – 23
(2007; 4AD)
Blonde Redhead have taken a lot of stylistic detours over the course of their nearly two-decade career. They've done abstract art pop, blistering noise rock, and lately they've embraced dreamier new wave textures, which has left fans and critics divided to a certain degree. But before mellowing out, they perfected the shoegaze game with 23, an album that may not bear the genre's hallmarks in every track (see acoustic closer "My Impure Hair"), but gets it right on every attempt nonetheless. Frankly, there hasn't been a shoegaze track in the past ten years as perfect as "23," or for that matter, an indie rock track so seamless and sublime.
---
A Place to Bury Strangers – A Place to Bury Strangers
(2007; Killer Pimp)
A Place to Bury Strangers' Oliver Ackerman isn't just a songwriter who likes to wrench howling demons of noise from his guitar, he actually builds his own effects pedals as part of Death by Audio. So when the Brooklynite (by way of Virginia) does make some melodic noise, it's engineered to be as piercing and intense as humanly possible. That describes the atmosphere of A Place to Bury Strangers' debut album in a nutshell. It's a melodic album, even a catchy one, but the band's My Bloody Valentine influence is balanced by an equally heavy Big Black influence, ensuring that their heady, distortion laden pop songs will leave the listener with a shoegaze hangover. …In the best way of course.
---
School of Seven Bells – Alpinisms
(2008; Ghostly International-Vagrant)
It's not necessarily immediately apparent from the first, trippy verse of opening track "Iamundernodisguise" that School of Seven Bells' debut Alpinisms is a big, fuzzy throb of a pop album, but it doesn't take long before Benjamin Curtis turns up the distortion beneath the Deheza sisters' mystically harmonized vocals. And damn does it ever sound cool. The band's approach on Alpinisms is a lot less like the rollicking guitar rock of Ride's Nowhere and more like a blend of Curve's beat-laden noise pop and Lush's soaring dream pop. It's an ecstatic and dense experience, one that never overwhelms but always seems much bigger than the sum of its parts.
---
Deerhunter – Halcyon Digest
(2010; 4AD)
Bradford Cox would most likely say he's punk or rock 'n' roll more than anything else (especially "indie rock" – don't get him started). And it's that kind of spirit that compelled him to perform "My Sharona" for 60 minutes at a recent Atlas Sound gig. But in Deerhunter, Cox and his bandmates have been gradually applying more texture and soaring melody to their sound, sometimes in a pure pop manner, other times with a kind of chaotic noise rock quality. But they've never sounded so dense and dreamy as they have on 2010's Halcyon Digest, anchored by fuzz-loving tracks like "Memory Boy" and "Don't Cry," as well as their most heroic and epic jaw-dropper to date, "Desire Lines." And no, it's not a coincidence the song shares the name of one of Lush's best singles.
---
The War on Drugs – Slave Ambient
(2011; Secretly Canadian)
The War on Drugs' Slave Ambient is named for the persistent buzzing ambient sounds that permeate the album's 12 tracks. So even if the record is, on the surface, a rootsy, Springsteen-style rock 'n' roll record, production-wise it's more MBV than first appears. And deeper into the album one goes, the noisier the overdrive, feedback and effects grow. Some have dubbed their unique blend 'Bossgaze,' though 'Shoesteen' works too, or as we said, "Tunnel of Loveless." Given that there are a lot of brief, atmospheric instrumental interludes, it's apparent that Granduciel gives ambience a starring role, but he just happens to be a great songwriter as well, as evident on soaring singles such as "Baby Missiles."