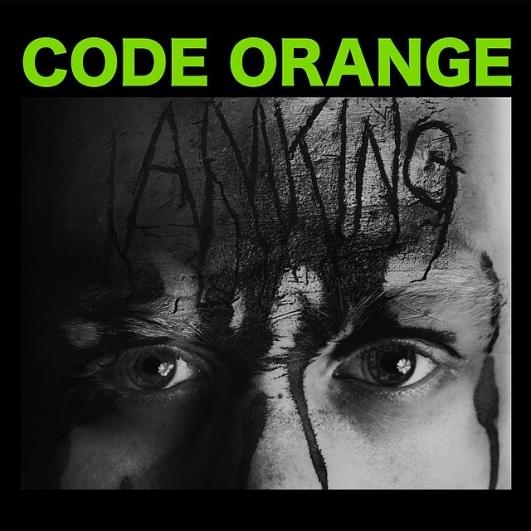 On the title opener (and lead single) for I Am King, Code Orange combine crust-infused grindcore with a well-executed use of sonic space and timing. The track is grimy and dark throughout, but not as boringly straightforward as crust/grind often gets. Unfortunately only half of the album follows in that track's footsteps. Otherwise, I Am King offers the same lo-fi, sludgy hardcore as their 2012 debut, Love Is Love/Return To Dust, released under the name Code Orange Kids.
The rocketing, math-core influenced sound on most of the tracks here is not inherently bad. But, when applied on almost every other track (and just as well, if not better, by plenty of other acts), it starts feeling a lot like filler in between the record's more interesting and ambitious moments. Simply put, I Am King is the album where Code Orange show they can do better, but don't completely commit. When the band succeeds, it is by intersecting their heavy-music ambitions with more interesting and tried-and-true melodic approaches. "Dreams In Inertia" boasts doom influence with a post-punk style chorus while "Alone In A Room" utilizes a hypnotic rhythm and aggressive tone to create an almost Pixies-like presence. Other references are even more obscure: "Starve" is almost a dream-pop song in its quieter moments and "Bind You" sounds like a metal-leaning revival of At The Drive-In.
In these brighter moments, Code Orange mash well-picked influences with the gritty sludge they so love, and to great effect. Throw in the self-titled opener and moody closer "Mercy", and the band would have an innovative 15-minute EP. But, since I Am King stretches on for twice that length, the end result is more draining and repetitive than impressive or inspiring.
Code Orange could stand to learn a lesson in selectivity from some of their Deathwish peers. Converge and Deafheaven both boast a variety of influences as wide, if not more so, than Code Orange's. But those bands also have two rules that they seemingly never break: They (1) stick to a solid core aesthetic and (2) emphasize quality songwriting over sounding 'heavy' for the sake thereof. In the EP's worth of impressive material on I Am King, Code Orange reveal their potential to write interesting and dynamic music; their next challenge will be to cut out the fluff.
Similar Albums:


Trap Them – Blissfucker


Nails – Abandon All Life


Modern Life Is War – Fever Hunting