The Good Life : Everybody's Coming Down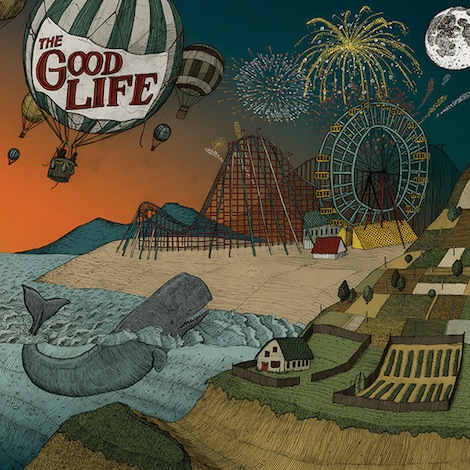 It's just as well that Tim Kasher has so many outlets for his work, otherwise he'd probably explode. The guy turned 41 last month and is still firing on all cylinders, so much so that the oft-asked question, "When is the new Good Life album, Tim?" has now become, "When is the new Cursive album, Tim?" His main project have taken their collective foot off the gas for a while, but the concept of downtime seems foreign to him; in October 2013, he started working on what would eventually become The Good Life's fifth full-length before his second solo album, Adult Film, had even been released. He hasn't got the insane work ethic that, say, Ty Segall possesses, but that's still impressive. Similarly noteworthy is that the four core members—Kasher, Stefanie Drootin-Senseney (bass/vox/keyboards), Ryan Fox (guitars/keyboards/vocals/percussion/kitchen sink) and Roger L. Lewis (drums/percussion)—are picking up where they left off in 2010 as if nothing's changed.
In reality, they're a different band now—or at least, they want to be. They've switched up their sound from one album to the next (last heard on the bare-bones Help Wanted Nights eight years ago), but never with as much aplomb as they do on Everybody's Coming Down. They've let their hair down, not writing to fit a concept or mood (as Kasher has been known to do, viz. Domestica, The Ugly Organ, I Am Gemini, TGL's own Album of the Year), but to instead luxuriate in each other's company and try new things. It's a more guitar-oriented record, broadly speaking; the gutsy riffs of "Everybody" and "Holy Shit" may surprise listeners that are more familiar with the more restrained approach of past albums, but the record isn't much concerned with going after a cohesive sound. It's more likely to serve up a few curveballs like the instrumental detour "Happy Hour" or the exploratory "Flotsam Locked Into A Groove," whose relaxed, jam-band feel sharply contrasts with Kasher's meditation on the transience of life: "Every candle lit for every god or cancer kid has flickered out / And no one ever heard the prayer."
If there's one thing that links his solo, side- and main projects, it's that he's never been afraid to sing about big themes, and the constantly shifting musical backdrop on Everybody's Coming Down lends his musings some extra weight. On this record, he's largely "shaking his fist at a universe that can't give a shit" (to quote penultimate track "Ad Nausea," which finds the quartet moving into even looser, borderline math-rock territory), but it's far from purposeless. The Good Life have always served a purpose, whether it was as a home for songs that wouldn't work with Cursive (as was the case with debut album Novena on a Nocturn) or, as the case is now, to provide a platform for discussion of more universal themes. Occasionally, his lyrics stray into surrealist territory ("Forever Coming Down") or become more personal in nature—"The Troubadour's Green Room" is a song about why he does what he does, and why he's been doing it for two decades—but Kasher's not in any danger of running out of things to say any time soon. Everybody's Coming Down is proof of this—not just the revival of The Good Life, but also a renaissance.
Similar Albums:


The Antlers – Burst Apart


Cursive – Happy Hollow

Okkervil River – I Am Very Far