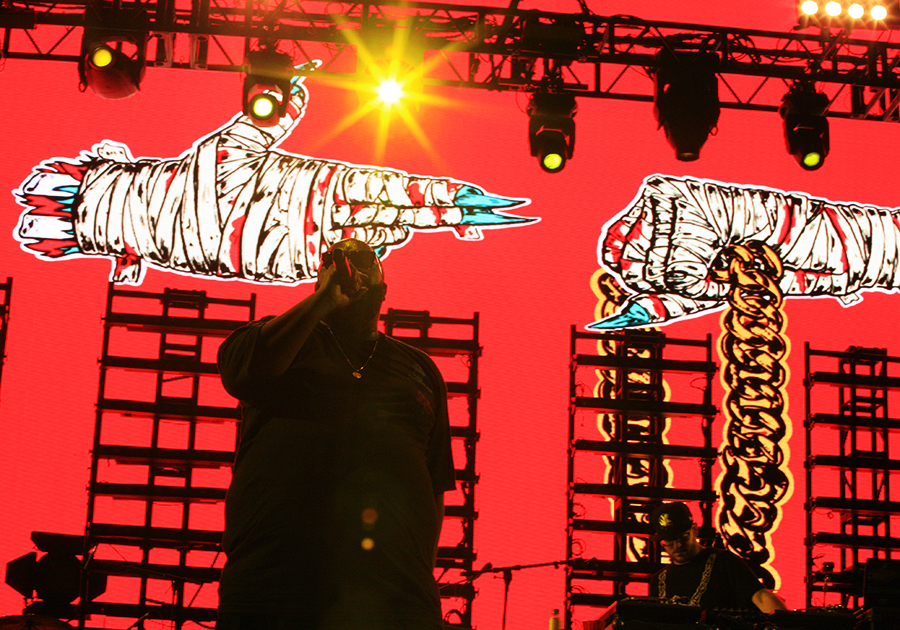 FYF Fest's relocation from the Los Angeles Downtown Historic Park to the Coliseum Exposition Park wasn't without its share of fits, starts, hiccups and snafus, which ranged from way-too-long lines to poorly managed indoor venue regulation. This year was a proving grounds for the festival—if all the wrinkles from the first year at the new venue were ironed out, it would bode well for the direction of the fest. Logistically, everything went beautifully this year, but the troubling factor ahead of the two day bacchanal was a series of cancellations, including Deerhunter and, more visibly, Frank Ocean, whose retreat from the limelight has me a little concerned in a year that he's supposed to drop new music. But that's his business. And in his stead, FYF just happened to get a performer named Kanye West to do them a solid at the last minute. No big deal!
After four years of going to FYF, I was ready to go into retirement. It's been a good run, after all, and the bigger it gets, the less likely the experience of my first time there will be repeated. But the lineup this year, my god. It was just too good to pass up, and so FYF pulled me back in. And you know, if this is indeed my large-scale festival retirement party, then it's one for the record books.
Here's Saturday's FYF Fest 2015 report, ranked in order of Fuck Yeah factor.
Check out our complete Saturday photo gallery from FYF Fest.
Saturday, Aug. 22
Melody's Echo Chamber
It's been three years since Melody Prochet released her Kevin Parker-produced psych-pop debut—a very good album, I should note—so it's only natural that enthusiasm for the French artist be a little bit tempered. Still, her set was certainly lovely, if a bit more restrained in terms of energy, full of shimmering guitars, euphoric synths and dreamy beauty. The late-afternoon slots always seem to be reserved for the chillest bands (see: Real Estate in 2014), which is perfectly fine. It's hard to rage when you're getting cooked in an open field.
Fuck yeah factor: Chill.
Kanye West
The inevitable downfall of any artist that proclaims himself a god is the tendency to be a disappointment when he appears as a mere mortal. A last-minute addition to the FYF lineup, replacing an increasingly reclusive Frank Ocean, Kanye West brought a greater level of star power to the festival—the biggest the fest has ever seen, and honestly only a slight tick below Taylor Swift, who was performing down the road at Staples Center. West is the kind of headliner whose name graces even bigger festivals, so this had to be an event. Truthfully, his set was fun, packed with hits, and fairly in line with the (long fading) punk roots of the festival. It was just Kanye, beneath a giant light display that looked like both a UFO and a George Foreman grill, and a long list of gems from his catalog. And it was cool, but it still seemed like it was missing something. West makes gigantic spectacles; I'm pretty sure it's on his business cards. He's been known to perform with elaborate sets, dancers, various guests and whatnot. This was just him (and eventually Rihanna, though I had left the stage before she showed up). I enjoyed watching him for that first half-hour or so, but after a handful of best-in-fest performances earlier that day, it was hard not to be a little distracted by the fact that the bar was set a little bit higher than his spotlight salamander.
Moment of euphoria: The one-two punch of "Stronger" into "Power."
Fuck yeah factor: Sure, alright.
Joyce Manor
Torrance punks Joyce Manor have played FYF Fest four years in a row, and it's easy to see why they keep getting invited back. In a 40-minute set, they performed at least a couple dozen minute-long anthems, including a Weezer cover and a series of highlights from newest album Never Hungover Again. They likely didn't keep the promise of that album title, taking swigs from a communal bottle of Patron between songs, but the punk-drunk fun was well worth the morning-after agony.
Fuck yeah factor: Yes.
Dinosaur Jr.
When going to festivals of this size, I do my best not to go overboard on seeing bands I've already seen before, especially in the same context, but Dinosaur Jr. is just too good not to indulge, even when playing a set of songs close to identical to their last FYF appearance. J Mascis is a hell of a guitar player, of course, and Lou Barlow is a great fixture, being the most animated member of the band. And then there's the fact that they have more alt-rock classics in their catalog—"Start Choppin'," "Feel the Pain," etc.—than you remember. I'm reminded of the scene described in Our Band Could Be Your Life, in which a bitter Barlow vents his frustration at Mascis for not being able to be what Nirvana was. The thing is, that young, wasted Barlow was wrong—they never would have been Nirvana; they're not romantically tortured, just a great rock 'n' roll band.
Moment of euphoria: Their guitar-solo-heavy cover of "Just Like Heaven."
Fuck yeah factor: Yeah.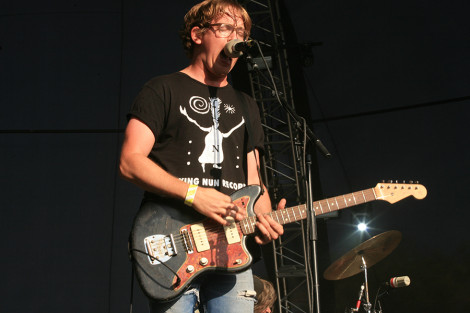 Metz
As a general rule, some of the best bands to catch during a festival like FYF are the ones that make the most noise. And you might not immediately think so to look at the three dudes of Toronto's Metz on an expansive stage, but they were unquestionably one of the loudest bands to play on Saturday. Fresh off the release of their splendidly abrasive second album, II, the trio pounded and screeched their way through a strong setlist of bruisers, bashers, bangers and brawlers. No spectacle, nothing fancy, just punk fucking rock, played loud, aggressively and with the relentless energy that all bands should be so lucky to possess.
Moment of euphoria: The catchy, ear-splitting roar of "Spit You Out."
Fuck yeah factor: Yeah!
The Jesus and Mary Chain
It's pretty common for a legacy band playing a festival to pull out the fan-favorite classic-album-in-its-entirety setlist. And though The Jesus and Mary Chain have been playing a series of shows around the 30th anniversary of their influential debut Psychocandy, this appearance wasn't advertised as such. But when the Reid Brothers and their band of noise makers transitioned from "Just Like Honey," to "The Living End," to "Taste the Floor," that fact became clear as feedback streaming out of a Marshall stack. The JAMC were loud, sounded great, and Jim Reid had an unflappable cool that hasn't waned after 30 years. Reunion shows can sometimes feel like a bit of a sham, but between William's noise addiction, Jim's icy-veined charisma and the strength of their debut after all this time, this one just worked brilliantly.
Moment of euphoria: "Just Like Honey"
Fuck yeah factor: Just like honey.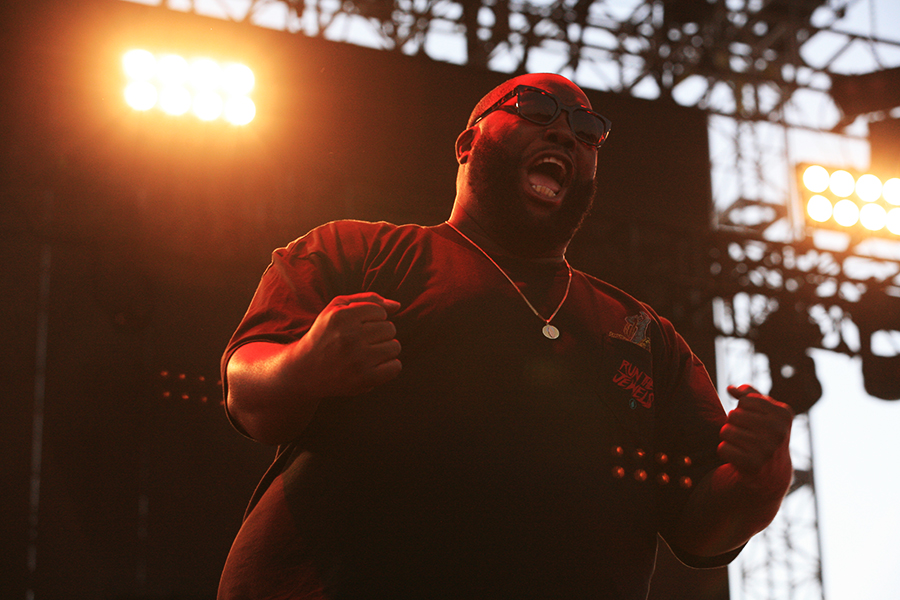 Run the Jewels
El-P and Killer Mike took Run the Jewels from critically acclaimed underground rap superteam to grassroots success story in the course of less than a year (or, realistically, about 20 based on El and Mike's respective solo careers). But Run the Jewels 2 made them household names, and for good reason—it's nothing but explosive beats and dynamic, dizzying rhymes. And it translates incredibly live; hell, Run the Jewels might even be better in person. As Mike took the stage, he promised to "burn Los Angeles to the fucking ground," and he and El did absolutely nothing less than what they promised. They had their share of guests: Travis Barker, Gangsta Boo, and Zach de la Rocha, each of whom added an exclamation point to a set filled with them. But the real treat was simply watching El-P and Killer Mike interact, bounce rhymes off of each other and perform every song like their lives depended on it. But that's just the thing that made them festival MVPs: They're hard as fuck, but visibly having the time of their lives.
Moment of euphoria: The skull-rattling, speaker-blowing tag-team of "Oh My Darling (Don't Cry)"
Fuck yeah factor: Fuck yeah!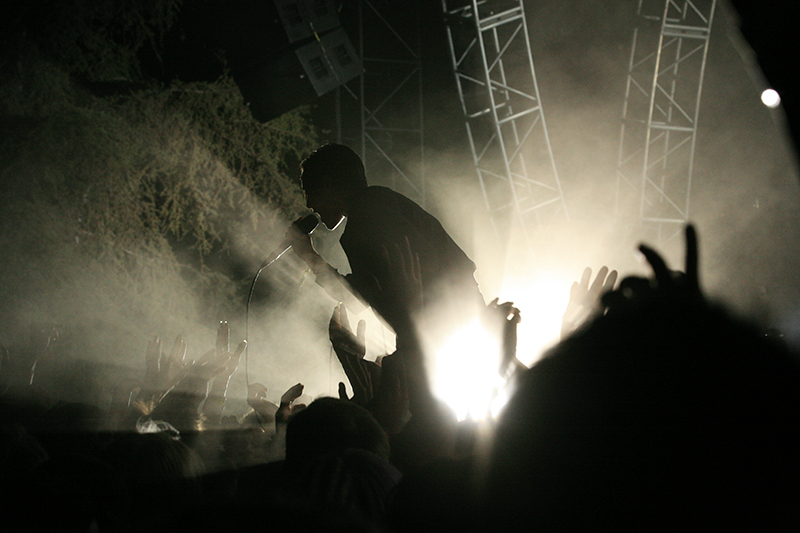 Savages
They're not headlining festivals (yet), but Savages are unquestionably one of the best live bands you'll see on the lineup. After several laps in support of 2013's Silence Yourself, the group has been debuting new material at recent live shows—new material that will appear on their upcoming sophomore album, and which represents a darker, louder and altogether stunning direction for them. The band sounded amazing, each member an essential part of a breathtaking whole. As mesmerizing as their stark, sinister and occasionally ferocious post-punk is, though, the thing that put an already amazing set over the top was singer Jehnny Beth, a dynamic ringleader who both challenged the audience to continue raising their energy level and ultimately saw the fulfillment of that demand by climbing off the stage and being among the crowd. She rode the sea of hands and arms, and stood atop them, balancing on the organic sea while the band drew out their roaring punk standout "Hit Me," flipping onto her back in the blink of an eye as the song hit its climax. This wasn't just one of the best live sets of the festival, but maybe one of the best live sets I've ever seen.
Moment of euphoria: The whole thing, basically
Fuck yeah factor: Holy fuck!