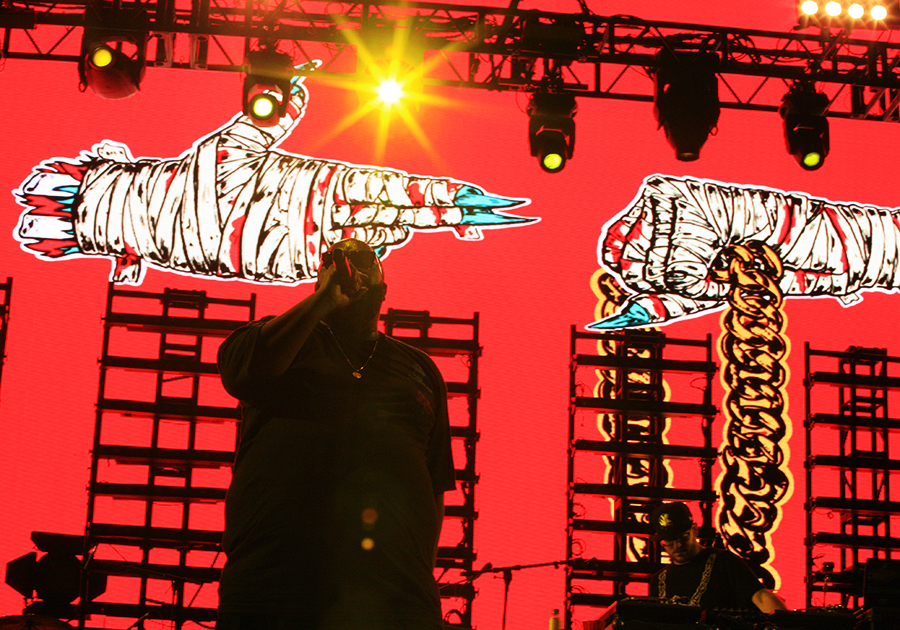 Sunday, Aug. 23
Check out our photo gallery from Day Two of FYF Fest 2015.
Spiritualized
It's pretty much a guarantee: Your energy level at any music festival is always lower the second day than it is the first day. So it's maybe a blessing that Spiritualized's early evening set was much heavier on drones, ballads, bliss-outs and dirges than rockers or freak-outs. They did play some of those, of course, even dropping Ladies and Gentlemen We Are Floating in Space highlight "Electricity" nice and early in the set. But mostly Jason Pierce, his band and small choir of backup singers were all about setting a mood—a mood of light disorientation, compounded by the heavy layer of fog and low light in the arena, which made actually entering the place an act of carefully avoiding walking into something. And it's maybe the best that an early set wasn't actually mind-blowing: It was a nice wade back into the tortuous festival waters, and a good appetizer before a Donut Friend indulgence.
Moment of euphoria: A rush of energy at the end for "Come Together."
Fuck yeah rating: Cool
Morrissey
Morrissey is a fascinating contradiction of a performer. He's a showman as much as he is a songwriter, and he mugs and preens and banters with the best of them. But he's also a triple-threat, with his third major talent being that of an Olympic-level buzzkill. Moz's go-vegeterian-or-die-by-eye-rolling-sanctimony philosophy has reached an all-time high of late, with recent shows being held hostage over conditions regarding the serving of meat. And the VIP/Press area gave in on that demand, though it wasn't hard to find meat elsewhere throughout the festival, including bacon-wrapped hotdogs just around the corner. Add to that a performance of "Meat Is Murder" with images of slaughterhouses on the main stage screen, and you've got a performer whose priorities are nag first, and then entertain. But hell, he did entertain despite himself, and the hit-laden set, including Smiths favorites "Stop Me If You Think You've Heard This One Before" and "The Queen Is Dead," was definitely fun to watch. (Less so when he dipped into the far less satisfying recent release, World Peace Is None of Your Business.) I've been a fan of Morrissey and The Smiths as long as I can remember, and his solo catalog is pretty solid up through 2004's You Are The Quarry. There was no way that this wasn't going to be fun. But being a Morrissey fan also means knowing that he's a prickly one; some of the best songs he's ever written wouldn't exist in the form they do if he wasn't kind of a dick. You take the good with the bad.
Moment of euphoria: Kicking the whole shebang off with "The Queen Is Dead."
Fuck yeah rating: Sure.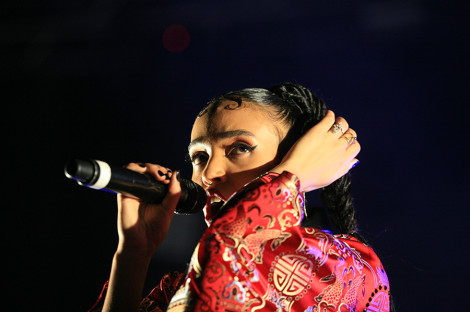 FKA Twigs
Two remarkable things need to be said about this year's FYF Fest. First, I saw no bad sets, or even boring sets. In any festival, that's pretty amazing. But more interesting still, the headliners were upstaged by the artists lower down on the lineup. So while it was cool to get the chance to see both Kanye West and Morrissey, that wasn't necessarily why I was there. Nor did they deliver anything I wasn't already expecting. FKA Twigs, however, was precisely the kind of artist I came to see. Her stage was engulfed in fog, making the whole thing a bit more mysterious, but the UK singer, dancer and performance artist used starkness to her advantage in a compelling way. She wasn't the only person onstage—there were musicians, and some pretty mesmerizing dancers—but Twigs was the only one you really noticed during each song. She moves slowly, her moves deliberate and graceful, while her voice balances intimacy with devastation. Her set was beautiful, first and foremost, but also surprisingly loud. Those beats exploded with greater impact than on LP1 or even her more abrasive new EP M3LL155X, and they were made all the more hallucinatory with a pair of male dancers contorting themselves into strange shapes at high speeds.  This wasn't a pop concert, it was art.
Moment of euphoria: The sinister slink of "Numbers."
Fuck yeah rating: Yeah!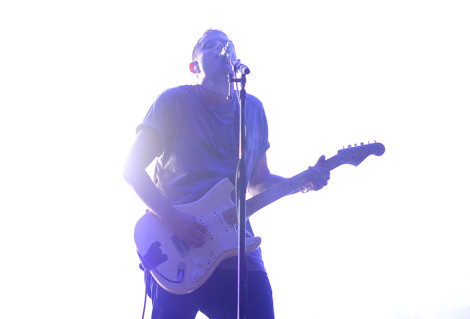 HEALTH
It says something about HEALTH's ability to own their stage that, even in a set marked by some unfortunate technical difficulties, they ended up as one of my favorite sets of Sunday evening. It helps that the band's newly released album Death Magic, is excellent—a thumping, industrial-tinged dance-noise album featuring some of the best songs they've ever written. But somehow, the group still balances that effortlessly with their earlier noise freakouts, one of which opened the show, comprising mostly drums and screaming. It was a fun reminder of the volatility of this band, while the early arrival of "Stonefist" proved they were just as good a pop group as a performance art troupe. Perhaps their electronics didn't want to cooperate, but that wasn't going to stop them from entertaining the hell out of us.
Moment of euphoria: The noise-disco classic, "Die Slow."
Fuck yeah rating: Fuck yeah.
Death Grips
I wasn't prepared for this. When Death Grips walked onstage briefly for a 20-second sound check, then walked off immediately thereafter, the guy standing next to me let the inevitable joke drop: "Death Grips will not be performing tonight." But oh, they did. Just five minutes later, Stefan Burnett, Zach Hill and Andy Morin walked back onstage, and with the pummeling opening thud of "Come Up and Get Me," a field of several thousand people immediately swirled into a reckless tornado of limbs, dust, aggression and debris. It was fucking insane. More than a few people uninterested in getting sucked into the chaos made their way out calmly and quickly, and some other unlucky folks lost phones, shoes—any loose item that the Death Grips menace was ready to swallow. I kept my distance from the unruly swarm, but it's easy to see what set everyone off. Death Grips, whose break-up and reunion just one year later bolstered the unpredictability of whether they'd even show, threw down. They played the hits, if you can call any of their songs "hits" by any reasonable standard, the bulk of them coming from The Money Store. Not once did this beast of a set drop a notch below white-knuckle intense.
Moment of euphoria: Ace bruisers "Get Got" and "I've Seen Footage" back to back.
Fuck yeah rating: Fuuuuuuck!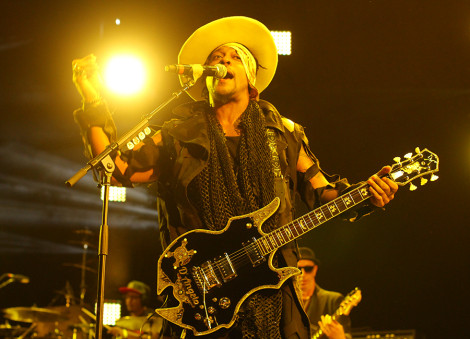 D'Angelo
This—this—is how you put on a show. When D'Angelo disappeared for a dozen or so years, the doubts of his return were justifiable. Voodoo solidified his genius status, but the silence afterward meant he might have been a reluctant one. But after dropping Black Messiah with his new band The Vanguard late last year, D'Angelo didn't just finally make good on a long overdue promise—he came back more relevant and powerful than ever. So with a great new album under his belt, the man born Michael Eugene Archer delivered nothing less than a soul-stirring, ass-shaking, crowd-working, smile-inducing, best-in-show funk revue. His band is always on point, settling down and getting nice and comfortable in the pocket, whether in an extra-long version of psychedelic funk stunner "Ain't That Easy," or a less fuzzy but arguably funkier sound in "Betray My Heart." D'Angelo himself simply oozes charisma, whether crooning a more laid-back ballad like "Really Love," or playing solo after solo—Prince style—on a beautiful, gold-trimmed guitar with his name printed just under its bridge. It's pretty much perfect that this set was one of the last of the festival, because there was really no competing with it. D'Angelo didn't steal the show—it was already his.
Moment of euphoria: "Ain't That Easy," "Vanguard Theme," "Betray My Heart," "Spanish Joint"—should I continue?
Fuck yeah rating: Fuck yeah!
You might also like: