Prince : HITNRUN Phase One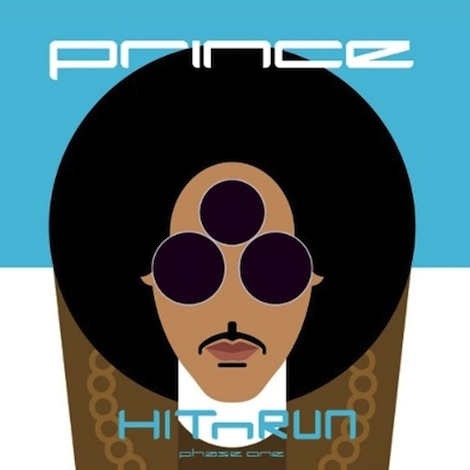 It's easy to forget, from underneath faded '80s magazines with gaping wonder and strained interviews, leafing through photos of a compact unit of sex and Messiahship, that Prince is frequently at his fieriest when he's just throwing shit at the wall. No artist has ever been as silently adamant about not doing what he's told to do. Strike that: Nobody has ever told him what to do. Back before Google PageRank, that was our quixotic vision of a real artist. We all dreamed about being one, yet when superstars pulled the brakes on their material ascent and pushed themselves to the margins, many of us scoffed at them and called shenanigans. (I know, he's standing right there, he can hear me. I know. Stop it.)
Prince's new album HITNRUN Phase One is, on the surface, his most relevant album in decades—well, it'll get relevant once it stops being a Tidal exclusive—and reasserts his ageless, boundless range as a sheer creator. It has his funkiest track in years, it reintroduces a lyrical elliptical galaxy that's singular and fascinating, and shows that allowing an outside producer can sometimes be a net positive. Parts of it are utter thrills, and Prince easily re-establishes his importance and influence on disciples like The Weeknd and Janelle Monáe.
So I don't really know what's bothering me about it. I could read from the notes I've taken and say what I think is bothering me about it, but all of it's going to get canceled out by the theorem expressed in Paragraph One above. Prince's experimentalism is only a weakness if you're too wedded to your expectations of something else, and that's not really his problem. And especially now, we all should know that expecting anything specific from Prince is foolish. Still, HITNRUN Phase One strikes as more of a statement of potential than a front-to-end, defining work.
Prince co-produced HITNRUN Phase One with Joshua Welton, the 25-year-old who also co-chaired the better of Prince's two 2014 albums, Art Official Age. As insular as Prince's solo wonderland of Paisley Park has seemed throughout eternity, the collaboration with Welton retains its promise. If Welton's job was to integrate Prince with the sound of the present, then it works: His steward never sounds out of place on this release, even as it starts with superfluous, direct quotes from "1999" and "Let's Go Crazy." "Million $ Show" brushes off Prince's reluctance to glorify his past soon enough, and makes for an agreeable introduction fusing the beats of "Delirious" with the agreeable chaos of new technology and a sense of humor.
"Shut This Down" is one of Prince's fiercest jams, with insubordinate beats and a wildly distempered vocals. It's like an angrier, more grown-up version of Sign 'O' the Times' "Housequake." "Like a Mack" aspires to bring Prince into the land of Maybach, a ridiculous proposition on paper with rolling sub-bass lines and nods to dubstep that should not work but does. Maybe it's the sudden introduction of a horn section in between Curly Fryz's rap that wins me over; it's a connective tissue between R&B eras that's heroic and witty at the same time.
The confounding parts of HITNRUN are just as likely to be rewarding as not. There's almost nothing Prince-like about "Fallinlove2nite," grafted from a song Prince contributed to the TV show New Girl (served here without Zooey Deschanel's vocals). It directly quotes early '90s dance music that Prince had nothing to do with—think "Vogue"—and overworks the beat with garish synths and quotes from disco and soul horns. But it's the best melody on the album, again bridging disparate elements into something that rises far above its complications.
But there are some gormandized moments on HITNRUN as well, usually when the combined velocity of Prince's and Welton's musical imagination leaves a lot of sediment in its wake. There's an over-reliance on pitch-shifting vocal effects in a few tracks that announce "just because we can." "Ain't About to Stop" is a passingly amiable decree of Prince's bad-assery ("I come from North Minny/And I never run from any/And I ain't about 2 stop right now"), but gets caught in a clumsy crossfire of industrial morass and re-hammered Nine Inch Nails. "This Could Be Us" takes a sweet moment of forlornness over a lover who's stuck in carnal reverse and overloads it with mechanical commotion. Maybe that's the point, and maybe I liked the relative plaintiveness of "Condition of the Heart" too much to begin with, but ultimately the plot is lost. Nevertheless, "Hardrocklover" is the only song on HITNRUN that brushes with ineptness. This may be because its framing of a love affair within the style guide of Foreigner's "Juke Box Hero" is not the sturdiest of premises.
The latter half of HITNRUN toys with the kind of enigmas that have surfaced in Prince's past, most noticeably in songs like "The Ballad of Dorothy Parker." (By the way, if you're looking for an '80s Prince classic HITNRUN compares most closely with—well, that's a mistake, but if you insist, it's Sign 'O' the Times.) "X's Face" is an electronically driven march that hints at a strange relationship lorded over by past lovers, but ends in a disjointed mini-metaphor with Prince force-feeding a banana to a monkey. "1000 X's & O's" (as in hugs and kisses) is the best of Prince's compassionate side, and not surprisingly employs one of the album's simplest approaches.
The closing track "June" fills the headphones with lush electric piano and cosmic rhythm fills, supporting a scene from a marriage in which Prince ruminates about entropy, alienation from fame and being at odds with chronology – all the while ignoring the pasta that's on the stove until he smells it burning. (I know, I know, pasta can't burn because you boil it in water, but he's on a roll.) It's the rambling comedown from an album that flirts with technical excess, yet affirms why the switch on Prince's imagination must remain in output mode as much as he can handle. Still, with all that goes on in its lean 39 minutes and as engaging as it is, HITNRUN Phase One begs for a sense of completion, which I gather Phase Two, if it actually materializes, will provide. Just don't catch yourself expecting it.
Similar Albums:


Prince – Art Official Age


Janelle Monáe – The Electric Lady


Miguel – Wildheart
Paul Pearson
Paul Pearson is a writer, journalist, and interviewer who has written for Treble since 2013. His music writing has also appeared in The Seattle Times, The Stranger, The Olympian, and MSN Music.