Telekinesis : Ad Infinitum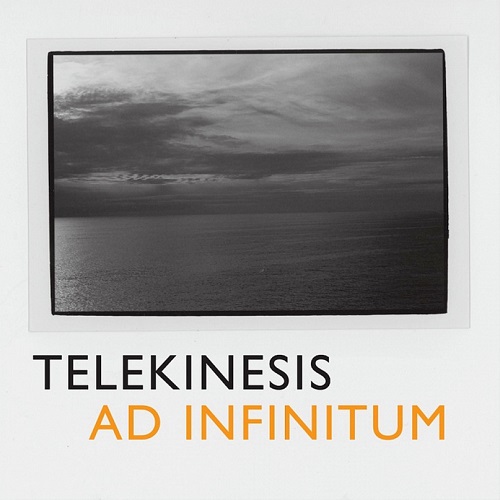 Enough time has transpired from the first wave of synth-pop of the 1980s that the form now, against early projections, almost feels like a new naturalism. At the time the advancement of technology and the aesthetics seemed to negate the need to develop the other unstated principles of keyboard-based music—say, for example, composition and construction. (I can't hear one strong melody Depeche Mode made before Violator.) The cult around synth-pop of the time felt more like muffled kids making a stab at finding some attachment to futurism. It was not, or at least didn't look like, a songwriter's medium.
Looking back that's unfair, in that the best-written synth-pop music (OMD, Yaz, New Order) is the only kind that really survived the millennium change. Coincidentally, Michael Benjamin Lerner aka Telekinesis happens to be one of current music's most solid pop constructionists, which is why his latest album of near-total synth-pop homage doesn't sound very out-of-place next to his other guitar-driven works. The way Lerner prepared for Ad Infinitum is a hoarder's wet dream: by accumulating a factory showroom's worth of classic analog synthesizers from Korg to Moog, along with some producer-favorite drum machines and sequencers like the grievously under-appreciated LinnDrum. Lerner transformed his West Seattle basement into a studio, which he was probably planning to do anyway, and recorded the songs there and in a getaway studio outside of Tacoma.
Half of Ad Infinitum's considerable charm comes from Lerner's perfection of the pastiche. The electronic kick in "Falling (In Dreams)" that opens the album confers where the album's going, and the LinnDrum sequence that pushes "Sylvia" into being is almost farcical in its recognition. Lerner's voice is the only perpendicular to style: Although he forms it a little bit to fit the more mechanized pulses he's playing, it's still very much his humming tenor from before. "I don't wanna get in the middle of…/How do I know what to say to you?" he pleads in "In a Future World," over a steady and restrained four-beat.
Ad Infinitum is sequenced in a way that shows Lerner was getting more comfortable with the old ways as he went along. "Courtesy Phone" is an icy rocker that moves with the urban throb of Berlin. "Sleep In" ("Don't forget that it's a feeling") is when everything seems to fall together, as Lerner blends a sundry palette of electronic touches like electronic bells, treated vocals and suspended string pads to an approximated hip-hop beat. By the time Lerner gets to "Edgewood" he's become an old hand at this stuff, with the LinnDrum ticking off a hybrid rock beat from Prince's 1999 album over a percolating synth bass beat from Vince Clarke's bag.
Lerner brings acoustic piano into the mix with "Farmers Road," an odd junction of meditative single chords with a lightly bouncing hoedown beat. The two-part title track(s) conjures the majestically fake, skyward redemption of synth strings in its first part, resolving in the federated, forged gospel that Flaming Lips occasionally tries to impose upon us in footnote form. But Lerner's steadiness of hand makes it work, and brings the album closer to the present.
Telekinesis' total immersion into the techniques of the time without much reservation is admirable in itself. Ad Infinitum, despite its trimness, is a much more diverse album than we could have expected from almost any synth-pop artist of the '80s, except for fellow style vagabonds like Thomas Dolby. Lerner leavens in a sort of comfort into the form throughout the album, even at its most pensive moments, and that's something that can only come from an artist who's learned to balance studiousness with his own personality. He re-enacts the formulae of synth-pop, but it never sounds like a self-conscious burlesque. It sounds like what we hoped we'd eventually get from those nights of black lighting and floor-gazing, but just couldn't hold out for any longer than we did.
Similar Albums:


Spoon – They Want My Soul


Belle and Sebastian – Girls In Peacetime Want to Dance


Wye Oak – Shriek
Paul Pearson
Paul Pearson is a writer, journalist, and interviewer who has written for Treble since 2013. His music writing has also appeared in The Seattle Times, The Stranger, The Olympian, and MSN Music.