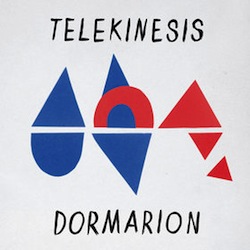 Dormarian Lane, in Austin, Texas, is the locale where Michael Benjamin Lerner, aka Telekinesis, recorded his third album. He did an Internet search for the word "Dormarian," and found nothing but this little street, yet he thought it such a beautiful-sounding word that he named this collection of songs after it, as if doing so would give the street the life it deserves, even though it will always just be a small street. This must be how fans of Telekinesis likely feel: Lerner certainly deserves wider recognition, but not at the expense of overexposure. With Dormarian, Lerner proves that the talent displayed on his first two albums, 2009's Telekinesis! and 2011's 12 Desperate Straight Lines was no fluke — he has lived up to the promise he set for himself. On his newest full-length, he has fulfilled his own expectations, and with some of the risks taken here, he is poised to surpass them.
For those who have never heard Telekinesis, here's a quick primer: take Death Cab for Cutie, strip away the pretense and precision, add some honest-to-goodness crunchiness and a schmear of fun, and there you have it. This is no accident; DCFC's Chris Walla produced Lerner's first two albums. Dormarian finds the student breaking away from the master, and the results leave no doubt that he was ready. The first notes of the first song, "Power Lines," drive this point home. Lerner, alone with a guitar, strums 12-bar blues, singing along as if being caught off-guard. A minute later, the rest of the instruments come in, turning the song into something more like Buddy Holly reincarnated than Ben Gibbard imitated.
"Empathetic People" is harder than Lerner has dared venture in the past, and its punk feel is modernized by a film of effects. "Ghosts and Creatures" veers in the other direction – synth-heavy and programmed, but never reaching Owl-City-esque sanitization. "Wires" is more of a melding of rock and new wave, and "Lean on Me" could be a post-Beatles John Lennon song. The ironically titled "Symphony," however, does not stray from Lerner and his guitar, and it's simply lovely.

Dormarian continues on this path, each song distinct from the previous one. Normally, this variance would be distracting to the point of weakening the whole, but one thread keeps this collection of songs grounded: excellence in songwriting. At 26 years old, and with three albums to his credit, Lerner is making his case for being one of the top young pop composers out there. He has yet to be launched into the stratosphere, and while every song on Dormarian is excellent, there is not one irresistible, undeniable hit. In other words, any of these songs could be heard on the radio or in a movie or even on an Apple commercial, but you're not likely to hear any of them on Glee any time soon.
Similar Albums:

Ra Ra Riot – The Rhumb Line


Headlights – Wildlife


The Joy Formidable – A Balloon Called Moaning