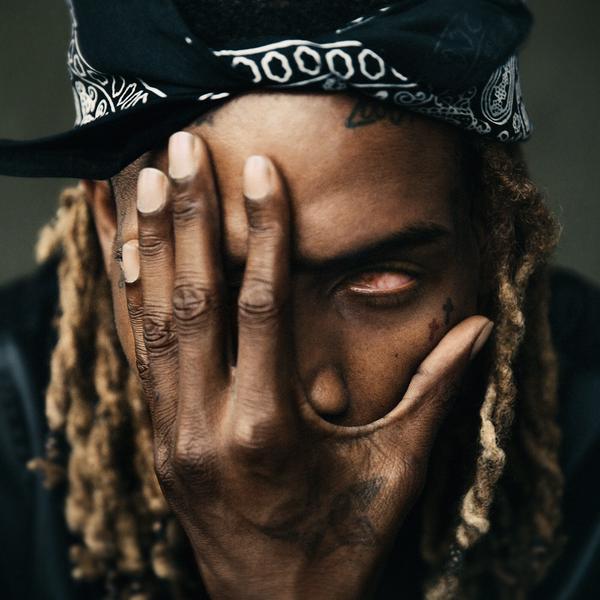 Fetty Wap, the one-eyed poet laureate of Paterson, New Jersey, had four songs in the Billboard Top 40 and two in the top 10 in August. That's some early 2000s boy-band shit! That's Beatles shit, in fact! He was no one-hit wonder. Yet the signs of a potential crash-and-burn persisted as the release of his self-titled debut loomed: "Trap Queen" had been memed and thinkpieced to death, and covered by a disturbing number of white folks, most execrably in a video by some Aryan-faced little prepubescent shit who (allegedly, I haven't watched), takes "cookin' pies" literally. Not good, but the singles—"My Way," "Again" and "679" as well as "Queen"—were so melodically strong that I remained optimistic.
So it's reassuring that Fetty Wap is an album worthy of its singles and then some. Over the course of 17 tracks (20 on the deluxe!), it is never anything less than enjoyable – and in quite a few instances, transcendent. There's been plenty of great rap music this year, but none of it has been quite as massively appealing across multiple audiences as Fetty Wap's singles. That shit matters in an era where only a few artists come close to having that culturally ubiquitous reach.
Back to what's most important, the album: Fetty hits the ground sprinting and barely stops for air along the way. Not since Get Rich or Die Tryin' has a rap album embraced the every-track-a-single aesthetic as thoroughly as Fetty Wap does. Take the six-song stretch starting with "Queen" and ending with "I Wonder." It's a run of pure celebration and triumph, with even its weakest moment, the seduction jam "679," being pretty goddamn fun. You can envisioning him smiling from ear to ear while recording it. Even when "Wonder" deploys a minor-key Atlanta trap beat overlaid with ominous string plucks for an effective rumination on the grimmer aspects of life in Paterson's public housing, it's not long before Fetty's back to pure joy with "Again," one of the most touching love songs I have ever heard, full stop.
Fetty is above all a grand romantic, and not just in the context of love songs. Although drug slinging is always in these songs somewhere, he's not interested in it as anything other than a borne-out-of-necessity means to a financially successful end for himself, the woman he loves, his family and friends. Particularly the latter—"RGF Island," for example, is every bit as moving an ode to his crew as "Again" (or "Queen," or "Jugg," or "D.A.M.") is to his lover.
Unlike most romantics, he's able to concede the difficulty involved in getting what he wants. On songs like the aforementioned "I Wonder" and "Boomin'," Fetty depicts how ugly it can get when the grind leads to violence, and "No Days Off" and "Couple Bands" make clear in no uncertain terms that all the play and romance and jubilance of the record's other songs is rooted in hard, bleak work. Yet it's all worth it because it's brought him to this point. (It should be noted that the hardest songs are the least interesting—well-executed but ordinary. It's impossible to say the same about everything else Fetty Wap does.)
I intentionally went this far without mentioning Fetty's vocals. But although there's plenty of depth to him stemming from his thematic and aesthetic focus, his voice is without a doubt the reason why his music so gripping and undeniable. Rough around the edges though it may be, the melodic instincts are perfect, and the cracks and idiosyncrasies of his phrasing are what seal its authenticity. (The way he sings "and ain't a damn thing changed" on "RGF" is chill-inducing, for example.) That his style has clear antecedents and is common in the current rap landscape—from superstars like Future, Kanye and Drake to more derivative entities such as Ty Dolla $ign and Travi$ Scott—only make Fetty's mastery of his take on it that much more impressive. The production, while not especially unique, is lush and inviting synth-based street rap, and tonally fitting on a song-to-song basis—strip-club bounce for "679," Lex Lugeresque menace for "Boomin," ambient, near post-rock for the reflective "No Days Off" and "Rewind," synth riffs turnt to 11 for "Trap Queen," "Jugg" and "Let It Bang."
Whether or not Fetty Wap's success and artistic quality are sustainable remains to be seen. The former is bound to dip sooner or later, of course, and by the time he's working on another record the culture at large might not be as inclined to embrace his version of this pop-rap sound. But as for the latter, he's already gotten this far, imperfect yet more or less artistically fully formed. It's not a stretch to imagine him going further.
Similar Albums:


Wale – The Album About Nothing


Migos – Yung Rich Nation


Drake – Nothing Was the Same