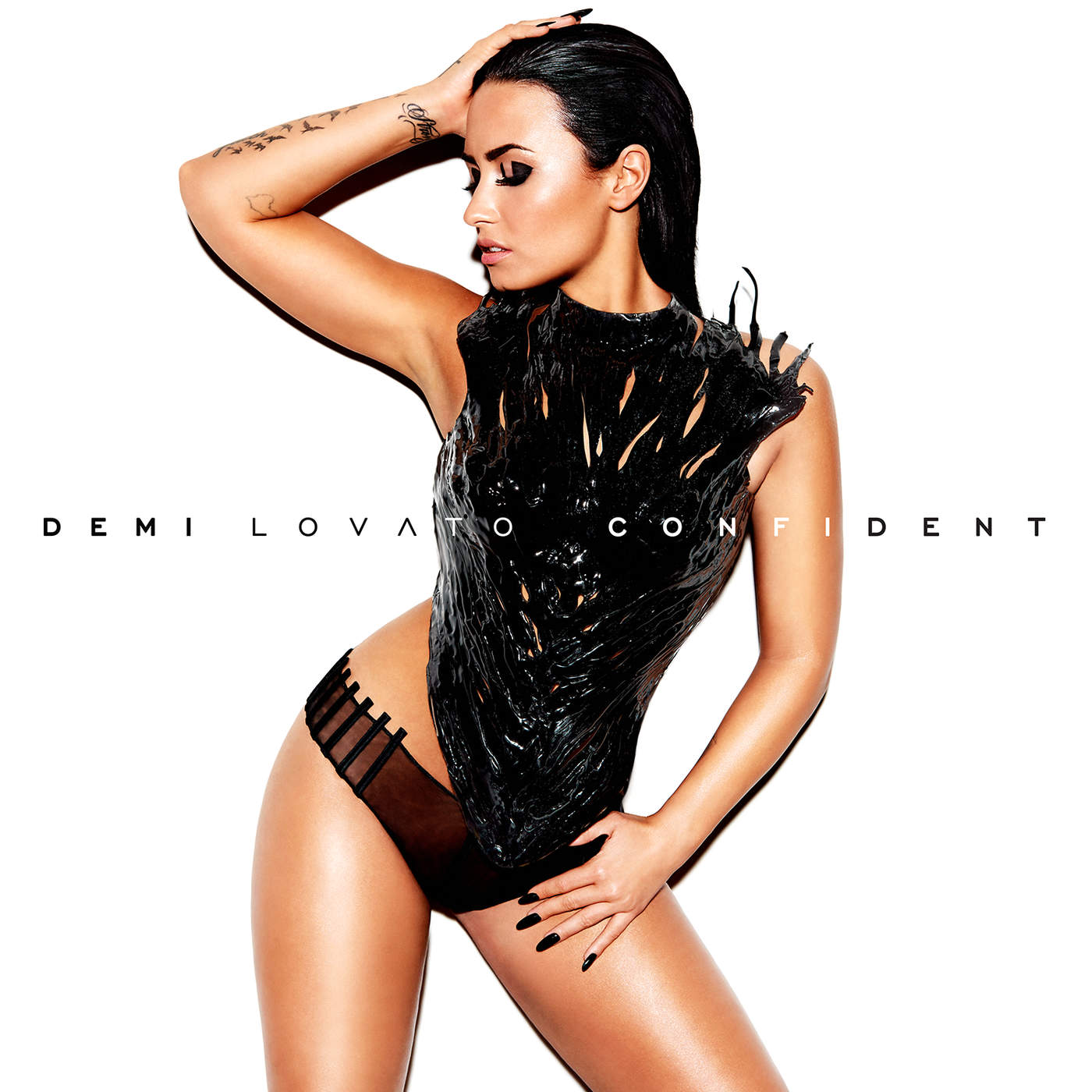 Always an incredibly earnest pop star, Demi Lovato has treated the promotional cycle for Confident as a volley of bold personal statements: an unretouched, makeup-free photo shoot for Vanity Fair, continuing her focus on mental health advocacy efforts and being featured on the First Lady's International Day of the Girl playlist on Spotify. All of these things are admirable in many ways, and certainly confident. This most likely leads you to wonder if the album itself is as forthright as these actions, or if it's false advertising.
The answer is a little "yes," a little "no," albeit leaning more toward yes. Some of these 11 songs (not counting bonus tracks, which I haven't bothered with for this purpose) are straight-up pop thunderbolts that succeed in conveying empowerment of various kinds without being preachy or boring. Others fall victim to cliché or sappiness, or to more purely musical problems like outdated productions that are, by way of their safe nature, decidedly less than confident.
This is well represented by the dichotomy between the tracks that open and close Confident. At first there's the wallop of the title track, its martial drums and thunderous horn samples supporting one of Lovato's strongest vocal performances. When Lovato sings, "Bitch I run the show," I believe her more than I do Rihanna opining about her money. Perhaps that's because unlike Barbados's finest export, Lovato is stomping away personal and career turmoil that almost tore her apart. It's an astonishing pop song, much like the bubblegum-synthpunk confection that follows it, "Cool For The Summer."
On the other end of the spectrum, you have the closer, "Father." Which is, well, a treacly ballad whose serious subject matter—Lovato's father's mental illness—does not save it from being musically uninspired, only the mild soul inflections on the backing vocals saving it from banality. In cycling back to discussion of an authority figure in her life, undermining some of her intended message. It's an act of some bravery for her to discuss these things, but that doesn't mean it makes a compelling song. Penultimate track "Yes," a Beyonce-esque power ballad asserting self-worth before what may be a lover or perhaps the audience, would've made a much better finale.
The songs in between these opposing poles are what determine the album's success or failure, and overall they are successes, even considering some of the flaws. "For You" and "Stone Cold" make a good midtempo pairing near the end of the album's first half, particularly the torch-song rawness of the latter (which definitely features the best singing of Lovato's career).  The fierce "Wildfire" is Katy Perry done better than Ms. Perry has for herself in a while, while "Waitin For You" lays waste to the mean girls and shitty boys who've stood in her way.
"Old Ways," which sinks a solid Lovato vocal and fuck-the-past lyrics in outdated nu-dubstep production, does not fare so well. "Kingdom Come" has a similar problem, though it's not as pressing an issue as its execrable guest verse by Iggy Azalea. The irony of Lovato—a woman who's otherwise successfully showcasing an honest persona far less varnished than most of her contemporaries—including one of music's most blatantly manufactured entities on a song is less than pretty.
As you might expect from a pop album in 2015, much of the production comes from the Max Martin Loose Association of Hitmaking Swedes, with Martin himself handling "Confident" and "Cool For The Summer." In addition to those, standouts include "Waitin For You," the verses of which sound like something 40 would make for Drake to put late in an album tracklist, and the booming percussiveness of "For You" and "Yes."
While Confident is by no means the powerful artistic statement of say, Carly Rae Jepsen's Emotion (few pop albums are this year, if any), it generally echoes CRJ's disinterest with chasing the zeitgeist of current genre sounds. For better and worse, this is precisely the album that Demi Lovato wanted to make (mostly; I have my doubts about the Azalea feature). It's not perfect, and some of its mistakes threaten to derail it, but she lives up to the promise of the album's title. There's enough good here to be charged up and blissed out t0—and also be intrigued by the possibility of what she's got coming up next.
Similar Albums:


Carly Rae Jepsen – Emotion


Ariana Grande – My Everything


Charli XCX – True Romance