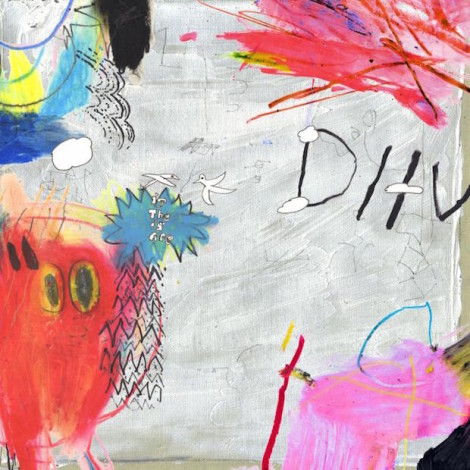 In the four years since DIIV released their debut album Oshin, they've garnered attention for all the wrong reasons. There was the arrest of primary creative force Zachary Cole Smith—who was charged with misdemeanor possession of a controlled substance on his way to the Basilica Music Festival with pop star girlfriend Sky Ferreira in 2013—and then a series of hateful comments on message board 4chan that came to light just last year, exposing bassist Devin Ruben Perez as a scummy internet troll (Perez offered up a pretty weak apology, but is still in the band). Smith and company, then, would be fighting an uphill battle with whatever they decided to release as their sophomore album, and the Brooklynite acknowledged that fact, telling Pitchfork in a recent feature that "if [he] didn't make a great record, then [he was] done." Is the Is Are, DIIV's long-awaited follow-up to their krautrock-inspired, reverb-drenched Oshin, offers many highs; here the group has injected their signature sound with distinguishable hooks and lyrics, but at 17 tracks the album inevitably feels like a long, drawn out comedown.
Initially there's much to love about Is the Is Are, and it's easy to see why three of the album's four teaser singles are placed at the album's front. "Under the Sun" and "Dopamine" are both uptempo tracks with familiar DIIV elements: catchy, repetitive guitar lines and a grooving, lock-step rhythm section in which the drums focus primarily on the ride, snare and floor tom; "Bent (Roi's Song)," on the other hand, exhibits some interesting harmonic dissonance as Smith's droning voice adds thematic emphasis to a song about substance abuse. "Blue Boredom (Sky's Song)," which features Ferreira, does an excellent, uncanny job of channeling Kim and Thurston—moreso than the Kurt and Courtney comparisons so often pinned to the couple.
Similarly, much of Is the Is Are is indebted to Sonic Youth, and Bad Moon Rising, in particular. But while that model lends plenty of influence for ingenuity to a guitar band in desperate need of a big statement, the album goes on the nod for much of its remaining 12 songs. Between the many impressionistic sleepers and familiar instrumentals, one can find a few moments of true passion, but those are easily forgotten as each following track seems to replicate the previous one to alternating positive and negative effect. When the band rips, they really rip, but Smith's vocals can oftentimes take the focus away from an otherwise searing guitar figure. The frontman chose to focus more on his lyrics with this album—as much of Oshin lacked any singing—but one must wonder what result a focus on inflection and range would have had, too, as much of Smith's styling sounds like one big lull.
Don't get me wrong, there is much to enjoy about Is the Is Are. But with an album of its size, one has just as much chance of finding something to latch on to as they do of losing interest over its course. While the band's penchant for dreamy soundscapes is augmented here by harsher, more matured tones, the extended vamps and proliferation of Smith's invariably lethargic voice lend a repetitive quality to a good album.
Similar Albums:


Deerhunter – Fading Frontier


Lower Dens – Escape From Evil


Wild Nothing – Nocturne