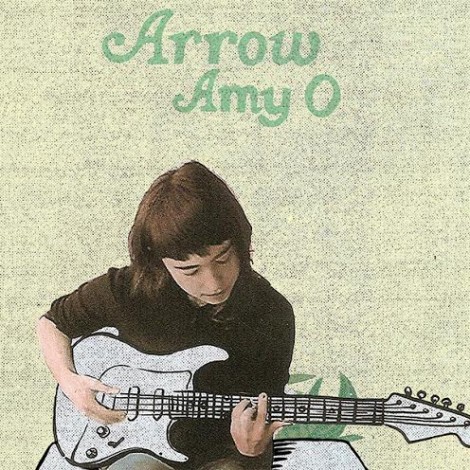 There is something rewarding about stripped down, simple tracks. These are the songs that don't weigh your eardrums down, the songs that feel good going down. Amy O's debut album Arrow is chock full of songs like these, full of gooey guitar goodness, warm nostalgia, and a cherry on top. As an emerging artist, Amy O shows the kind of promise that would suggest one day being able to carry the torch passed on from singer/songwriter predecessors with feminist themes, such as Patty Griffin and PJ Harvey. Based out of Bloomington, Indiana, Amy Oelsner and her band are already in a strong position, set to open for alt-favorite Hop Along later this month. Her songs are simultaneously grungy and in search of a silver lining, perpetually juxtaposing themselves.
Amy O's songs read like a twenty-something's diary: honest, existential, and wishing you would just call her back. Through laid back guitar riffs and relevant lyrics, Amy O hits points of clarity, bringing us along with her. On "Arrow," Amy O layers harmonies to create a playful yet raw vibe, the track reading like a highlight from Waxahatchee's Cerulean Salt. Yet while "Arrow" is sprinkled with hints of positivity, "Gold Coin" feels laden with sentimental sadness, as Amy O sings of yesterday and places of the past.
The lyrics interspersed through Arrow are thoughtful and delicate. On "Toast," Amy sings, "I didn't know the city lights would look like fireflies," painting a twinkling image of desire and yearning. Amy's subject matter pulls from myriad experiences: heartache, desire, and the occasional sense of existential crisis. With calming songs to balance the overwhelming, Arrow portrays the spectrum of challenge in a personal way. On the other hand, "Gold Coin" is filled with child-like wishes, as Amy croons, "Draw me a map/write me a story." This track serves as a journey to a possibility—what comes after the immediate crush begins.
Arrow's success lies in Amy O's ability to answer her own questions. Within her woeful tales, the answers to these tiring questions appear in further songs. It's almost as if Amy O walks us through a trial run of writing an advice album to herself and her peers. Outside the album, Amy is likewise proving to be strong in character, and an inclusive role model for those very same contemporaries. She created a Facebook page for Girls to the Front, the name for her new venture: guitar lessons for women/girls/LGBTQ+. In a culture focused on the flaws and shortcomings of musicians, it is refreshing to see a rising musician take that extra effort to leave a positive mark on the new generation.
Similar Albums:


Waxahatchee – Ivy Tripp


Torres – Sprinter

Alex G – Beach Music