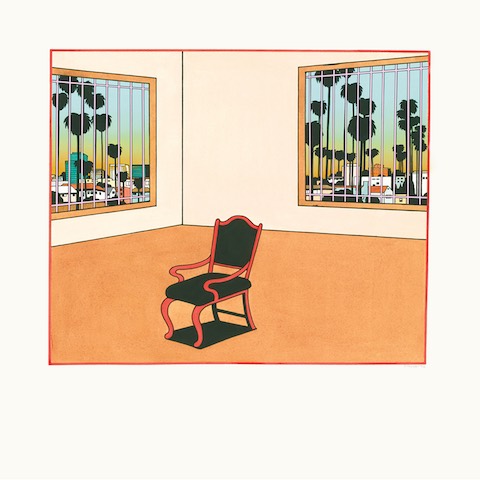 Quilt has steadily improved upon its psychedelic and folk-tinged sound since releasing their self-titled debut in 2011 on Mexican Summer. The band relocated to New York from Massachusetts in 2013, recording its sophomore effort, Held In Splendor, there at the label's in-house studio with producer Jarvis Taveniere. Quilt has teamed with Taveniere once again on Plaza, their latest release, which expands on the varied instrumentation they dabbled with on Held In Splendor. Their grounding bi-coastal influences still shine through—their (new) home state's prominent '60s folk scene, as well as Laurel Canyon's heyday of sun-bleached pop and rock—forming an incredibly lush and cohesive amalgam of sounds.
The album's opener, "Passerby," is an ambling jaunt beautifully mixing these two worlds, with singer/guitarist Anna Rochinski's light coo lifted by backing strings and flute. The guitars are pleasantly warped, shifting quickly from mild reverie to a figure of brief tension, and then back again. Standout "Roller" is one of the band's most pop-oriented songs to date, though Rochinski claims that, lyrically, it's primarily concerned with feeling stuck and frustrated with both a relationship and the general public. The album maintains its pop magnetism as fellow singer/guitarist Shane Butler then takes the lead, emulating mid-career Beatles psych-pop on "Searching For," a tune about the struggle of displacement that abounds when bands tour rigorously and craft records in various cities (the band worked on much of Plaza in Atlanta in 2015, while other songs were started years prior in Massachusetts and upstate New York).
"Eliot St." slows the record's roll, with Butler meditating on former loves as his light acoustic guitar strums double with a beautiful piano line in the chorus from drummer John Andrews. As Rochinski's soulful "Hissing My Plea" follows and picks the tempo back up, it becomes apparent how ironic the relationship between the record's subject matter and the band's way of delivering those messages is. Airy guitars and wistfully reflective vocals cloak the gravity of desperate situations, poor relationships and tales of fictional cults; Butler's "Padova," inspired by the death of his mother, and the closer, "Our Own Ways," are really two of the only songs on the album that sonically match the tone of their lyrics. That juxtaposition may just speak for how beautifully entrancing each moving part is, with string compositions written by Simon Hanes and harp performed by Mary Lattimore.
It's interesting to look back on Quilt's short catalog and see how much the band's sound has changed despite the fact that they're still rooted in roughly the same territory. The band has consistently written solid, engaging songs with a decade of obvious influences, so perhaps incremental upgrades in production quality and a precise paring of each song's arrangements are responsible for the band's most elegant record to date. In the beginning, one might have lost them in the haze of their throwback sound, but Plaza finds Quilt clearing the air and confidently making their most natural statement.
Similar Albums:


White Fence – To the Recently Found Innocent


Jacco Gardner – Hypnophobia


Amen Dunes – Love