Blonde Redhead : Barragán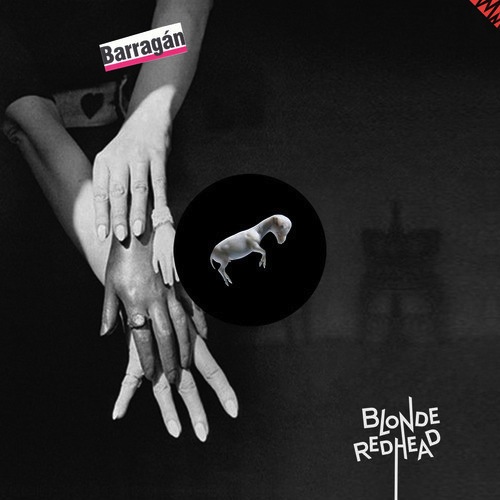 Barragán arrives with the softness of a lullaby. The ambiance of the album's opening track — the rustling of wind, the chirping of birds, the creaking of a porch chair — suggests a sort of quiet retirement, the idea that maybe Blonde Redhead have retreated to some cabin in the Catskills to live amongst the natural world and to record an album of pastoral guitar-and-flute duets. But just when the title track starts to convince you that maybe there have been worse mid-career shifts (see "The One I Love" for further evidence), the skittering, slithering "Lady M," appears, introducing us to a quieter version of the minor-chord shiftiness that has defined the band's sound for well over a decade. Barragán presents us with the same, weird Blonde Redhead that made Misery Is a Butterfly ten years ago, but they're subtler now, mirage-like. The album whispers a demand that you listen closely, then rewards you when you do.
Perhaps the key to understanding Barragán's aesthetic is the title, ostensibly a reference to Luis Barragán, a twentieth-century Mexican architect associated with the minimalist movement, though his work is set apart from that of his contemporaries by its use of bright colors in his simple designs. The members of Blonde Redhead appear to be following this same philosophy of vivid quiet: Barragán is an album of uncluttered arrangements that display some of the band's best songwriting, of whispered vocals that feature some of Kazu Makino's best work. It's a stark departure from the shoegaze of 23 or the dream pop of Penny Sparkle, but it's still unpredictable — and occasionally danceable — in a way that the band's best work can be.
Take lead single "Dripping," for instance, which is driven by only a stamping drumbeat and a sparse (but grooving) bassline. Add in Simone Pace's reliably straightforward vocals and some synth accents here and there, and you have a song that feels like the scrappy younger cousin to Radiohead's "Lotus Flower." Or take the melancholy "No More Honey," which builds a slower, similarly spare arrangement and then violently cuts through it with a single, sliding guitar riff that adds a surprisingly affecting sense of catharsis to Makino's emotionally numbed threats ("Whatever you do, I won't be sorry").
Then there's the album's highlight, "Mine to Be Had," which clocks in at nearly nine minutes and is the band's longest song by some margin. It could have easily been trimmed down into a five-minute number, but here the band lets it breathe, building the song's atmosphere for almost three and a half minutes before even introducing the vocals. The song, allowed to grow and unfold naturally, is Barragán's mesmerizing centerpiece and is, in many ways, an embodiment of the album's pared-down philosophy.
This minimalistic approach is both a blessing and a curse for Barragán. The sparse skeleton of "Cat on Tin Roof" provides room for some endearingly directionless improvisation (Makino scats and yowls in a refreshing deviation from the album's typically tight structure), and "Defeatist Anthem (Harry and I)" slips in an interlude that places Simone's pixilated vocals over a simple guitar riff — a vignette that turns out to be one of the album's briefest, most exciting moments. But the minimalism also makes the album's missteps more noticeable: "Penultimo" might feature the densest production on the record, but it still can't hide the undercooked cliches of its lyrics ("Fail to prepare / Prepare to fail").
But if nothing else, the disappointment of "Penultimo" makes the haunting closer "Seven Two," a back-and-forth between Makino and Simone that subtly recalls the birds and flute of the album's opener, that much more of a relief. It's a fitting, effective closer that emphasizes the album's cohesion and highlights its themes: when the background noise of the birds and wind suddenly cuts out at the end, leaving only the fleeting echo of Makino's haunting final note, it's hard not to be stricken by how Barragán, like its namesake, does so much with so little.
Similar Albums:


Braids – Flourish//Perish


Radiohead – The King of Limbs


Grouper – The Man Who Died in His Boat