Disparate Youth: An interview with Mourn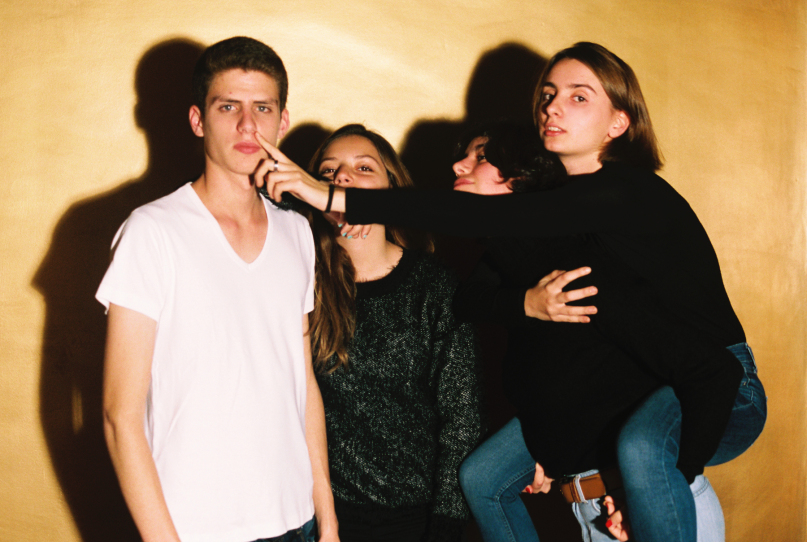 Mourn's hometown of Barcelona isn't necessarily a post-punk hotspot. Bass-thumping electronic clubs, famed architecture and frequent waves of tourism make up most of the city's core components. Sure, there will always be a handful of local venues like Sidecar Factory catering to fresh-faced locals aspiring to emulate the angst and aggression of bygone bands, but the city is far from the genre's roots. That's what makes Mourn's success all the more remarkable. After releasing their first album in early 2015, the band would create a stir in underground rock, heavily relying on influences of top-tier 90s punk rock outfits such as Babes in Toyland and PJ Harvey. Mourn would go from faceless obscurity to hometown headliners at Primavera Sound, all before any of the band's members were 20.
Treble caught up with lead singer and guitarist Jazz Rodríguez Bueno in a Skype call coinciding with the release of their new album Ha. Ha. He. There is an acoustic guitar on the wall in the background, and we discuss how her father played in a band called The New Raemon and was responsible for musically inspiring his daughters. Our Skype call buffered and glitched from start to finish. Rodríguez Bueno was embarrassed of her English. I was embarrassed of finishing with a C- in Spanish.
Treble: In the past two years you guys have really taken off. What has kept you sane and grounded over the past two years?
Jazz Rodríguez Bueno: I think the fact that we're still studying and we have things to do apart from playing helps. I'm not sure. I think it's that we have other obligations and we have to make everything work. We didn't expect to have this kind of success, I mean, it wasn't our goal. We just want to play and have fun.
Treble: You mentioned last year about how you took an improvisational approach to writing songs for your debut. How did that evolve the second time around?
JRB: It was a bit different. We're all studying different things, so we weren't in the same classes anymore. We didn't have much time to meet, and when we did it was usually on the weekends. This time I had more time for writing than Carla. I started writing the songs for Ha. Ha. He., recording them, and sending them to her. Come rehearsals, we were able to put more ideas together with all four of us. It was difficult. We started to meet on Sundays and it became much easier.
Treble: What are you studying in school?
JRB: I'm studying audio-visuals. My sister is still in high school, but she's studying acting. Antonio is studying sound design.
Treble: The band have already released an album and an EP, embarked on a world tour, and have had quite an experience over the past two years. How did this affect you as songwriters going into your second release?
JRB: We learned a lot. We play our instruments much better now, and we've become more comfortable during live performances and rehearsals. I think we've all become more confident and it's made a positive impact on the band. More experience makes better songs.
Treble: Last year's self-titled album had two tracks with boys names as the titles, "Jack" and "Marshall," and they're actually based on real people. Ha. Ha. He. has a track titled "Howard." Would you mind if I asked about that?
JRB: (laughs) Howard does not exist. He's a character I invented. I'm going to a new school and it seems like Hogwarts to me. He's not based on anyone in particular, so I made a character from what this school represents; the work ethic, the rules, the working process, all that.
Treble: You've mentioned your influences in previous interviews and you cite Archers of Loaf and Sunny Day Real Estate as two. What have you been listening to lately, and has it shaped any of the songs on Ha. Ha. He.?
JRB: We've been listening to a lot of Throwing Muses. I picked up Rat Girl by Kristin Hersh, but I didn't know the band when I began reading. When I was reading the book, I was like, 'This is really cool. This woman is awesome.' I went back and was super impressed by her records. She's really cool.
Treble: The title of the new album pays tribute to William Blake's poem, "The Laughing Song." Did any of his work come into play while making the new record?
JRB: Well, we're not really influenced by his poetry in our lyrics, but I just felt that it was a powerful title for the album. The poem is about joy and hope and laughing. I feel that laughter and happiness is what unites us. We've been through some difficult stuff over the past two years. That's what we needed for this, so I felt it would be cool to have this title.
Treble: There's a clip of the band right before your Primavera set. Right as you are given the three-minute warning, you start jumping up and down trying to get everyone to sing "Mancha de Fu." Can you tell us more about that?
J: (laughs) Yea, it's a song my sister invented. There's a TV program here in Catalonia called APM. It's just about funny people appearing on TV. I don't know how to explain it. There are recurring people who appear to say funny things throughout the show. It's a song inspired—ahem. It's a stupid song, OK? It was made to make people laugh. Leia was singing it all the time and we would all be like "Shut up, Leia, shut up!" Then one day we all started singing it because we had learned the song. We all said, "Why don't we just sing it before every show," because it makes us "ha ha ha!" and gives us energy.  We sing this every time and it's funny because it's a really stupid song. It's embarrassing and "Fu" isn't even a word.