Ice Cube's AmeriKKKa's Most Wanted was a pivotal cry for social justice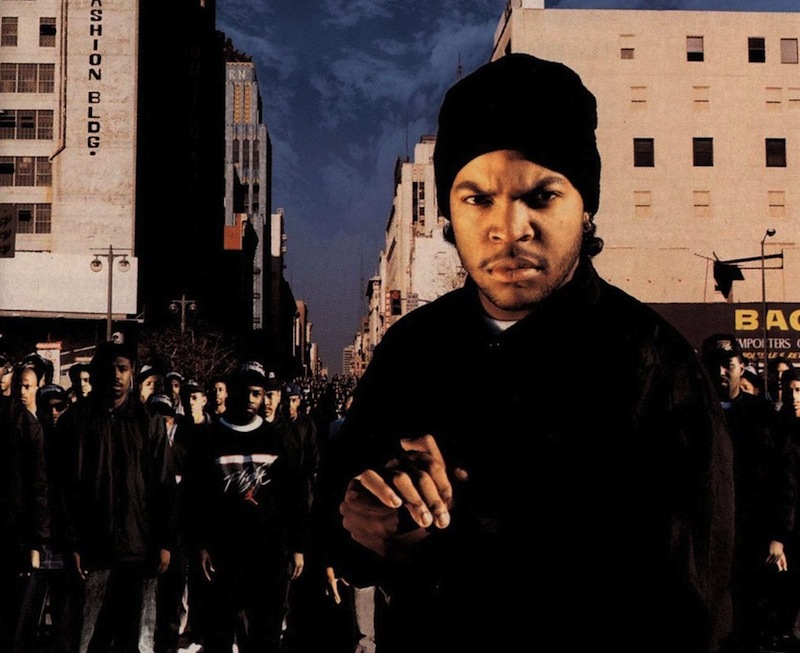 "I was making my solo move before a lot of people realized that I was out of NWA. People were pretty surprised when they heard I was working on the record." – Ice Cube
In 1989, Ice Cube was fed up. After a grueling two years breaking records and selling out crowds with NWA, he returned to South Central Los Angeles, living with his mom, taking out the trash, washing dishes—a successful, famous rapper living back at home. The success of Straight Outta Compton and Eazy-Duz-It was apparent with three million copies sold, and the tour with NWA had grossed approximately $650,000. But out of all the financial success, Cube was at the end of his fuse, livid with Jerry Heller, NWA's manager, and Eazy-E over a royalty dispute. Frustrated with the situation and unable to resolve the dilemma, Cube left the group in December of that year. The next logical step would be to strike out on his own with a solo record, and only two producers came to mind: Dr. Dre and The Bomb Squad. Because of Dre's then-membership with NWA and the ongoing feud, Eazy-E and Jerry Heller vetoed that idea. In the aftermath of AmeriKKKa's Most Wanted, Cube revealed that Dre was absolutely willing to produce Cube's solo debut, but it was impossible. So Dre was off limits, but luckily Cube had some tricks up his sleeve. From all the touring done with NWA, Cube had crossed paths with some high-profile East Coast hip-hop groups in their heyday, Public Enemy being the most prominent among them. Aside from being a fan, Cube held tremendous respect for Public Enemy's de facto leader, Chuck D. And it was through this relationship that Chuck D would link up Cube with The Bomb Squad, the production group responsible for most of Public Enemy's sound.
Soon enough, Cube packed his bags and headed for the East Coast with his close friend and producer Sir Jinx (also Dre's cousin) in tow, ready for a change in his dynamic as a rapper. Bomb Squad member Hank Shocklee didn't believe that Cube wanted them to produce the record, though when he showed up they knew Cube was game. But Shocklee made very clear to Cube that he wasn't interested in making pieces of records; Cube needed to be on board to do a full album. Chuck D had encouraged Cube to plot out ideas, and Shocklee recalls that Cube had around six to eight 200-page composition notebooks completely filled and ready to go. With the excitement built up, it was only a matter of condensing the plethora of Cube's ideas into a cohesive album. This proved to be a turning point for Ice Cube. Jinx and Cube had both agreed that AmeriKKKa's Most Wanted wouldn't have any reflection of NWA nor would it be dedicated to dissing his former rap colleagues, something Chuck D and the rest of The Bomb Squad were very strict about. No longer interested in petty grievances, Cube found new targets with issues that plagued black men in American society. AmeriKKKa's Most Wanted was Cube's pent-up frustration finally released out into the open.
From the beginning of the album to its end, Cube maintains his pissed off-attitude and persona that has defined his image as an emcee. The title itself is a play on the TV true crime show, America's Most Wanted, hosted by John Walsh. While the show itself focused on capturing criminals, Cube flipped the idea, articulating that the "criminals" were young men of color, particularly, young black men, swallowed by the prison system, beaten to death at the hands of police officers or resorting to crime to survive. Essentially, Cube had taken "Straight Outta Compton" and "Fuck Tha Police" to more sophisticated levels and expanded on these themes. With NWA, some of their image was presented as shock value to challenge the conventions of hip-hop in its early stages, but with AmeriKKKa's Most Wanted, a much more socially reflective form of hip-hop began to take shape. He wasn't the first to do so, of course; It would be myopic to omit the contributions of KRS-One and Boogie Down Productions, as well as the first two albums by Public Enemy. So it only makes sense as to why Cube would approach The Bomb Squad to get the ideas running and put onto record.
"The Nigga You Love To Hate," the album's first song, was originally intended for NWA as Cube fed off the idea that his group and hip-hop in general had been made into villains in America. That's a fair assessment, but with its loaded production of wild samples, it's a track that slams wall to wall and gives a glimpse into Cube and his persona. Rather than being concerned in keeping the gangsta rap image, Cube devoted his lyrics into attacking American institutions that had failed so many young black men. Highlights such as "AmeriKKKa's Most Wanted," "Once Upon A Time In The Projects," "Endangered Species" and "A Gangsta's Fairytale" lay out these problems, and matched with Cube's sharp and biting rhymes, The Bomb Squad and Sir Jinx don't pull out any stops here.
While the album itself does a tremendous job of outlining societal problems that unfortunately remain relevant, it isn't without its regressive, archaic moments of misogyny. "They Can't Fade Me" is particularly harsh, with Cube trying to make sure he didn't get a girl pregnant and the things he would do to get out of being a father. "I'm Out For One Thang" and "Get Off My Dick And Tell Yo Bitch To Come Here" are more than self-explanatory, Cube only sees women as objects and is only interested in pursuing them if they serve him.  Fast forward to 1991: As part of a promotional piece for his later album Death Certificate, Cube sat down with legendary activist and feminist scholar, Angela Davis, to discuss issues that face young black Americans. His responses were insightful during their conversation, but when pressed about his lack of inclusivity for black women, he became uncomfortable and dismissive of that idea. While Cube's intentions on his records were well thought out, his failure to address his own misogyny was something he wasn't interested in talking about (his opinions didn't really seem to faze Davis, for that matter).
Ice Cube does, however, give some space to Yo-Yo, a female emcee and friend of Jinx, who holds her own on "It's A Man's World." Both trade barbs that are pretty even handed as Yo-Yo manages to one-up Cube on each and every verse, but the entire theme of the track is to illustrate, in spite of her swift rapping skills, she's ultimately going to lose because it's a man's world. And Cube, for his part, isn't so much interested in helping change it.
While the album has its flaws, the lyrical and musical content on Cube's debut solo album is worth the praise alone. Cube was focused on creating something much more personal and socially resonant. And the collaborative process between all parties involved certainly shows. During production, Cube and Jinx were instrumental in assisting The Bomb Squad in assembling the tracks: Jinx's primary role was to maintain the West Coast flavor, despite being entirely produced in New York while Cube perused the archives of Public Enemy's studio space, collecting his favorite funk records for The Bomb Squad to sample. Eric "Vietnam" Sadler, another Bomb Squad member, talented multi-instrumentalist and wizard with drum programming, was also key to the production. Above the samples, Sadler took over the "bottom beats," constructing the rhythms of each track while Hank and Keith Shocklee added their own touches. AmeriKKKa's Most Wanted was a great example of two different styles of rap merging together, though Sadler explains he wasn't concerned about geography—all he wanted to do was make a great album. When it was released in May 1990, the album went Gold in three months and then hit Platinum a year later. All parties involved were credited for their work.
At a time when rap was still evolving, AmeriKKKa's Most Wanted propelled it into much more adventurous territory. In retrospect, Cube says this is his favorite album in his catalog and recalls a time when P. Diddy claimed that it was an influence on Notorious B.I.G.'s Ready to Die. While it was released two years beforehand, the album proved to be a kind of omen that weaved tales about the struggles of black Americans that fueled the anger and frustration behind the L.A. Riots in 1992. Poignant and sharp, AmeriKKKa's Most Wanted is one of the first records to change the dynamic of social justice in rap music, thanks to the surrounding influence of Public Enemy. Its themes and content have remained relevant, carrying on into the mainstream and becoming a benchmark for black artists having their message heard in American society.
*
Research for this article was taken from Brian Coleman's Check The Technique, Vol. 2 and Jeff Chang's Can't Stop Won't Stop.