Erykah Badu announces summer tour dates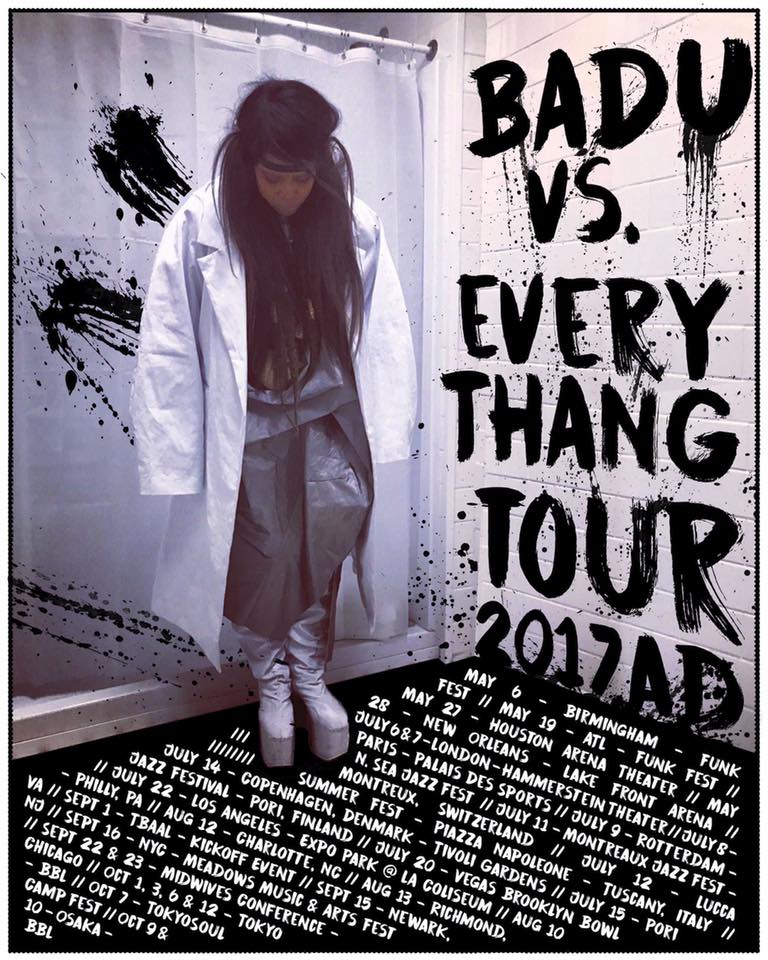 Erykah Badu has just announced a new tour for the summer, via social media, titled the "Badu vs. Everythang Tour." It kicks off in May in Birmingham at Funk Fest, then takes her to Europe, back to the states and then over to Japan for a handful of dates. Take a look at her upcoming tour dates below.
Erykah Badu tour dates:
5/6 Birmingham, AL – Legion Field (Funk Fest)
5/19-21 Atlanta, GA – Wolf Creek Amphitheatre (Funk Fest)
5/27 Houston, TX – Houston Arena Theatre
5/28 New Orleans, LA – UNO Lakefront Arena
7/6-7 London, UK – Eventim Apollo
7/8 Paris, France – Palais de Congres de Paris
7/9 Rotterdam, Netherlands – North Sea Jazz Fest
7/11 Montreaux, Switzerland – Auditorium Stravinski (Montreaux Jazz Fest)
7/12 Lucca, Italy – Piazza Napoleone
7/14 Copenhagen, Denmark – Tivoli Gardens
7/15 Pori, Finland – Pori Jazz Fest
7/20 Las Vegas, NV – Brooklyn Bowl Las Vegas
7/22 Los Angeles, CA – Exposition Park (FYF Fest)
8/10 Philadelphia, PA
8/12 Charlotte, NC – PNC Music Pavilioin
8/13 Richmond, VA
9/1 Dallas, Texas – TBAAL Riverfront Jazz Festival
9/15 Newark, NJ
9/16 New York, New York – Meadows Music and Arts Fest
9/22-23 Chicago, IL – Midwives Conference
10/1 Tokyo, Japan – BBL
10/3 Tokyo, Japan – BBL
10/6 Tokyo, Japan – BBL
10/7 Tokyo, Japan – Tokyo Campfest
10/12 Tokyo, Japan – BBL
10/9-10 Osaka, Japan – BBL
Erykah Badu's "Hello" is on our list of the Top 100 Tracks of 2016 list.