Shredding the gnar with Gnarwhal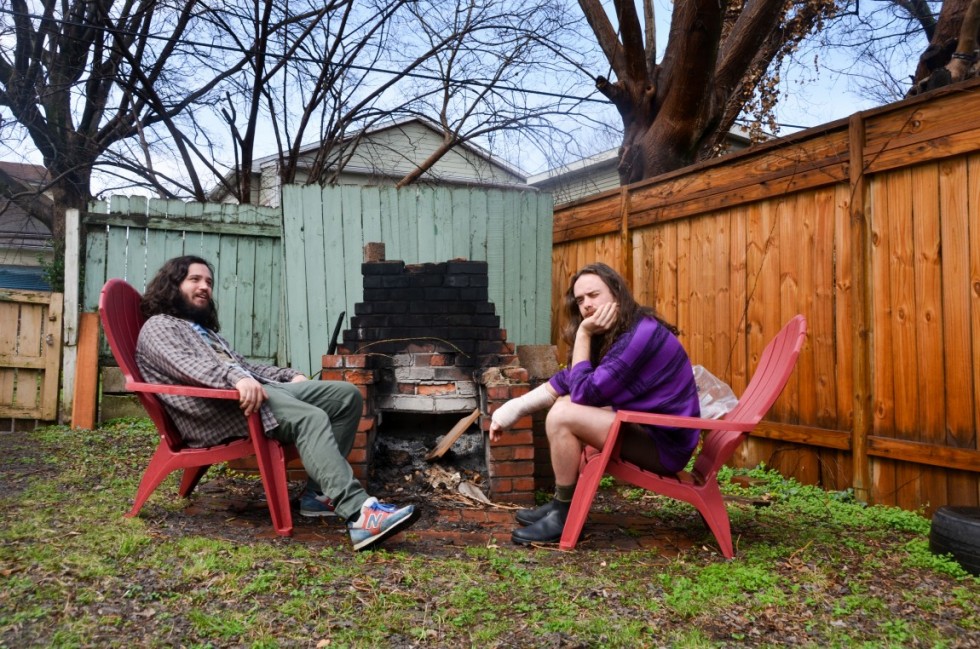 In May, Nashville duo Gnarwhal released their third studio album Crucial, a thrilling and ambitious spazz-punk statement. The record is sidewinding, turbulent and bold, piecing elements of noise, math and experimental rock together into a brilliantly refined post-hardcore spectrum. Composed of outsized instrumental talents Chappy Hull and Tyler Coburn, Gnarwhal stand out for their dense, chaotic arrangements and superb technicality. The pair operate on a string, producing top-tier recordings that favor instinct over influence. Crucial is a jaggedly spellbinding work that courses effortlessly through stuttering signature shifts and unfathomable key changes. It's a work of cohesion; an opus of sorts, as the album represents an intrinsic bond between bandmates.
It's also an album released one decade since Gnarwhal was formed. Drummer Tyler Coburn can't believe it. "Damn, that's 2007," he says. I can't believe it either. I had only heard them for the first time at a gig a month earlier. I walked into the show blind, only familiarizing myself with Gnarwhal's sarcastic quote taken from the venue's website: "We are a Nashville rock band. We have big aspirations. One day we will be on Buzz Ballads and Buzzfest and Headbanger's Ball." I had no idea what to expect the night of April 7th, a night that would leave my head spinning for days. One month later, I'm sitting with Gnarwhal outside a coffee shop in Bushwick, a week ahead of Crucial's release.
Gnarwhal had begun a year or two before guitarist Chappy Hull would join. For Tyler Coburn, the band's sole original member, Gnarwhal was the first musical project he'd been inclined to pursue.
"[At] the end of 2007 I started jamming with these two guys that were in the grade above me and we didn't really know what we were gonna make," he says. "That was the first time I started a band that I thought was any good, like, 'yeah, I'll put some time into this.'"
The band would weave through a number lineup changes, with Hull accommodating to multiple arrivals and departures. At the release show in 2011 for Gnarwhal's proper debut Duane, both guitarist Jesse Weilburg and bassist Evan Bundy would call it quits. Filed down to a two-piece with a booked tour ahead, Coburn and Hull would be stuck at creative crossroads.
"We were like 'Well, we already booked this tour!' So we could either cancel the tour or sort of wing it as the two of us," Coburn says. "We had three brand new songs that we wrote as a two-piece. Then we had three or four songs that were older that we figured out how to play with Chappy using a bass amp and a guitar amp and a load of pedals."
Crucial does contain musical reference points, but the album veers off a path of sounding like a knockoff afterthought, navigating toward a sonic realm few albums can reach. The album contains an intangible sense of openness, something unabashedly intimate. "People call it math rock and stuff and I suppose it fits in with that, but I feel like it's very personal music," says Coburn, "in the sense that we're creating it based on exactly what we want to be doing. I don't ever tell Chappy what to do, and Chappy never tells me what to do. It's completely collaborative. This record in particular felt very natural to write."
Bands like Tera Melos and Don Caballero may be points of reference for Gnarwhal's sound, but the band's knack for whisking pop melodies into weirdo-punk arrangements parallels their sonic relatives. Exploding in Sound's blurb on Crucial goes as far as comparing Gnarwhal's music to Rage Against the Machine. Chappy beams at the mention of RATM: "I had this weird phase of being intrigued with Woodstock 99. Why would they do that? Who thought this would ever be a good idea? So I watched the Rage Against the Machine set, and was like, "This is actually pretty tight." It is actually pretty tight.
Chappy would later touch on the impact of the St. Louis hardcore scene, citing bands like Spelling Bee and Hard Body being responsible for sending Gnarwhal "in a weird direction." Post-punk/math rock outfit Sleep State would specifically set a template for the band following Gnarwhal's major lineup changes. Hull describes the group as a "two piece, dissonant, crazy rock band."
"Gnarwhal played some of their first shows with Sleep State," adds Coburn. Sleep State is fronted by Curtis Tinsley, who is also an illustrator and comic artist. Tinsley was responsible for a killer Gnarwhal show poster for a St. Louis gig in late 2014. The set would end up being cancelled after the verdict for the Michael Brown Ferguson trial came out. "They tear gassed the entire block and there was tear gas in the venue, so we couldn't go to the show even if we wanted to," says Coburn. The would-have-been final stop on tour was relocated to Evansville, Indiana for a glum, burrito and booze filled night.
Aside from their work with Gnarwhal, both Hull and Coburn are a part of numerous side projects. Tyler and Chappy jammed as a black metal band with one of Gnarwhal's old bassists. Nameless and unrecorded, the group fizzled in 2009. "It was that summer, too, where a celebrity died every single time we went to practice." In a bizarre coincidence, Michael Jackson, Billy Mays and Tennessee Titans stalwart Steve McNair all died within a week and a half of each other. "We kept killing celebrities every time we practiced," Hull jests while reminiscing on the the inconclusive project. Currently, Chappy maintains a full guitarist position with EiS labelmates Pile, while Tyler plays in Mutilation Rites, a New York black metal band, expected to finish up a record by the end of the summer.
Throughout the conversation, Coburn and Hull seem to bounce off one another's thoughts. They never necessarily finish one another's sentences, but elaborate on points naturally without ever stepping on the other's toes. The duo's conversation reflects their work as Gnarwhal, effortless and flowing. Hull and Coburn would be separated for a period of time before the recording of Crucial, a break they say helped contribute to the pace at which the album was recorded. "Once we got together it was really easy and flowing to create songs," says Coburn.
For both members of the band, Gnarwhal seems like a comfortable escape, a project that has stood the test of time, supported by the shared pursuit of producing earnest and refreshingly personal music.