Album of the Week: Ex Eye – Ex Eye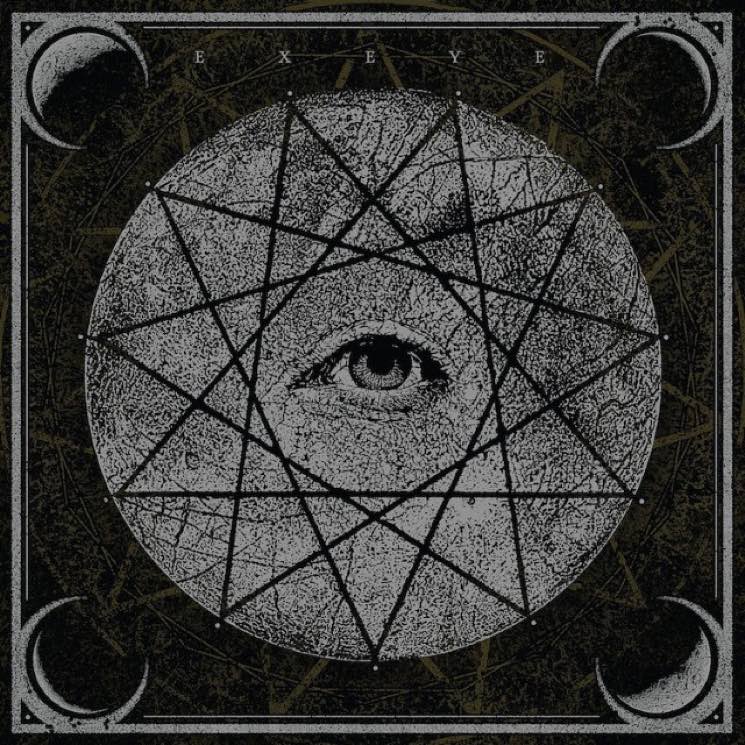 Ex Eye is a new group featuring Colin Stetson on his typical armory of saxes, Greg Fox of Zs and Liturgy on drums, Shahzad Ismaily most notably of Mr. Bungle-related band Secret Chiefs 3 on synths, and Toby Summerfield on guitar. It was this same group, minus the guitarist and unnamed at the time, that was assembled by Stetson to record his rendition of Henryk Gorecki's Sorrow.
The focus of this record is, unsurprisingly, not far from the aims of that one; it is predominantly a sax-led affair, with the synths and guitars acting primarily as mood-setters and scenery-setters. The drums offer the most consistent timbral counterpoint to Stetson's playing, which here is more ecstatic and unravelled than his typically tight and structurally-rigid (if harmonically and melodically compelling) solo material. The playing of Ismaily and Summerfield is rich enough, able to fill up enough space, that a lot of the impressive techniques Stetson employs on solo material to fill that same amount of space and provide the same harmonic and rhythmic backbones to his work are rendered redundant.
Their contribution, one fears, may be overshadowed by the two superstars of the record in Stetson and Fox, so it is worth noting explicitly the value they bring to this record and the songs on it. Like any good instrumental bed, Ismaily and Summerfield provide rich and full psychedelic arrangements that the other two lead players are enjoined to; they even are given moments to shine, each employing a range of effects to create ringing, swirling psychedelia. If you were to isolate out their work, you'd be left with a psychedelic drone bed not unlike the work of Date Palms or perhaps certain periods of Ulver. It is because of their astute timbre-and-mood oriented playing that Stetson's playing can focus on being in turns more lyrical and more unhinged, that Fox is able to bring his more orchestral touch (trapped somewhere between jazz and metal like a black metal Art Blakey), and why both are able to so consistently be successful in these aims.
The works are, for the most part, long, dramatic passages, programmatic in form as opposed to holding to traditional song-structures. Thankfully, of the three players on this record with notable discographies in the public eye, they have no shortage of experience in this format, and it shows; just like great tunes by late-period Coltrane or mid-'70s Miles, there is a sense of brooding darkness and spiritual triumphalism that is allowed to breath, to blossom and to grow. There is no sense of urgency in these songs, but instead a sense of trust and patience. The ecstatic is allowed to be constructed and earned as opposed to launched into, and as a result it feels substantial and organic both in its rage and its quietude. The opener is the one complication to this thesis, but it is a brief piece (three minutes while the next shortest is near nine), and clearly serves as a bracing splash of cold water to whet the appetite before three more patient tracks unfurl. A wise sequencing decision.
There is a lingering question around this record: Is it metal? In other circumstances, this kind of question would be easy to ignore, but here it feels necessary to address. It's release on Relapse and the reputation the label has brings a certain expectation, but of its releases, this feels most comfortable next to Brain Tentacles, another metal-informed and metal-adjacent release that fits comfortable in mood but differs in granular details. Likewise, the inclusion of Greg Fox draws unwarranted controversy; Liturgy has always seemed to be a band sonically more interested in drawing in metal influence rather than explicitly being a metal band and, of them, Fox draws in the most clearly metal elements and performs them the most competent and compellingly. This can be seen, even, in his work with experimental/prog rock group Zs.
Ex Eye do not strike me as a metal group, but they also don't strike me as presenting themselves as one; this is a clearly metal-literate group creating a record of clearly metal-influenced material that will have a strong appeal to metal-oriented listeners. Its aim is wider, though; orchestral music, drone, soundtracks, ambiance, jazz (especially fusion), progressive rock. Ex Eye have delivered an undeniable and exciting post-metal record, reinvigorated with core competency in musical spaces referenced frequently but not often delivered with this amount of aplomb. This is gargantuan, dramatic music, welcome in the world of metal but also viable homes elsewhere. If Stetson's last solo record felt almost like a resume-in-brief of his capabilities, Ex Eye's debut reads like the ideal path forward.
Similar Albums: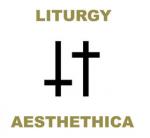 Liturgy – Aesthethica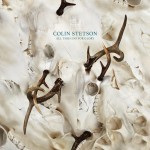 Colin Stetson – All This I Do For Glory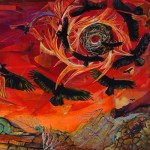 Intronaut – The Direction of Last Things
Langdon Hickman
Langdon Hickman is listening to progressive rock and death metal. He currently resides in Virginia with his partner and their two pets.