The Fall's Mark E. Smith: Idiosyncratic, abrasive, never bored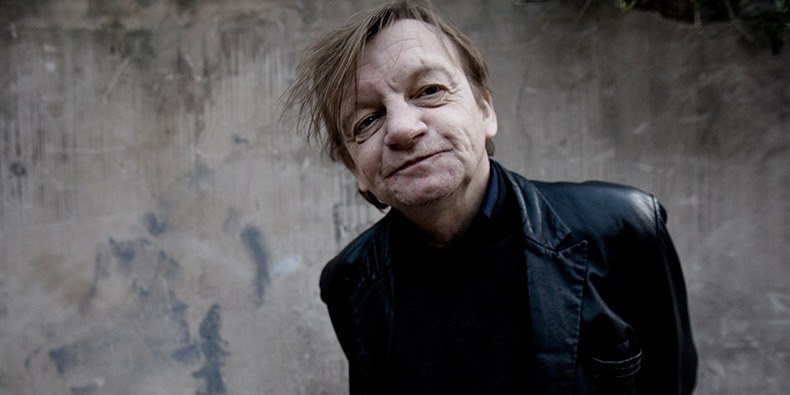 "The Fall – they are always different, they are always the same."
The words that summarized the most complex and unknowable of bands from their most prominent fan, John Peel. It is 14 years since Peel died, but his legacy is still clearly felt in Britain and beyond, not least in his endorsement of The Fall as his favorite band of all time. The radio station BBC 6 Music, in many ways created in Peel's image, broke the news of Mark E. Smith's passing via Marc Riley who happened to be on air at the time.
Fittingly coming out of "Pretty Vacant" by the Sex Pistols, Riley announced that "sadly the confirmation seems to have come through that Mark E. Smith has passed away." The weight of these words was heavier even than they may seem at first sight: Riley himself was a key member of The Fall between 1978 and 1983, playing on their first five albums. They legendarily fell out, both penning songs attacking the other shortly thereafter, and never saw eye-to-eye again. Even more poignantly, they had both attended the famous Sex Pistols gig at the Lesser Free Trade Hall in their native Manchester in June 1976, both inspired to pursue a life in music as a result.
Riley certainly wasn't the only one to end up estranged from Smith. So rapidly did he get through band members that he once quipped, "If it's me and yer granny on bongos, it's The Fall." The total final number of members is disputed, although most list it at 66. Everyone of a certain age in Manchester has an apocryphal tale about the stories they accrued during their brief tenure in the band. But it's important to note that there was a dark side to Smith too; he was, for one, arrested in 1998 on charges of domestic assault relating to his then-girlfriend and Fall keyboardist Julia Nagle.
His refusal to conform to the demands of public life, part of his stock in trade, and his abusive and offensive treatment of those around him, of which he was accused more than once, should not be confused. The former does not necessarily predict the latter, and whilst both should be taken into account when we remember Mark E. Smith, we should take care not to silence other artists who have the same attitude to speaking out against the consensus. Smith's cantankerous, obtuse, deliberately outspoken disposition vibrates through his every record, an unignorable part of what made The Fall so compulsively intriguing.
And oh, were The Fall intriguing. Never trust anybody who says that they fully grasp every aspect of the band—the breadth of influences, the abrasive idiosyncrasies, the immeasurably obscure literary references, the sheer volume of output, it would be a lifetime's work just to try and keep pace. Smith's key musical reference points are now considered clichéd but in the late '70s they were far from it: Neu!, The Sonics, The Groundhogs and obscure ska 7-inches were several steps further into the underground than the standard touchstones of The Stooges, Prince Buster and Roxy Music to whom Smith's art-punk contemporaries would pay lip service. Smith's championing of such figures played a key part in their introduction to the canon.
His talent-spotting skills weren't confined to old records, either. Several of the musicians he plucked out of obscurity to have their moment in The Fall went on to conduct cult careers of their own. Aside from Riley and his band The Creepers, early guitarist Martin Bramah went on to form the brilliant band The Blue Orchids with ex-Fall keyboardist Una Baines (their track "Work" is one of the great lost post-punk singles), and early bassist Tony Friel went on to form another underrated Manchester group The Passage. Smith's ex-wife and longtime co-writer Brix Smith Start is currently helming Brix & The Extricated alongside the brothers Hanley, Steve and Paul, both also rare long-time Fall alumni. The acquaintances of Mark E. Smith are their own cottage industry in the north of England.
The Fall weren't hard to see live if you lived in the area—Smith apparently lived to perform. Their shows were never anything less than a riot, the stories about them often too fanciful to have been made up. On one frazzled Saturday night when I caught them in a basement in Manchester, Smith ambled on stage, easily an hour late, with a urine stain on his trousers that appeared fresh. No mention was made of it either on stage or off, a little detail like that not enough to surprise a devoted Fall audience. We were lucky that he came on stage at all; the tales of him performing shows from backstage with a long mic lead weren't widely considered credible until old videos appeared on YouTube years later.
Others will write in flowery terms about the magic of the music itself; guides will be written about how to go about penetrating such a daunting catalogue (Live at the Witch Trials, Grotesque (After the Gramme) and This Nation's Saving Grace being the correct answers, of course). Smith would hate such pieces, however. The only way to understand any of it is to take a long, deep breath and to dive in. Accept before you start that you will never get to the bottom of it—it would be no fun to solve the conundrum anyway. Discovering how the distinct eras of the band emerge and fade is part of the joy: the brittle, dogmatic early years; the Brix period where old-fashioned songwriting briefly rose to the fore; the consequent dabbling with greater experimentation in the 90s; the return to garage/motorik roots in later years. None of it can be dismissed, primarily because Smith, the grand curator, was never bored by creativity. For 40 years, he refused to be defined by a pattern. Even the pattern of being always different likely frustrated him, the Peel quote might have plagued him. Nothing like The Fall will ever happen again, and maybe now that it's gone we can start to give it the credit it deserved all along.