All Teeth & Knuckles: Q&A in SFO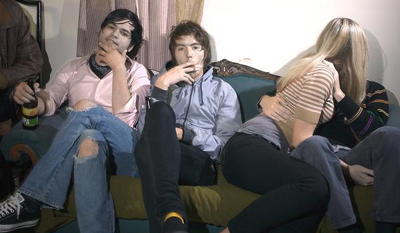 I conducted the following fragmented interview with Patric Fallon, frontman for San Francisco's All Teeth & Knuckles, backstage at the Mezzanine before the band performed their set at their record release party. Said record, Club Hits To Hit The Clubs With, is a skewed, funky disarray of sex and attitude with great hip-hop flavored club bangers like "Fuck Your Jacket" and hometown representing "The Real San Francisco." The interview is fragmented because there were hella people in the room, and both of us kept receiving texts, and apologizing for them. My ring tone was Oasis. His was the Clipse.
Treble: So I read Louis L'amour books as a kid and he used the phrase "all teeth and knuckles." That's how I'm familiar. Where'd you first hear it?
Patric Fallon: I don't know. It's one of those phrases that sticks around in the back of your head once you hear it. It becomes something you want to use later. Then when I had to come up with a band name there it was. I came up with a lot of the stuff on the record just riding my bike, being alone, or working at Crossroads (resale chain store, which makes no sense.) Working at Crossroads sucked. Anyway, "all teeth and knuckles" basically means going all out.
Treble: To the hilt?
Fallon: To the hilt.
Treble: There's another phrase I remember from Louis L'amour: "ass over teakettle." Which would also be a cool band name.
Fallon: Ass over teakettle? Is teakettle supposed to be your head?
Treble: I guess.
Fallon: That would be awesome.
Treble: You've developed this onstage persona for yourself called 'Sick Face.' Have you always been 'Sick Face'?
Fallon: No, that's something that came up when I was doing some DJing around San Francisco. It got shouted out to me once and it ended up sticking. It's a drunk reference of course, y'know, getting sick-faced.
Treble: Talk about the Mezzanine. They've been really cool to you, haven't they?
Fallon: Yeah, they've been amazing, they've done everything from getting me work here to just embracing the band. We got some really good opportunities here early in the life of the band. We opened for Jamie Lidell, CSS, things like that. They've been very instrumental. Other places too, like 222 Hyde, Arrow Bar, some others.
Treble: San Francisco isn't really an electronic music sort of town, is it.
Fallon: It's not. well, it's becoming one, it's opening up. It's still very granola. I mean people love their rock and roll here. But I think there's a hunger among a lot of the kids for something new.
(At this point Frank Lipari, newly appointed All Teeth & Knuckles drummer, wanders by)
Treble: You're using live drums now. How do you feel about Frank Lipari being a convicted felon? ('Hey I was never convicted for any of that,' Frank yells.)
Fallon: I'm very excited about the new things we'll be able to do with a drummer. We've come up with some great live beats and Frank is great for us.
Treble: And there's a tour coming up. Any trepidation about the Midwestern dates?
Fallon: I think we'll be ok. The Get Up Kids are Midwestern. With a lot of these places it's all about bringing something new. If you're new and you know how to bring it, they will come.
Treble: What sort of venues?
Fallon: Well, we're playing the Vaudeville Mews in Des Moines, Iowa, which is a huge venue so that's exciting. We're doing the The Record Bar in Kansas City, a couple of Beauty Bars.
Treble: You guys got ripped off recently, right? There was thievery of some kind, with some master tapes or something?
Fallon: Yeah we had tape of three live shows, some green screen footage, stuff we were working on for a video. My friend Cassandra's car got broken into and pretty much everything was taken. We had to start all over.
Treble: Yeah? Did you write a song called "Fuck Your Orange Jumpsuit?"
Fallon: (LOLs) No, I wanted to write one called "Fuck Your Broke Ass For Needing To Steal."
Treble: Well, that's it. Say goodbye, Patric.
Fallon: Goodbye, Patric.
* Courtesy photo by Jordan Fraker