Misconceptions I initially had about Aqueduct:
— It's just one guy
— They're from the Pacific Northwest
— They're a Long Winters side project
When you first hear Aqueduct, it's easy to make the mistakes I mentioned above. First off, they sound a bit like the Postal Service, which explains the Pacific Northwest thing, as does their being on Barsuk records, home to many a Washington band. They have a home, bedroom recording feel about them, which makes them seem like the project of just one guy, but the vocal harmonies would sort of shoot that one down. And the singer sounds a lot like John Roderick. That's really not all that important, but since I thought they were from Seattle and also happen to be on the Winters' label, it kind of makes sense.
In reality, and out of the imaginary world I seem to be living in, Aqueduct is a duo, consisting of David Terry and Andrew Rudd. They hail from Oklahoma. And they have absolutely nothing to do with Long Winters. However, they did move to Seattle a year ago, which kind of makes me correct, despite my inaccuracy as to their origins. Regardless, the details aren't really the important part — the music is. And the music, as I'm sure you're wondering, is quite good. Terry and Rudd meld an interesting combination of sounds into their synth-driven operation. Mixing Beach Boys harmonies, new wave synths, the occasional hip-hop stutter-step and that tried-and-true indie pop charm. What we end up with is something unique and fun, like Quasi without the bummer lyrics or Mates of State with two guys instead of a guy and a girl.
I Sold Gold, Aqueduct's debut full-length for Barsuk, comes right off the heels of their Pistols of Dawn EP, which featured the catchy, pistol-packin' gangsta-emo track "Hardcore Days and Softcore Nights," also featured here. In addition, there are ten more infectious songs, crammed full of hooks, harmonies and good times. "The Suggestion Box," a song that's impossible not to love, opens the album with two minutes of soaring melodies and a desperate man's pleas: "Instead of beating me up/ you should be giving me hope/ instead of keeping me down (way down)/ you should be lifting me up." "Growing Up With GNR" name drops Axl Rose, "Heart Design" and "Five Star Day" are absolutely irresistible piano-driven pop pieces and "Frantic (Roman Polanski Version)" is one of only two guitar driven rock songs on the album (along with "Laundry Baskets"), making it an unusual, welcome gem on the album.
No matter where they're from, how many dudes are in the band or what sort of connections they have, Aqueduct are a fun-loving group with melodies and hooks to spare. Next time you invite your shaggy-haired friends to a party at your squat, maybe you should give your copy of Give Up a rest and put this on instead — it could very well be the indie Monsta Jamz of 2005.
Similar albums:
Postal Service – Give Up
Unicorns – Who Will Cut Our Hair When We're Gone
Mates of State – Team Boo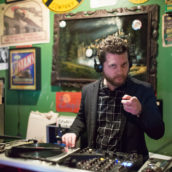 Jeff Terich
Jeff Terich is the founder and editor of Treble. He's been writing about music for 20 years and has been published at American Songwriter, Bandcamp Daily, Reverb, Spin, Stereogum, uDiscoverMusic, VinylMePlease and some others that he's forgetting right now. He's still not tired of it.