Arbouretum : Rites of Uncovering
That Arbouretum's frontman and songwriter David Heumann has played guitar for both Will Oldham and his brother Ned's The Anomoanon should give some indication of what kind of musical territory the troubadour chooses to inhabit. It's a dusty and desolate land, the sky maintaining a solid grey while an ungodly heat radiates throughout. Arbouretum are without question a melodic kin of Palace or The Anomoanon, but while the Oldhams take on old school gothic Americana, often with more starkly arranged songs or rustic arrangements, Heumann's own take is a thicker, sludgier one, a sort of fuzzed-out and dirge-like rock that, while epic and folk-leaning, has a formidable muscle at its core.
With eight songs on second album Rites of Uncovering, in total clocking in at just less than 50 minutes, there's a sprawling and grand aesthetic overall, most likely a reflection of the influence that Paul Bowles' The Sheltering Sky played on the album's formation. "Signposts and Instruments" is a slow, yet accessible opener, with mellotron and xylophone adding a distinct harmony to the otherwise churning distortion. Heumann's own vocals are deep and weathered, but ultimately powerful, carrying a catchy melody over the sonorous rumbling. "Tonight's a Jewel," by comparison, is a folkier psychedelic exercise with some stunning, Middle-eastern inspired guitar work. After this track comes "Pale Rider Blues," the first of three lengthy tracks on which the band exercises their atypical song construction and knack for instrumental interplay. While a simple song at its core, "Pale Rider Blues" chugs with Led Zeppelin like stomp and some bluesy guitar soloing, lending it a distinct classic rock sound.
"Ghosts of Here and There" cuts down on the heroics for three minutes, its pretty melody pulling the song back to a lighter and less harrowing realm. "Sleep of Shiloam" is another lengthy one at 7:56, riding a decidedly more sleepy melody, mellowing a bit though maintaining a fair bit of the guitar showiness that rears its head on "Pale Rider Blues." Transitioning back toward a slightly more straightforward sound on "Mohammed's Hex and Bounty," Heumann treads singer/songwriterly sounds with a somber, cleaner, prettier song, one that more crisply displays his lyrical and melodic prowess with minimal effects. But the biggest song of all comes next, the eleven-minute "The Rise." Here, the band more or less rocks the fuck out, which is just fine by me. Somehow, though this is the longest song, it's also the tightest, Mitchell Feldstein's drums driving the track with a subtle fierceness. The soloing does go on a bit on this song, but around five minutes in, everything drops out, leaving a lone guitar to weep, transitioning the song into a second movement of sorts. After this section, the song crashes headfirst into a mass of wailing noise and feedback, creating a sharp contrast to the album's quiet, drum-machine laden final song, "Two Moons."
After a folky debut, Arbouretum's return on their second album, and first for Thrill Jockey, has proven to be something much more mighty and formidable. Heumann still bears more than a passing resemblance to Will Oldham, vocally, but the band, overall, rocks harder than before. It's a slow, trippy and distant sort of rock, but it does the trick all the same.
Similar Albums:
Palace Music – Viva Last Blues
Songs: Ohia – Magnolia Electric Co.
(Smog) – Red Apple Falls
MP3: "Pale Rider Blues"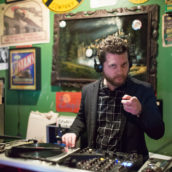 Jeff Terich
Jeff Terich is the founder and editor of Treble. He's been writing about music for 20 years and has been published at American Songwriter, Bandcamp Daily, Reverb, Spin, Stereogum, uDiscoverMusic, VinylMePlease and some others that he's forgetting right now. He's still not tired of it.