I have a strange relationship with Beck. It's not a personal relationship—I've never actually met the guy—but rather a tumultuous one with his music. In 1994, I briefly became enamored with "Loser," as it was the weirdest, but most fun thing on the radio at the time. Then I sorta forgot about him. Then he released Odelay, and that became my favorite album for a few months, and seeing him perform in San Diego more or less made that year of high school worthwhile. Then, after the100th or so time hearing "Where It's At" or "Devil's Haircut" on the radio, I got bored with it and moved on, to the point that, upon its initial release, I completely ignored Mutations, assuming it was merely more of the same. For some reason, that didn't deter me from purchasing Midnite Vultures, but a three-month stint at Starbucks ruined that one for me, too.
The cycle repeated itself with 2002's Sea Change, but that album's melancholy, country influenced laments stuck with me, holding on to a staying power that escaped previous albums. I ended up seeing him with the Flaming Lips later that year, and was reminded of why I loved his music in the first place, though the two songs that stood out most from that performance were "Cold Brains" and "Nobody's Fault But My Own," two songs from Mutations, the one album (aside from One Foot In the Grave and Stereopathetic Soul Manure) I had criminally neglected. While "Cold Brains" sounded magnificent when backed by the Lips, "Nobody's Fault But My Own" was on a different plane altogether. Sitting at the edge of the stage with a harmonium, as the rest of the band disappeared into the darkness, Beck played this haunting, exotic drone of a song alone. Its melodic wheeze was hypnotic, but there was an emotional power that emanated from the sole musician, like a punch to the stomach. But that punch to the stomach was more of a `kick in the eye': Was I wrong in writing Beck off?
Absolutely I was. Don't get me wrong, I still need my space after just one listen to Odelay, but with Mutations, Beck threw me, and likely thousands of others, for a loop. Aside from "Tropicalia," the album got very little airplay (I remember hearing b-side "Electric Music and the Summer People" on the radio more frequently), and though his style remained playful and loose, Mutations was miles away from the bohemian beat-box irony of albums past. Instead, Mutations was a playful buffet of psychedelic pop, country, blues, space rock and, of course, tropicalia, and having Radiohead producer Nigel Godrich to aid in its creation certainly helped in making it a marked contrast to Odelay.
Leadoff track "Cold Brains" didn't do anything out of the norm lyrically—it's still mostly surreal word jumbles—but instead of bluesy slide guitar with hip-hop beats, Beck layers on sweet melodies, space-age effects and a Bowie-esque melodic grandeur. With acoustic guitar and harmonica in tow, there's still a sense of Beck's folky scruff, but by and large, this is something much bigger, and much better. "Nobody's Fault But My Own" was a significant shift for Beck, however, doing away with easy hooks and beats for a slow, psychedelic ballad that was somewhere between Serge Gainsbourg's Histoire de Melody Nelson and George Harrison's Eastern-flavored Beatles songs. The lyrical hook, though slow and subtle, works its way into your psyche, lazily and softly sung but harder-hitting after repeated listens.
With "Lazy Flies," Beck injects a Spanish flamenco flavor into his trippy folk, with chattering castanets between measures, and "Canceled Check" finds saloon piano taking center stage. "We Live Again" is a delicate waltz, as is "Dead Melodies," but in a different way. The former is built upon a harpsichord hook, while the latter is a folky number, though they're equally great. The best-known single from the album, which is probably Beck's least known single overall, "Tropicalia," took cues from greats like Caetano Veloso and Os Mutantes to craft a Brazilian-track that, in the end, is purely Beck.
At the time of its release, Mutations was presented with the disclaimer, from both Geffen and Beck, that it was not truly meant to be a follow-up to Odelay, but something else entirely. Let's face facts: that's just marketing bullshit. But for bullshit, it, in a sense, makes it easier to separate from the rest of his discography. After all, it is a considerably different product than just about anything else he's done, save for Sea Change, and to a lesser extent, The Information. After 10 years, it holds up remarkably well, and considering the wave of "Loser" imitators that ensued in the '90s, it may have been to the copycats' benefit to have followed Beck's lead with this one as well.
Similar Albums/ Albums Influenced:
David Bowie – Hunky Dory
Super Furry Animals – Guerilla
Badly Drawn Boy – The Hour of Bewilderbeast
Download at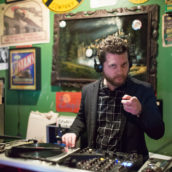 Jeff Terich
Jeff Terich is the founder and editor of Treble. He's been writing about music for 20 years and has been published at American Songwriter, Bandcamp Daily, Reverb, Spin, Stereogum, uDiscoverMusic, VinylMePlease and some others that he's forgetting right now. He's still not tired of it.