A Beginner's Guide to the Surreal Music of Frank Zappa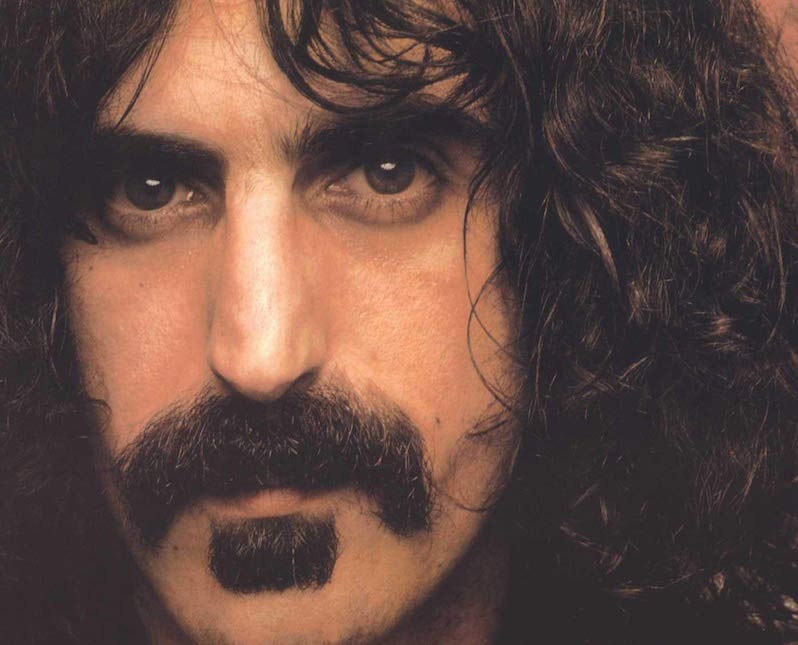 The discography of Frank Zappa is much like the parable of the blind men and the elephant. Depending on the album you start with, your first impression of what Zappa does will be wildly different. With a career spanning from the Mothers of Invention's 1966's psych-rock Freak Out! album to the orchestral Yellow Shark released a month before he died in 1993, delving into his massive catalog might seem daunting. But If you are looking to get into Zappa you have come to the right person. The first album I heard was Frank Zappa Meets the Mothers of Prevention during an acid trip in high school. It piqued my interest—I found a double cassette of Joe's Garage when I came down, and now 25 years later I am writing this guide to getting into Frank that does not require an eight-hour hallucination. Little did I know, aside from smoking a couple joints in the '60s, Frank was not into drugs, which might come across as a a surprise, considering how crazy his music can get.
The important of Zappa can not be overstated. He influenced a long list of artists including Phish, the Dixie Dregs, Mr. Bungle, Primus, Merzbow, Psychic TV, John Zorn, George Clinton, Brian Eno, Weird Al, Alice Cooper, Devo, Kraftwerk and Jimi Hendrix. Even Paul McCartney claimed Sgt Pepper's was The Beatles' Freak Out!. The broad range of the musicians he inspired reflect the even greater range of sounds Zappa dabbled in. Though his dabbling was what others would consider mastering.
For this guide to the best Frank Zappa albums for first-timers, I am not digging into his posthumous albums, instead focusing a little more on his solo work than his time with the Mothers, though they were certainly important. Here we go…
***
Buy these albums at Turntable Lab
---
Hot Rats
(1969; Bizarre/Reprise)
This is Zappa's second solo album without the Mothers of Invention, though Mothers keyboardist Ian Underwood does appear on it, and Jean Luc Ponty and Captain Beefheart also make appearances on this album. But Zappa composed, arranged and produced the entirety of it. He also gives an instrumental reinterpretation of "Mr. Green Genes" from the Mothers album Uncle Meat. As one of the first albums to use 16-track recording, Hot Rats features many layers to create an almost orchestral feel. This is what big band might sound like in the world of Dr. Seuss.
At times Hot Rats sounds like it's wandering off into free jazz, and the album does in fact lean in more of a jazz direction than it does rock. There are few bursts of electric guitar even amidst some of the jamming. There are glimpses into how he can get down with funk groove, and the instrumentation flows smoothly despite the quirky time signatures. "Peaches En Regalia" is has become modern day jazz standard, and aside from "Don't Eat the Yellow Snow" might be Zappa's most well-known song. What's most important about the album is how it samples his musical styles. It showcases his phenomenal guitar playing, while capturing some of the best tones of his career.
---
Apostrophe
(1974; Discreet)
I never got why people considered this time period to be more centered on humor, because it's always been an element of Zappa's music from the beginning. Though admittedly there was more absurdity in the detailed narratives on this, Zappa's most commercially successful album. The first three songs are based off of a dream Zappa had where he was an Eskimo, including opener "Don't Eat the Yellow Snow."
This albums features players I think of as Zappa All-Stars: George Duke, Ruth Underwood and Napoleon Murphy Brock, who have all contributed to some of his best work. Duke certainly help bring out more of the soulful funk elements that can be heard here. This aspect of their sound is what makes "Cosmik Debris" not only one of the best songs on this album, but of Zappa's career. And while Zappa's vocal style has always been more sarcastically spoken, on this album he actually showcases more of his singing ability.
---
One Size Fits All
(1975; Discreet)
This is the final album that Zappa recorded with the Mothers of Invention. You might ask why I chose to include their last record and not the earlier, more psychedelic garage prog records released in the '60s. The short answer is that this album is more refined, showcasing more of a jazz sound. Also the lines were blurred between what was the Mothers and what was Zappa's solo band as at this point the same musicians were playing in both.
There is more rock n roll swagger to "Can't Afford No Shoes," and Zappa employs funky grooves on "San Ber'dino". "Andy" has one of George Duke's best vocal performances and falls more in line with progressive rock in terms of acrobatics without sacrificing songwriting. The almost gospel feel of "Sofa 2" takes a turn for the weird when Zappa adds his wacky vocal.
---
Zoot Allures
(1976; Warner Bros.)
Originally this was going to be a double album, but Zappa edited down to a single LP. One of the reasons it stands out among his many albums is that it shows what Zappa's unique songwriting can do with a heavy metal motif. His association with the genre goes back to when he signed Alice Cooper to his Straight Records Label for Easy Action. The metal influence can be felt in the fiery energy of his guitar solos. The most metallic song on the album isthe heavy thumb of "Ms Pinky" and perhaps to a lesser extent, the lyrics of "The Torture Never Stops." Granted when we're discussing metal here, this is in the mid-'70s, so the earliest incarnations. Musically "The Torture Never Stops" owes more to blues, though this certainly is one of Zappa's darker songs.
This album feature one of the best Zappa drummers, Terry Bozio of Missing Persons. While Patrick O'Hearn and Eddie Jobson from his touring band are on the album cover they did not actually play on the album. Zappa, always the conductor of his bands, has them lay back more and give the guitars more room to breathe, thus creating an album that I might point someone toward if they were looking for some of his best yet most tasteful guitar heroics. Zappa had few peers when it came to his guitar playing, Jimi Hendrix and John McLaughlin coming the closest.
---
Ship Arriving Too Late to Save a Drowning Witch
(1982; Barking Pumpkin)
This 1982 album find Zappa going down an oddball new wave road. One half of the album was recorded in the studio the other half was live. The bass line to the opener "No Not Now" is rubbery funk played by Arthur Barrow and provides a groove to offset the zany vocals. I am a big fan of his '80s band and would argue the lineup of  Steve Vai, Ike Willis, Chad Wackerman, Scott Thunes, Tommy Mars and Ray White is better or comparable to any other combination of players Zappa employed.
Zappa's daughter Moon Unit co-wrote and provides the vocal to "Valley Girl," where she mocks the stereotypical Los Angeles teen age girl. The vocals to  "I Come From Nowhere" are bizarrely catchy (especially under the influence). The live side of the album sheds the bulk of the new wave influence and goes on more of a jazz tangent, with Zappa employing a more lounge-lizard vocal in his narrative. This along with the more jammy quality is a sharp contrast to the studio side of the album. An angular dissonance haunts the instrumental "Envelopes," and "Teenage Prostitute" finds Zappa merging hard rock with opera.
---
Also Recommended: His first album with the Mothers of Invention, 1966's Freak Out!, is recommended to get perspective on where it began, with more accessible songs as well as plenty of peculiar experiments. The double album Joe's Garage tells an interesting story of a band and their exploits with robot sex, and has my two favorite Zappa songs on it, "Why Does it Hurt When I Pee" and "Outside Now." Over-Nite Sensation is also pretty user friendly, with songs that might have hovered in the periphery of progressive rock fans.
---
Advanced Listening: His live series of double albums called You Can't Do That on Stage highlights his stellar live shows with the fourth album covering his '80s band being the standout. I also would say any guitar player with aspirations of playing progressive rock needs to listen to Shut Up and Play Yer Guitar as it finds Frank tackling the styles of guitarists like Santana, Clapton and Hendrix and showing he can hold his own.