The Best Headphones of 2023: Wired, Wireless and Earbuds

Everybody needs a good pair of headphones. Whether for use on your phone or your home audio system, there's nothing better than escaping into music and tuning out the outside world for 45 minutes at a time. Or longer—after all, wireless headphones today are lasting up to 30 hours on a single charge. Different situations call for different types of headphones, whether commuting to work via train, traveling cross country or simply enjoying a casual listen at home. To help make the choice a little easier, we've broken our gift guide to the best headphones into three categories: wired and wireless on-ear headphones, and wireless earbuds. We've also chosen our favorites for different budgets, whether you're looking for a simple, entry-level set of headphones or ready to upgrade to some luxury cans. Check out our picks below.
And make sure to peruse our other gift guides, including the Best Record Players and the Best Music Merch.
Note: When you buy something through our affiliate links, Treble receives a commission. All items included are independently chosen and evaluated by our editors.
---
Wired Headphones
Sony MDR-7506
($85)
A longtime favorite of studio professionals and at-home listeners alike, the Sony MDR-7506 headphones have been a staple for nearly 30 years. Affordable and durable, they provide a high quality audio experience at an entry level price point, and they're built to last. There's a reason why they've lasted as long as they have on the market, which is remarkable considering how often new headphone technology is being introduced. But with their comfortable design and high accuracy of sound, you can't go wrong with these.
---
Pioneer HDJ-X5-K
($99)
Pioneer points out that the HDJ-X5 headphones have passed the US Military Standard Shock test, which is an important quality to have for headphones intended for use by gigging DJs. They're built to take a licking, but just as important, they're comfortable, foldable and lightweight, all of which can come in handy for a four-hour spin session. Even when not put to gig or military testing, however, they hold their own sound-wise, offering great clarity and presence courtesy of its 40mm drivers. An adaptable and durable choice for those seeking headphones for both home and club use.
---
Sennheiser HD25
($149)
A favorite of professional DJs, Sennheiser's HD25 headphones boast wide frequency response and excellent sound quality, in addition to being lightweight for added comfort and convenience. Their closed-back earcups and thick cushioning are designed for optimal noise canceling, and they perform well in louder environments—like, say, a nightclub, or perhaps if your neighbors are building an extra story on their house. And as for the headphones themselves, they can handle levels up to 120dB—suffice it to say, this is a high performance headphone, built to withstand a loud environment while delivering the best possible sound.
---
Audio Technica ATH-M60x
($219)
Audio Technica's M series headphones earned the company a NAMM TEC award for Outstanding Technical Achievement. These mid-range headphones are designed for studio and broadcasting use, featuring memory foam ear pads for maximum comfort, as well as 45-mm large aperture drives to provide sonic clarity and bass accuracy. Though the price point is a little higher than some of the entry level headphones, the difference in sound and comfort makes it worth the investment.
---
Grado SR225x
($225)
It's hard not to be won over by Grado Labs' backstory, the company founded in a home kitchen in Brooklyn in the 1950s, and their handmade headphones have a vintage aesthetic that still nods to that classic era—complete with leather headband. But the technology has advanced a bit since that era, its X Series driver with magnetic circuit and voice coil providing a more powerful listening experience that allows for more dynamic space between instruments on recordings. The SR325x provides an aesthetically pleasing experience in every possible aspect.
---
Wireless Over-Ear Headphones
Soundcore Space One
($99)
Some of the best noise canceling headphones for a lower budget, Soundcore's Space One offers a top-notch sonic experience with up to 98 percent noise reduction. Their cushioned earpads are comfortable for over-the-ear wear, and feature up to 40 hours of battery life with active noise canceling (55 with ANC off). And though there are higher resolution headphones at a similar price range, there aren't many that offer a comparable pairing of sound quality to noise reduction.
---
AIAIAI TMA-2 Studio
($229)
AIAIAI's modular headphones offer the unique feature of being able to upgrade different individual parts, but the TMA-2 is a strong enough product on its own. They also feature a unique bio-cellulose speaker diaphragm for better dynamics and precision sound, as well as memory foam pads—made from carbon-neutral material—for both comfort and isolation. They're ideal for both studio and stage use, musicians and DJs alike. They're built to last, environmentally friendly and customizable, potentially making them a foundation to build on indefinitely.
---
JBL Tour One M2
($267)
JBL's Tour One M2 is a great all-around choice for wireless over-the-ear headphones at a slightly higher—but only slightly higher—price point. Standard sound out of the box is already great, but its accompanying app allows for custom EQ, while its 30-50 hour battery life means not having to recharge even during lengthy international travel. It comes with an automatic noise canceling feature that's dynamic to specific environments, though it can be turned off if the changes aren't to your liking, not to mention it's water resistant with an IPX5 rating.
---
Bose Noise Cancelling Headphones 700
($259)
Before most other brands began adopting noise cancellation, Bose was known for that attractive feature with their advanced headphone designs, which remain among the best in the industry. Price-wise, they tend to run a little higher, but the quality speaks for itself. An ideal choice for frequent travelers, they're lightweight and comfortable with an adjustable active noise cancellation scale that can be adjusted from 0 to 10, so you can find your own sweet spot. The design is intuitive, and the usability offers more flexibility than most noise cancelling headphones on the market.
---
Master & Dynamic MW75 ANC Headphones
($599)
A luxurious option for serious audiophiles with a higher budget, these Master & Dynamic wireless headphones are a deluxe option that look as great as they sound. Featuring premium materials—including leather and tempered glass—the MW75 headphones feature active noise cancelling and rich, warmer sound courtesy of their 40mm Beryllium drivers. They're designed for maximum comfort, so you might not want to take them off while testing out the 32-hour battery life. A high-end option for those seeking a truly stunning pair of headphones.
---
Wireless Earbuds
Soundcore Space A40
($99)
Bringing the noise cancelling capabilities of the Space One headphones to their wireless earbud line, Soundcore's Space A40 offers a similarly noise-free sanctuary to a more compact package. The Space A40 earbuds feature high quality sound with advanced detail, and battery life lasts up to 50 hours. They're also lightweight and fit comfortably, the smallest of Soundcore's line of earbuds—designed for hours of use without fatigue.
---
Sennheiser Momentum True Wireless 3
($180)
As a trusted name in home audio, studio and DJ gear, Sennheiser puts similarly high standards into their wireless earbuds. The Momentum True Wireless 3 improves upon their previous generation earbuds with an update that's well constructed and made for closer listening. They feature both noise cancellation and a good in-ear fit, plus its companion app includes "Sound Zones," which are customized for specific areas where you frequently listen. Plus they're IXP4 rated, which means they're protected against splashing water. A great higher-end earbud for custom listening environments.
---
Apple Airpods Pro 2
($229)
Since first introducing their Airpods back in 2016, Apple has been regularly upgrading and adding to the consumer-favorite wireless earbuds. The Airpods Pro 2 are some of the best sounding to date, in addition to boasting numerous features like adaptive noise cancellation and longer battery life. Though they look much like the previous Airpods Pro generation, they're better waterproof and engineered for optimum sound, with excellent bass and midrange. They've also kept it within the same price range as the previous generation, offering a better product without a higher asking price.
---
Sony WF-1000XM5
($259)
Sony's WF-1000XM5 headphones provide a hard-to-beat combination of sound clarity, noise cancellation and comfort in a pair of wireless earbuds. Their two processors improve noise cancellation at both high and low frequencies, are compatible with both iPhones and Androids. Assisting in noise cancellation are several different included memory foam tips that mold to the ears—plus the Headphones Connect app will help you determine if you've chosen the right ones to fit your own ear shape. The sound quality is excellent, and the earbuds are both durable and versatile, along with up to eight hours of battery life on a single charge.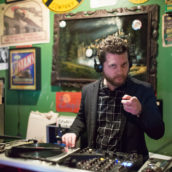 Jeff Terich
Jeff Terich is the founder and editor of Treble. He's been writing about music for 20 years and has been published at American Songwriter, Bandcamp Daily, Reverb, Spin, Stereogum, uDiscoverMusic, VinylMePlease and some others that he's forgetting right now. He's still not tired of it.