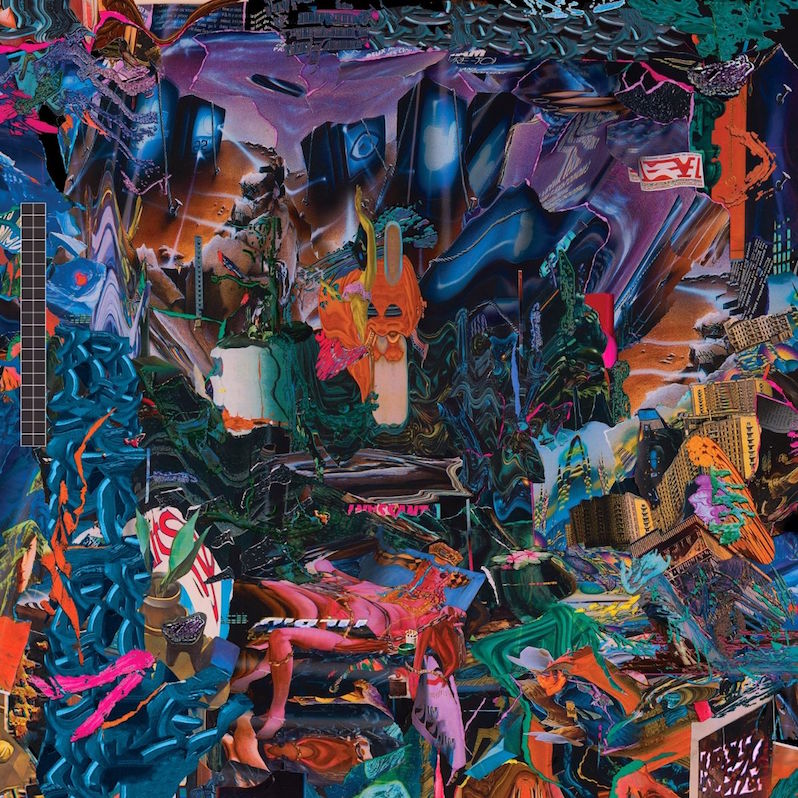 The video for "John L," off black midi's volatile second album Cavalcade, attempts to visually interpret the band's genre-bending stew. Yet the resulting images only add to the complexity: Dancers in body stockings and white painted faces stranded in an oasis feverishly worship a one-eyed obelisk with human outstretched arms. The worshippers recognize and salute this chaos, going full throttle into the mess anyway. That's black midi in a nutshell.
Work on Cavalcade began soon after the release of Schlagenheim in July, 2019. But early in 2020, guitarist/vocalist Matt Kwasniewski-Kelvin announced he needed a break to focus on his mental health. Guitarist/vocalist Geordie Greep, bassist/vocalist Cameron Picton and drummer Morgan Simpson moved forward as a trio, expanding their sound with tenor and soprano saxophonist Kaidi Akinnibi, keyboardist Seth Evans, violinist Joscelin Dent-Pooley, violinist Jerskin Fendrix, and others. This decision pushed the band even further into experimental territory. The album's perplexity, which sometimes includes an awkward detour or two, is one reason why Cavalcade works so well.
Cavalcade is an onslaught of sound and noise. Every note is ruthlessly replaced by the next, to the point where almost nothing has a chance to breathe. Guitar notes rapidly overlap onto themselves in a massive pile-on of dense and tightly packed narratives. Layers of brass instruments ride atop currents of textured, amplified distortion. The sense of urgency wrought by the sheer volume of material can be overwhelming. But its anger and intensity is also tempered by soft respites, little sound oases that give you a moment to catch your breath and absorb the material, before you're thrown headfirst back into the noise. Cavalcade, much like its predecessor, Schlagenheim, is about destroying what comes before.
The album starts at the literal top by tearing down a faulty king in "John L," the 50th demi-god in a long line of overlords. Though John L hides behind a curtain of "imitation vermillion," a bare red bulb reveals his foundational cracks, exposing him as a fraud. "No hack with an army will last long / Before he breeds men who yearn for their own bloody glory," Greep reasons, foretelling the king's demise.
Other characters on Cavalcade also seem to meet grim fates, or at least have an unholy air about them. The Hollywood actress in "Marlene Dietrich" is repeatedly identified by her "Mackie Messer"—the German phrase which means "Mack the Knife." "Impotent Mark," an apparent monk in "Ascending Forth," writes supposed masterpieces that dissolve into "schmaltz." He's led away in chains. A blood diamond mine on "Diamond Stuff" serves as a chopping block upon which a man is chewed up by the very thing he mines with—the drill.
Lyrically, black midi often excel by creating a heightened sense of awareness of the minutiae of movement. Greep capitalizes on this by creating tangles of tongue-twister wordplay (one example, from "John L": ("Signor kitsch sings skits detailing each attendees' sins"); though he sometimes overenunciates to the point of distraction. Regardless, his haphazard, unhinged vocal delivery is one of the more innovative sounds in rock right now, though there are missed opportunities. The lyrics on the slow-paced, 9-minute-long closer, "Ascending Forth," are overcooked, and fail to maintain interest in the song's hero, Impotent Mark, and his failure to create beautiful written work. The payoff of the lengthy narrative ("With commission spent and date drawing near / And no newborn zeal or written ideas") doesn't match the song's instrumental gravitas. Impotent Mark's work isn't great, it's just "common." "Slow," meanwhile, feels more haphazard; Picton admits the lyrics don't have any particular meaning, though "COVID-19 paranoia" played a hand in the song's genesis. While "beaks all break" is a cutting line, for example, it's difficult to know what Picton means when he drawls, "It takes so long." Thankfully, the melodic onslaught drives home the point that something, or someone, is about to snap in two—powerful imagery in itself.
Aurally, Cavalcade is nearly always dense, experimental and full of tempo fluctuations—a feast for the ears. "Slow" blends free jazz and tempo shifts to create a level of intensity matched only by its moments of serenity, while "Dethroned" is bookended by a wall of carefully choreographed noise and slow melodic sax. The closer, "Ascending Forth," builds more heavy layers of industrial sound that collapse, regroup and get stronger, then breaks down for good in an opera-style ending fitting for the album's desired scope. The most striking moment in Cavalcade comes in "Diamond Stuff," which sees the band stretching out in front of a gorgeous textured landscape, creating some of the band's most beautiful melodies to date.
The group's ability to jump into the fray of experimentation without fear has paid off handsomely for them. But Greep acknowledges there's a slippery slope of waiting for "the improvisation myth of divine intervention," which he admits may never come, or worse, may arrive in a flawed state: "you're always waiting for that thing to arrive perfect." Cavalcade is not perfect, but it's as close to pure as they could get.
---
Label: Rough Trade
Year: 2021
---
Similar Albums: