Bloodrock's "D.O.A.": A disruptive rock anthem

Music isn't always meant to be a source of comfort. That's maybe self-evident when you consider the subjectivity of taste, but even the most abrasive sounds can soothe in their own strange way. Perhaps a blistering 90 seconds of grindcore or 20 minutes of drone aren't everyone's idea of a satisfying listening experience, but some of us enjoy a little bit of both between more conventionally pleasing songs. But under the right circumstances, a song can do more than pacify a listener. It can shake us out of a stupor and perhaps change, if just subtly, the way we hear and process things. Occasionally, a song can even be disruptive.
I'll admit that "disruption" is the most odious kind of buzzword. In recent years it's become a part of the corporate lexicon typically through discussions of new products introduced to the marketplace. It connotes a sense of danger or edginess, when in fact it's rarely more than an empty marketing phrase, but in the context of music, however, disruption can be seen as something of a virtue. The introduction of distortion, the sampler, even recording technology itself forever changed the established order of things. And even on a smaller scale, there's something to be said for art as shock therapy—making visible things that go unseen or unspoken, giving voice to something that can't be expressed verbally, even extracting us from a sense of routine. When I attended a keynote and Q&A given by Sonic Youth's Kim Gordon in 2014, she summarized the central aim of her legendary former band in a simple one-word phrase: Disruption.
Then again, there's a very different kind of disruption you probably don't want from music, whether it's a song that ruins your day because it reminds you of your ex, or just an earworm you can't get out of your head. There are also songs that distort your sense of reality or cause an uneasy jolt to the senses in ways you wouldn't expect. A little of that can be fun now and then, like the blood-curdling scream that erupts at the end of The Cure's low-key jazz-noir strut "Subway Song." Then again a song can really fuck with people's heads, like Bloodrock's "D.O.A." did when it was released in 1970.
"D.O.A." was a blessing and a curse for Bloodrock, who scored an unlikely hit inspired by seeing a pilot friend crash his plane shortly after takeoff. It's a violent song that's significantly more terrifying than anything Deep Purple or Grand Funk Railroad ever released, and one-upped the '60s era teenage death songs by adding a level of blood and gore that eluded most Brill Building songwriters. Then again, with a band called Bloodrock, a little violence is probably to be expected.
Formed in Fort Worth, Texas in 1969, Bloodrock arrived as hard rock and heavy metal had begun to crystallize out of acid rock's ether. They made their debut shortly after Black Sabbath, but they similarly employed the devil's interval on their signature hit, capturing an ominous air of terror that seemed to resonate with American audiences. There's a great deal of that to go around in "D.O.A.", a grand and operatic, eight-minute dirge of doom (though radio stations played the much shorter single edit). It opens with thick layers of organ, rising into its triumphantly ominous chorus and then falling back out into its eerie organ interludes, with the recurring sound of an emergency siren fading in and out. Its chilling refrain is a curt distillation of its narrative, merely a suggestion of the carnage that unfolds throughout: "I remember/We were flying along/And hit something in the air."
"D.O.A." is a particularly grisly song, depicting briefly the blissful ignorance before and, in more detail, the grisly aftermath of an aircrash: "The sheets are red and most where I'm lying/God in heaven, teach me how to die." It ebbs and flows between the dramatic chorus, a kind of climactic recall of the moment before all hell broke loose, and the rest of the song—the gradually fading consciousness of the victim, his girlfriend lying dead next to him, and his life draining from him in real time. In its final 30 seconds it all seems to melt into a haunting conclusion, the final arrival of death with only the echo of the emergency siren remaining.
It's a peculiar song, at least by the measure of pop hit songs. It's memorable, certainly, but particularly in the context of the biggest songs of the time—"Close to You," "I Want You Back," "Raindrops Keep Fallin' On My Head"—it stands apart. Still, it made a dent on the Billboard singles chart, landing as high as number 36, despite its gory subject matter.
There was, however, another strange obstacle in Bloodrock's unlikely ascent. The sound of the siren in "D.O.A." apparently proved to be too realistic for some listeners. In a 2010 interview, Bloodrock keyboardist Steve Hill explained the hazards of making the terror in the song a little too real: "A lot of stations didn't play that because people were pulling over in their cars because they thought there was an ambulance behind them." It's one thing to put the fear of a genuine disaster into the heads of listeners, but to actually change their literal perception of what's happening in their immediate surroundings? That's next level.
A particularly odd note of trivia about "D.O.A." and its eerie legacy was its inclusion on a 1985 Capitol Records compilation titled Death, Glory and Retribution, featuring similar "death songs" like Jan & Dean's "Dead Man's Curve," answer songs such as Sammi Lynn's "You Should Know I'm Still Your Baby" and, for some reason, Weird Al Yankovic's "My Bologna." Which, I suppose, is also a form of disruption, if it's the very idea of cohesive compilation album concepts that you're looking to dismantle.
"D.O.A." remains Bloodrock's best known song, and while the band never quite reached Sabbath or Zeppelin levels of fame and influence, they did something that neither of those bands did: Without the aid of drugs or alcohol (and possibly occasionally with it), Bloodrock managed to create an unsettling and very realistic sensory illusion. Rock 'n' roll can still be disruptive, but rarely like this.
---
Treble is supported by its patrons. Become a member of our Patreon, get access to subscriber benefits, and help an independent media outlet continue delivering articles like these.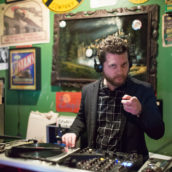 Jeff Terich
Jeff Terich is the founder and editor of Treble. He's been writing about music for 20 years and has been published at American Songwriter, Bandcamp Daily, Reverb, Spin, Stereogum, uDiscoverMusic, VinylMePlease and some others that he's forgetting right now. He's still not tired of it.