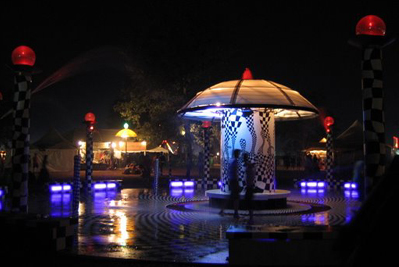 – Bonnaroo Cinema
Bonnaroo Cinema consisted of an air-conditioned theater, a place to take a break and chill out (literally), and take in movies such as Borat, Pan's Labyrinth, Blue Velvet, Talladega Nights, and Little Miss Sunshine, among others. The theater also played an HBO sneak peak of Flight of the Conchords, NBA Finals, and various music DVD previews. Lastly, Bonnaroo Cinema added "Filmmakers in Focus," which featured screenings and interviews with Jim Jarmusch (Coffee & Cigarettes), D.A. Pennebaker (Monterey Pop), and Bill Plympton.
– Somethin' Else tent
This air-conditioned tent featured the jazz element of the festival, featuring Lou Donaldson and Dr. Lonnie Smith, Jacky Terrasson, Ravi Coltrane, Robert Glasper, the Philadelphia Experiment, and more in an intimate club-like setting. DownBeat Magazine also featured panels of jazz-related topics such as "My Jazz Obsession!" and "Miles, Monk, Coltraine & Bird."
– Major League Baseball
Major League Baseball's Access To The Show was at the festival with the MLB
Roadshow, and their batting and pitching cages were a big success for the festival, as both festival attendees and musicians participated in the fun. Besides the Tweedster, Martha Wainwright,, Girl Talk, Annuals, Aziz Ansari, and Nick Kroll also took a break and hit up the cages.
Jeff Tweedy in the batting cages!
– OurStage at Bonnaroo
OurStage, a 100% democratic online music competition, brought their three winners to Bonnaroo this year to perform intimate acoustic sets for festival-goers. One of the winners, Ashleigh Flynn, whose lovely country/Americana set and sweet, pure vocals gave her audience a much-needed dose of honey, was nice enough to answer a few questions about her experience with OurStage and her overall music career:
1) Can you tell me a little about your experience with the OurStage competition? How you became involved in the first place, how it's been since then, etc.?
I was invited to participate in OURSTAGE by Jay Sweet – editor at large for PASTE Magazine – which is my FAVORITE! I started to dally in songwriting in college which is where Jay and I met. Used to perform on friends porches and such. Had lots of fun. Since then I have produced 3 CD's and have started touring in the last two years more nationally. Jay and I recently reconnected, he seemed to dig my songs and off I went. OURSTAGE has provided me with an exceptional opportunity to put my stuff out there among folks like me, and lo and behold I've been bubbling up to the top of the pot (top ten) each month since it started. As a result, I have gotten some coverage in PASTE, been invited to both Bonnaroo and to the Edgefest with the Cowboy Junkies w/ Boston Pops…and hopefully more to come as things are still going well on the OURSTAGE site. My tune SELKIE is in the top ten for Acoustic as we speak…
2) How was your overall experience at Bonnaroo? I caught most of your performance, and it was just lovely!
Bonnaroo was a blast. OURSTAGE styled me…saw some great music, all the BBQ and beers I could muster (once I figured out that they had given me a backstage pass….) Also, I happily rekindled my relationship with the southern summer (I grew up in Kentucky) – 95 degrees Fahrenheit at noon….but the drought in the SE is massive…so the dust was NUTS…. Next time I go I am intendin' to play the which, what, this or that stage with my band…but that's another story!
3) What are your upcoming plans as a musician? Tour, album, etc.?
My upcoming plans are many…mostly just world domination in the most benevolent sense. I am putting a new (my 4th) record out late fall/early winter…planning on it being my first MASTERPIECE! Will be a record for everyone…full of hope, a little sorrow, and lots of fun – America at its best and worst…. Going to Europe in the Autumn…then hitting the road in a big way to give what feels like my little baby a proper introduction to the world.
You can check Ashleigh out at www.ashleighflynn.net.
Additionally, Bonnaroo has moved successfully into a new direction by incorporating fresh experimental artists into the festival repertoire. In addition to DJ sets by Aesop Rock, El-P, and DJ Shadow and a kickin' Silent Disco tent (where everybody dances and wear headphones), a new type of DJ fashion came in the form of Mike Relm, a San Francisco-based artist whose sets focus on a mash-up of both songs and pop culture images. His set was loads of fun to witness, and you can check out some clips here. I managed to catch up with Mike and get more of his perspective on the DJ scene, and what he's got in store for us:
1) Can you tell me a bit about your San Francisco roots, how they got you started, how they continue to inspire you, etc.?
"In the Bay in general there's a lot of different kinds of producers/DJs, turntablists, etc., so it was really easy to grow up in the world. I grew up in South SF, and everyone was either a DJ or a jock, and from there it kind of trained me to be a turntablist. I started entering national competitions with my friends, and the local scene kind of trained us to put our sets together, and when we got to the national level we saw that there were lots of people out there doing the same thing. You can't not be around it, which is cool. I'm totally inspired by that."
2) What directly inspired you to do what you do in order to create this mix-up of pop culture – mixing film images with popular music during your sets?
"I aspired to be a filmmaker first – the DJ thing sort of came up really as a hobby. I wasn't making any money off it or anything, it wasn't really accepted as an instrument. I really didn't plan on doing it for much longer, and needed to start doing something worthwhile for people, something tangible, like making films. But then all of a sudden, technology has developed in a way, like we have the DVD turntable now, so I was able to realize, hey, I could do that, I could use that. A blending of my crafts. This is a good way for me to present something more than just a music show. Wouldn't disappoint the fans, but enhance the experience. I think regular DJ sets are kinda boring, it's all the same things. There's nothing really to look at – if you're going to be on stage, there should be something to look at."
3) Your debut is coming out, of your original stuff –
"It's going to be something that's more like a film as opposed to a record. It's all original stuff, my show mixed with some of the shorts I've been working on, it's going to be interesting. It'll be done by the end of this year, probably."
Another noteworthy and wonderful aspect of the Bonnaroo festival was the large-scale greening initiatives. Besides creative recycling displays demonstrating the success of last year's greening efforts, the festival's merchandise was made from all organic materials, they used better waste management strategies and cleaner fuel options, and held a partnership with Tennessee company WastAway, which allows for 250 tons of festival garbage to be turned into construction material and park benches to be used at future events. More information regarding Bonnaroo's greening initiatives can be found here. I say hats off to Bonnaroo in this respect – it's unbelievably important these days that big festival make these sorts of efforts to change their inevitable environmental impact.
On that note, I caught up with singer-songwriter Ben Jelen while at Bonnaroo, who gave a performance on Friday for an eager crowd. Ben's identity is not based solely in his music (which you can check out www.benjelen.com), but also in his continued activism and advocacy for change, as you'll see from the following Q&A:
1) I read that your latest album was the first release of 2007 on Linda Perry's Custard label – how has that experience been so far?
"So far, the experience has been incredible for me because I came to Linda not really signed anymore and kind of disconcerted with the way that major labels worked, was very skeptical of another producer and she probably sensed that in me and when I played for her – we just had a very organic experience in getting to know each other and it wasn't such a big stretch to do a whole album. And then from there, it wasn't such a stretch to say, you know, I don't like the way I was dealt with at major labels, and I'd rather be on her label. I'm so happy with this new album."
2) Could you tell me a bit more about your activism, your involvement with Rock the Vote, Save Darfur, etc., and how it has influenced your music, especially your newest album?
"It influenced my new album very much, whereas my first album was of songs I was writing when I was 16. This album is of songs that I wrote really within the last few years of my life, and I'm 27 now. The environmental issues are really big to me because they lead to everything else. I just did a video for a song called "Pulse," and I did in conjunction with the NRDC, and the video is just trying to highlight first the environmental catastrophes that we are going to be headed for if we don't start fixing our ways, and secondly all the effects that that has. `
Situations like the one in Darfur can be seen as a battle over resources on a fundamental level. Everything comes back to the environment – what happens in China affects California, these are things I can't stop thinking about. What's happening in China will account for a third of the smog in California. It highlights the fact that it's global – the fact that when we drive our cars over here is going to lead to millions of refugees running away from the coastal waters when they flood. It's hard because people don't want to face these issues sometimes, so it's a difficult balance between wanting to entertain while caring and setting an example to care."
3) At Bonnaroo, they're trying to do so much with the greening initiative – do you think that this has been a successful venture, and that they're going in the right direction?
"It's the right direction – for me, when I tour I go in a biodiesel bus, but biodiesel isn't the ultimate solution either. That's kind of how I feel about this –do you have some way of really doing this in a carbon-free way? Cause my band had to fly in, and I look around at all the trailers, I'm not fooled, I know it's all being run off gas, this is a huge impact on the environment, it's a paradox all the time. But that being said, I think we should head in the right direction in every way we can, cause it's our lives. If we're going to have a festival, let's clean it up as best we can, and let's more than ever, let's vote for politicians so they're gonna cap us and make it right for the lowest common denominator."