Bonnie "Prince" Billy : Beware
In a January New Yorker profile, Will Oldham spoke about the press strategy surrounding his forthcoming album Beware. Oldham, or Bonnie "Prince" Billy to those who haven't been following the man's delightfully odd shenanigans for the past 15 years, said that Beware would be promoted the way big records are and his often aren't—photo shoots, interviews, singles and a 50-date tour—all for the purpose of proving that it's a pointless exercise for an artist like himself. To date, no singles have been released, though there is a video for "I Am Goodbye." And after the New Yorker article, I was told Oldham wouldn't be doing any interviews. And come to think of it, the only press photos I've seen promoting the album are either red-eye afflicted point and shoots, or, somehow, find Oldham mysteriously absent. He is still touring though.
Oldham may have already given up on his big promotional spree, but should he choose to reconsider, Beware is one hell of an album for him to be pushing. It's a lush and crisply produced affair, a throwback to '70s country & western with a bit of the Neil Young influenced scruff (and album cover homage) that's been prevalent in Oldham's career since his Palace days. Beware (which has the ominous catalog number of DC666) is, in many ways, the complement to last year's Lie Down In the Light. It's louder, more densely arranged, just plain more, not to mention most of us knew about it more than two weeks in advance of its release. Most importantly, where that record perfectly displayed Oldham at his most understated and humble, this record offers another side of Oldham's musical persona, one that revels in the ornate and the indulgent.
In some respects, Beware isn't a drastic departure for Oldham. Many of his signature lyrical themes—love, sex, death, his stomach—are sprinkled throughout. And he's made other "big" records before, namely I See A Darkness and The Letting Go, though one could argue either way on the latter. With Beware, however, he's opted for something with more layers and more polish than before, and in spite of his ragged nature, it works remarkably in his favor. One can easily be taken aback by the rich Nashville session sound of leadoff track "Beware Your Only Friend," as Oldham's declaration of "I want to be your only friend" is met with a backup chorus of "is that scary?" It's not a hard sound for Oldham to warm to, however, and in spite of the drastic transition from his previous album, he sounds perfectly at home in such opulent surroundings.
The excellent honky tonk ballad "You Can't Hurt Me Now" finds Oldham and his large, impressive supporting cast moving even farther away from the crash of guitar distortion and into a countrypolitan sound, featuring pedal steel, violin, marimba and cornet. "My Life's Work" is more reliably Bonnie, melancholy and rough edged. But its real surprise comes near the end of the song when a saxophone solo seemingly plucked from David Bowie's Young Americans finds its way into the mix. And "Death Final" is an elegant ballad that could have even been appropriate on 2006's The Letting Go.
When Oldham & Co. ease out of ballad mode, they really kick up some dust. "You Don't Love Me" is a certified hootenany, with a mean fiddle hook and some of Oldham's most grin-worthy couplets, in spite of its ultimately sad undertones: "You say you like my eyes only, or just the way I snicker/ sometimes you like the smell of me or the way my stomach jiggles" (just one of several belly references). "I Am Goodbye" is a simple and catchy stomper, made even more delightful by its flute and wah-wah guitar interplay, not to mention its fun little backup howls. And while closer "Afraid Ain't Me" may not `rock' quite as much as these tracks, its upbeat, psychedelic approach ends the album entrancing the listener with its mystical riffs and conga beats.
For Oldham to have released a well-crafted and beautiful set of songs, rife with humor and pain is nothing particularly new—we've written about him doing so on at least three other occasions. Yet with Beware, he's done so not from the role as quirky troubadour, but as quirky, yet commanding bandleader. Bonnie "Prince" Billy may be an artist who typically benefits from understatement, but on Beware he provides ample evidence that sometimes bigger is better.
Similar Albums:
Lambchop – Nixon
Phosphorescent – Pride
Songs: Ohia – Magnolia Electric Co.
Video: "I Am Goodbye"
Download at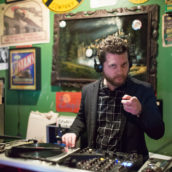 Jeff Terich
Jeff Terich is the founder and editor of Treble. He's been writing about music for 20 years and has been published at American Songwriter, Bandcamp Daily, Reverb, Spin, Stereogum, uDiscoverMusic, VinylMePlease and some others that he's forgetting right now. He's still not tired of it.