Broken Social Scene Presents: Brendan Canning : Something For All of Us…
Much like The Wu-Tang Clan, Broken Social Scene is essentially a collective—only once in a great while will you find all members/contributors at the same place at the same time, and their polarized, yet well-stirred contributions are what make Broken Social Scene the creative and innovative success it is. And also like The Wu-Tang Clan, Broken Social Scene's members have a well-earned reputation for crafting impeccable solo or side project albums, from Jason Collett and Apostle of Hustle to founding members and songwriters Kevin Drew and Brendan Canning. Instead of RZA production and a well-placed "W" on each album cover, however, on albums from the BSS camp you'll find the recognizable Arts & Crafts spine graphic, and in the two most recent cases, a heading that reads "Broken Social Scene" presents and an ellipsis following the album's title, an ever-so-subtle indicator of the constantly moving, often fluctuating nature of the collective.
Kevin Drew was the first Broken Social Scene personality to use the "BSS presents" title, issuing his epic, sonically dazzling Spirit If… in 2007. Following Drew's lead, less than one year after that album hit shelves, fellow BSS songwriter, guitarist and singer Brendan Canning offers up his own "Broken Social Scene" presents contribution, the shorter, but no less amazing Something For All Of Us…. Much like Spirit If…, Something features a wide array of Broken Social Scene members and alumni providing vocal and instrumental parts, including Drew, Justin Peroff, Andrew Whiteman, Amy Millan, Jason Collett and Evan Cranley. Similarly, the Broken Social Scene quality guarantee® at the top of the album ensures that the listener receives a steady flow of dense, effects-laden guitars, heady production, big arrangements, emotional weight and rocking-a-plenty.
The first clue that Something For All Of Us… is a bit different from Spirit If… is in the cover. While Drew's solo outing depicted unicorns against a golden backdrop, on this album one will find a cartoon depiction of the musicians playing, eating and drinking in a tree-lined street, like a sort of Canadian indie rock update of War's The World Is A Ghetto. Drew and Canning share many musical similarities of course, namely those big, effects-laden guitars, but where Drew's songs are mired in ephemeral atmospherics and whispering about cocks, Canning plays his hand with a bit less bombast, but with just as many shoegazer-leaning rockers and heavy-hearted ballads.
At the beginning of the opening title track, the musicians sound as if they're tuning up, with a slight bit of ambient chaos teasing what ultimately becomes a dense rocker, with Peroff's drums setting off incendiary crashes over Canning's soft yet lovely vocals. Though the song pulls the listener in abruptly once it starts, Canning & Co. allow the drama to build, with the guitars ultimately pulling away to allow Peroff's skins to bang the song toward a close. "Chameleon," likewise, features an introductory tease, with subtle textures and horns setting a somber mood, yet it too undergoes a metamorphosis, shifting into a soulful major key pop song, with warm and fuzzy lyrics to match: "You/ you can throw your arms up/ you/ you can be at ease/ stick to things that remind you/ of where you used to be."
Canning has a particular knack for making a straightforward rock song transcendent, as he does on "Hit The Wall," where the title chant carries some surprisingly emotional resonance among the distorted, ringing guitars and heavy pounding bassline. And "Churches Under the Stairs," while somewhat simpler, erupts into a glorious bout of fuzz in its chorus. He's equally adept at acoustic balladry, however, bringing to mind the soothing acoustic sounds of Sam Beam on the folky "Snowballs & Icicles." On "Love Is New," Canning takes a risk, descending into a hazy funk-rock sound, and while it certainly comes as unexpected, he more than succeeds, with sweet falsetto harmonies and horns brightening up its sleazy groove.
Though Broken Social Scene albums are typically a microphone relay race, Canning only steps away from the helm for the breezy "Antique Bull," which finds Lisa Lobsinger adding her ethereal coo. Even if this is Brendan's affair, ultimately, Lobsinger seems better suited to this track, and just goes to show that even on a solo album, these BSSers don't hold fast to many hard and fast rules. Instrumental "All the Best Wooden Toys Come From Germany" is a beautiful, string-laden diversion from the louder, harder rocking tracks, though the tense, fuzz wielding "Possible Grenade" is reason enough to be thankful that Canning doesn't let the quieter tracks win for too long. Its chorus is climactic and magnificent, and while the line "the lines on your face will always give you away" may seem unflattering in a way, it also belies an intimacy, which is reflected in the music, despite such heavy effects.
Even if the title of Brendan Canning's Something For All Of Us… most likely comes from its first track, there ultimately becomes a greater meaning behind the phrase. For listeners, there are various different styles and directions in which the music twists and turns, suggesting that everyone can find something to love, if not become completely enamored with all of it, like I have. And from the perspective of the musicians involved, there are 21 different people providing vocals or instrumental work, showing that, likewise, everyone plays a part in creating the album, despite Canning being the banner headliner. Ultimately, it's about being part of something, whether you're playing or listening, and to those who let it, with each successive listen, this album may become a part of you as well.
Similar Albums:
Broken Social Scene – Broken Social Scene
Broken Social Scene Presents: Kevin Drew – Spirit If…
The National – Alligator
Download at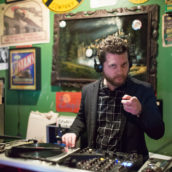 Jeff Terich
Jeff Terich is the founder and editor of Treble. He's been writing about music for 20 years and has been published at American Songwriter, Bandcamp Daily, Reverb, Spin, Stereogum, uDiscoverMusic, VinylMePlease and some others that he's forgetting right now. He's still not tired of it.