Clipd Beaks : Hoarse Lords
To hear Clipd Beaks is to experience disorientation. If the glyphic typeface and vintage nude photos defaced with Sharpie squiggles on their album art doesn't give you an uneasy feeling, their post-punk via Krautrock noise assault will most certainly do the trick. The plaster masks in the press photo are certainly a nice touch as well, just another nice touch that reveals the extent to which this Oakland foursome will go to create a wholly nightmarish package. Masks and angular fonts are merely just the added spark and glimmer upon the group's sonic inferno; Clipd Beaks are one of the most viscerally thrilling and sickening bands to have emerged in a long time.
While Clipd Beaks are loud, they don't quite reach the eardrum destroying frequencies of Lightning Bolt or Parts & Labor, instead wrapping their noise with dreamy effects and psychedelic swirls. Think of a more brutish Deerhunter, a bassier This Heat, a more belligerent Liars. Even with this focus on extremes and on grumbling lows and squeaking synth frequencies, of moaning, painful howls and primal tom-tom shuffles, the band creates music that's quite accessible, relatively speaking, particularly given their peers on Lovepump (AIDS Wolf anyone?). Surely nobody will be mistaking them for the New Pornographers anytime soon, but on Hoarse Lords, the group's full-length debut, there are melodies, some you can even dance along to, in a very erratic fashion of course.
The first sounds on Hoarse Lords are cricket-like white noise and buzzsaw distortion, but all soon becomes much more pleasant. A peppy drum beat starts up, a funky bassline follows, and singer Nic Barbeln begins his cool, albeit spastic vocal guidance. It's a tad messy, but still pretty catchy, until the chorus, when convention goes to hell and instruments collapse on one another in a gigantic cacophonous eruption. A groove finds its way back into the song, however, and all is woozy, but, oddly, melodic. Most songs seem to follow a similar pattern of construction and collapse, but in entirely different fashion, this being merely the most basic.
"Manipulator" dances upon an ambient sample, phasing in and out while bassist Scott Ecklein and drummer Ray Benjamin grind their way into another solid groove, a verse fading quickly into a trippy space jam. "High on Charms," meanwhile, lays down a Middle Eastern-sounding sample bed while Barbeln lets out muted wheezes. Working in something of an opposite form as the songs leading up to it, this bizarre introduction only flourishes in an exotic and melodic formation, yet that too gives into an effects-laden freakout eventually. No song is safe, really, as noise, static and distortion are essential parts of the Clipd Beaks equation, just manifested in different ways. The title track grinds them into a repetitive sludge, "We Will Bomb You" reduces initial destruction for an eerie combination of Barbeln's shrieking and drum machine sputtering, and "Black Glass," for all its atonal bellows, is the closest the band comes to making a legitimately catchy single, jamming hard with irresistible rhythms and, you guessed it, effects aplenty.
There is both hedonistic thrill and sheer terror in the music of Clipd Beaks. Listening to Hoarse Lords at first will not yield much in the way of memorable melody, as the band's wall of noise hits with maximum force, knocking anyone in its path flat on his ass. Surviving that is a high greater than any extreme sport can provide, and a second excursion through its dark and menacing gauntlet reveals much more than distortion, but a band that merely uses that as a vehicle for their twisted and brilliant songs.
Similar Albums:
Deerhunter – Fluorescent Grey
This Heat – Deceit
No Age – Weirdo Rippers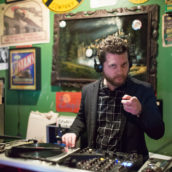 Jeff Terich
Jeff Terich is the founder and editor of Treble. He's been writing about music for 20 years and has been published at American Songwriter, Bandcamp Daily, Reverb, Spin, Stereogum, uDiscoverMusic, VinylMePlease and some others that he's forgetting right now. He's still not tired of it.