Okay, girls, the jig is up. We know what you're trying to pull, here. Did you think we wouldn't notice? The long-lost sister mythology, the cell phone ringtones and dinosaur noises, more guests than a gangsta rap album and a rainbow-vomiting unicorn orgy on the album cover — it's all pretty loony, as you would like us to believe. Oh, but we're smarter than that. Did you really think that we'd let one of the Fall's best records just slip by?
I beg to differ. I felt something special when I took this out of the bubble-wrapped manila package. Though I didn't immediately jump on board when I heard La Maison de Mon Reve, there was something much different about Noah's Ark, something altogether mysterious and alluring, and the laundry list above certainly contributed to it. But let's be serious now, a one-sheet hardly scratches the surface. And for me, I hadn't quite gotten a feeling of the album until I heard "Beautiful Boyz," the melancholy collaboration with Mercury Prize winner (and upsetter) Antony.
The story was captivating ("born illegitimately/to a whore most likely") as well as the oddly beautiful chorus delivery by Antony ("All those beautiful boyz/pimps and queens and criminal queers"). But it was the overall ambience of the song, the juxtaposition of the voices against a gothic torch song backdrop, which made the song so beautiful and bizarre. And while I'm sure the bizarre part is something that was well factored-in, it's the "beautiful" part that isn't outwardly obvious. It immediately struck me as one of the most curiously wonderful things I had heard in some time; I needed to hear more.
"South 2nd" may have some sampling courtesy of Nokia, but that Casady sister nigh harmonization is what truly drives the song, sounding something like a 1940s version of Cat Power, with ties to thug life ("we don't need no baseball bats/we don't need no silver gats"). And "Bare Hides and Buffalo," in all of its ooky-spookiness, sounds like some kind of haunted music box, a perfect accompaniment for a Tim Burton film, other than Planet of the Apes.
I can see Joanna Newsom comparisons following listens to "Tekno Love Song," a gorgeously simple harp ballad. And it's certainly warranted, but it's more tender, and less theatrical than the freak-folk first lady's elven craft. And suddenly, I seem to have forgotten about the weird noises, the odd voices and disturbing artwork. And a hint of the ghostliness from before returns in seafaring dirge "The Sea is Calm," sending chills down my spine as I hear Madames Casady in spectral choir unison, chanting "On the anniversary of his death/she drew a beautiful picture of a whale." One could only suppose that more weirdness to come, but what played before me on the album's title track? Why, a lovely, simple pop tune with hip-hop beats and a pure, minimalist melody.
As songs go by, expectations get thrown out the window. On first listen, it's practically impossible to predict which turn Noah's Ark will take, paddling through choppy See-n-Say waters one moment, floating on clouds of delicate melody the next. By the time Devendra Banhart shows up on "Brazilian Sun," any earlier mention of a guest appearance has been long forgotten, thereby prompting a pleasant surprise in his fuzzy (likely cell phone) delivery.
Sierra, Bianca, you present a compelling case for insanity, but I can't help but look far past it. The ghostly sounds that emanated from my speakers didn't repel me, they only drew me in further. Noah's Ark is a haunting and gorgeous album, one that will likely stand the test of time and of timelessness. It's truly amazing what you've done here; this album surpasses any possible preconceptions one might have. But don't give up that separated at birth story just yet, true or false, it's a hell of a tale.
Similar Albums:
Cat Power – Moon Pix
Joanna Newsom – The Milk-Eyed Mender
Devendra Banhart – Rejoicing in the Hands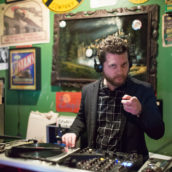 Jeff Terich
Jeff Terich is the founder and editor of Treble. He's been writing about music for 20 years and has been published at American Songwriter, Bandcamp Daily, Reverb, Spin, Stereogum, uDiscoverMusic, VinylMePlease and some others that he's forgetting right now. He's still not tired of it.