CunninLynguists : Dirty Acres
Just a few weeks ago, I named CunninLynguists' fourth album Dirty Acres one of the best hip-hop albums of 2007, placing it at number eight. Yet I also predicted that a few more listens could have pushed it well into the top five. As it turns out, my abilities as a soothsayer are far more sharply honed than I imagined, though I almost feel like I should explain myself for not getting around to reviewing this earlier. It's fairly simple, what with its late November release date brushing up against our year end features; The Big Doe Rehab and 8 Diagrams haven't made their way to our pages just yet if it's any consolation. Still, the more time spent with Dirty Acres, the better. It's a multi-layered sonic maze of big beats, sophisticated rhymes and lush, gorgeous production that pulls you in deeper with each spin.
Kentucky's CunninLynguists expand to a trio with the release of Dirty Acres, welcoming Natti as official third member, lending his rhyming skills to Kno and Deacon the Villain's already stunning repertoire. In the tradition of past albums such as A Piece of Strange and Southernunderground, Acres is a cinematic, surreal, hard-hitting Southern rap symphony. Yet it's a darker album, with Kno's beats often leaning toward the ominous, paired with lyrics that lean heavy on the political. That isn't to say Dirty Acres will be mistaken for Fear of a Black Planet anytime soon, for what truly sets CunninLynguists apart from the world of hip-hop in general is how well they juxtapose their more accessible jams with gritty social commentary. Here, they not only sustain that perfect balance, they paradoxically amplify these extremes while more closely bridging them.
Natti boldly announces his presence as the newest member of the group by dropping the first verse on the album in the explosive opener "Valley of Death," alluding to his stint in prison: "Man I seen obscene times before this hip-hop game, came/ like the cops that check me, left me in mate/ to a system where gingerbread men are to overbake/ put to work in the dirt for a buck and a quarter a day" By comparison, the title track is a laid-back slice of g-funk primed for bumping on a sweaty southern (or Southern California) night.
The scales tip back toward the confrontational with the heavy ode to the group's home state, "K.K.K.Y." Tackling misconceptions about bourbon and horse-racing on one end of the song, while taking on criticism of their own approach ("the emcee's too dark/ the producer's too white"). While the napalm from the bombastic opening trio settles, the `Lynguists ease into a trio of laid-back gems. "Wonderful" and "Yellow Lines," two joints lit just for the ladies, find the trio in good company with the likes of Witchdoctor, Phonte and Devin the Dude, and "The Park" is an absolute treat, with mellow piano and twinkling sample beds underscoring feel good rhymes about, what else, a day at the park.
Side two is a bit less sun-kissed, a stark contrast in mood that begins with the brief but somber "Summer's Gone," which, followed by a short interlude, segues into the fierce "Gun." Kno steps out from the decks to unleash the first verse, touching upon the Iraq War ("the sutures for Fallujah") and the infamous police killing of Amadou Diallo ("he says he has a wallet/ I say he has a gun"). "Dance For Me" initially seems a bit lighter, Deacon narrating an encounter with a stripper, but Natti's verse becomes far more sinister as he questions the cult of celebrity: "are we crazy, deranged, to stand up for some change/ dreams turn to schemes/ which marionette pulls your strings?" With "Things I Dream," the `Linguists achieve a staggering climax, with tension climbing to new unbearable heights and all three emcees sounding fierce as ever, particularly as Kno vocalizes his crisis of conscience, "With Jesus seeking redemption, but he don't need my repentance/ for he who feels my intentions sees that my deepest depression is feeding me to these demons that lurk and feed on my essence."
For all the heart-pounding anxiety and brooding of the album's second half, CunninLynguists know perfectly well how to rebound with a fun and catchy closer. "Mexico" is just that, with the most radio-friendly hook on the album and a smooth R&B melody that flows as the credits roll. It's a satisfying cushion to a dizzying hip-hop odyssey. It's not the longest or even the most concept-driven rap album to have been created in 2007, but it's an epic, and one unlikely to be forgotten by those willing to seek it out. Come to think of it, this could even be top three.
Similar Albums:
Outkast – Aquemini
Murs – Murs 3:16 – The 9th Edition
Cee-Lo – Cee-Lo Green Is the Soul Machine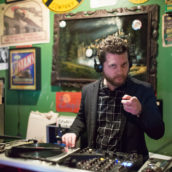 Jeff Terich
Jeff Terich is the founder and editor of Treble. He's been writing about music for 20 years and has been published at American Songwriter, Bandcamp Daily, Reverb, Spin, Stereogum, uDiscoverMusic, VinylMePlease and some others that he's forgetting right now. He's still not tired of it.