Deerhunter announces limited-edition tour cassette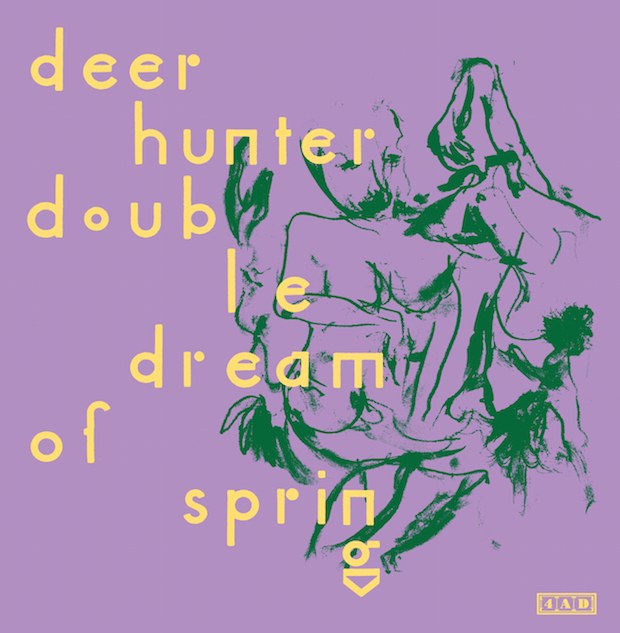 Deerhunter has announced a new limited-edition cassette that they'll be selling on their upcoming tour. It's titled The Double Dream of Spring, and it's limited to 300 copies, which means they'll probably go pretty quickly. The recordings were made at Bradford Cox's home in Atlanta, Georgia. Take a look at the tracklist and the band's upcoming tour dates below.
Deerhunter are also working on their follow-up to 2015's Fading Frontier.
The Double Dream Of Spring Pt. 1:
I. Clorox Creek Chorus
II. Dial's Metal Patterns
III.
IV. Strang's Glacier
The Double Dream Of Spring Pt. 2:
V. The Primitive Baptists
VI. Denim Opera
VII. Lilacs In Motor Oil
VIII. Faulkner's Dance
IX. How German Is It?
X. Serenity 1919 (Ives)
Deerhunter tour dates:
5/15 – BROOKLYN, NY, Elsewhere
5/16 – NEW YORK, NY, Le Poisson Rouge
5/25 – LONDON, KOKO [TICKETS] 5/26 – MANCHESTER, Strange Waves @ Albert Hall
5/27 – BRIGHTON, Concorde 2
5/29 – PARIS, Villette Sonique
5/30 – BESANÇON, La Rodia
6/2 – BARCELONA, Primavera
6/3 – NIMES, This Is Not A Love Song
6/4 – BORDEAUX, Rock School Barbey
6/5 – NANTES, Stereolux
6/6 – LILLE, Aeronef
6/8 – HILVARENBEEK, Best Kept Secret Festival
6/9 – AARHUS, Northside Festival
6/10 – HELSINKI, Sideways Festival
6/12 – LEIPZIG, UT connewitz
6/13 – BERLIN, Festaal
6/14 – PRAGUE, Meet Factory
6/15 – MANNHEIM, Maifield Derby Open Air Festival
Deerhunter's Cryptograms is on our list of the Top 50 Psychedelic Albums.