On a recent trip to San Francisco, while eating in a hip-yet-comfy restaurant which screened Spinal Tap on its wall mounted flat screen TVs, I happened across a fellow diner who looked vaguely familiar to me. After a moment of brain-scanning for a profile match, it occurred to me that the familiar face was that of Josh Davis, a.k.a. DJ Shadow, or so I believed at the time. It most likely was him, seeing as the Bay Area is his home turf, and, quite frankly, it looked like him. Still, my inability to identify with an absolute lent this celebrity spotting moment a certain level of doubt. Less than a month later, I'm treated to a promo copy of Josh Davis' latest opus, The Outsider, and that initial uncertainty seems to have carried over into the listening experience. "This is DJ Shadow ?" I think, hearing the so-called "hyphy" sounds, whatever that means, and reading the names of no fewer than ten rappers on the tracklist. But alas, that is indeed Shadow's name on the cover.
The Outsider provides a shock to the system, merely because of its divergence from Shadow's notable résumé. From his early single "In/Flux" to Endtroducing to The Private Press, instrumental hip-hop soundscapes have been his bag, and a rather potent and plentiful bag at that. Yet in an attempt to evolve with the changing face of hip-hop, DJ Shadow pulls a 180 and takes his sample-slaying into a new dimension, or rather, a dozen new dimensions.
After a spoken word intro, which sounds reasonably Shadow-ish in its own right, The Outsider kicks off with the soulful, cinematic "This Time," which instantly propels the album into an exciting direction. Featuring sampled vocals from an unknown singer and a psychedelic, funky backdrop, it's not a particularly difficult song to imagine tacked onto Shadow's prior releases. Yet the song that follows, "3 Freaks," changes the game by adding vocodered choruses, crunky beats and two gremlin-voiced rappers, Turf Talk and Keak da Sneak. Weird as it is to hear on a Shadow album, it's a surprisingly exciting track, particularly considering the rather stale state of rap today.
Unfortunately, "Turf Dancing" is just that sort of stale track that can hinder such an album, and coming right after a skit, makes for two skippable tracks, though the delightfully twisted "Keep `Em Close" brings the parabolic curve back up again slightly, and "Seein' Thangs," a collaboration with David Banner, shows how strong the sound of Shadow can be in combination with some solid lyrics. Banner spits cynical verses about the government's handling of the Katrina disaster of last year, while Shadow provides a danceable, yet eerie and haunting bed of samples, making for a true high point on this album. Two instrumentals come next, first the hypnotic guitar sounds of "Broken Levee Blues," followed by the punk rock raveup of "Artifact."
"Backstage Girl," an amusing narrative of a randy groupie where "the backstage is the last place you think you'd find her," is a grand start to the album's second half, rocking hard yet brilliantly displaying Phonte Coleman's skills as an emcee, and climaxing (before a long drum solo) with a million dollar line: "I gotta stop fucking with these hoes off of Myspace." "Triplicate/Something Happened That Day" makes for a soothing, if barely there instrumental interlude, something Shadow has done quite well for some time, segueing into "The Tiger," which features members of Kasabian, and as such, resembles a dance-friendly form of Britpop which, obviously, Kasabian already does quite well. Nonetheless, it's a nice enough track, not unlike Shadow's work on the UNKLE album Psyence Fiction, which featured the talents of a few British rock icons if you recall. "Erase You" and "You Made It" feature the vocals of Chris James, who some have compared to Coldplay's Chris Martin, which is an apt comparison. The former is a wonderfully fluid performance on both artists' parts, yet the latter does sound a bit too much like Coldplay, and I'm beginning to wonder how this song belongs on the same album as "3 Freaks." Confusing, but not necessarily disastrous.
Charalambides' Christina Carter lends some spoken word to the trippy "What Have I Done," though the hip-hop element returns with "Enuff," a track that features Lateef the Truth Speaker and Q-Tip and exerts a more playful sound, rather than a hardcore one. Yet by the time "Dats My Part," a track with E-40, rolls around, I decide I need a break. The Outsider is a long album, and a diverse one, sounding more like a mix tape than an album, and by mix tape, I mean that Maxell you dubbed for Summer Road Trip '97. Shadow made a strong effort not to adhere to just one style, and for such a non-committal stance, it's not half bad. The Outsider is a lot to take in one sitting, but among the confusion and a handful of bum tracks, there are more than a few gems to make the initial confusion worthwhile.
Similar Albums:
UNKLE – Psyence Fiction
The Roots – Phrenology
RJD2 – Since We Last Spoke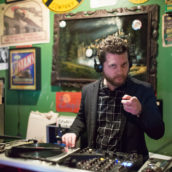 Jeff Terich
Jeff Terich is the founder and editor of Treble. He's been writing about music for 20 years and has been published at American Songwriter, Bandcamp Daily, Reverb, Spin, Stereogum, uDiscoverMusic, VinylMePlease and some others that he's forgetting right now. He's still not tired of it.