Efterklang : Magic Chairs
Efterklang have for the longest time found themselves in a post-rock pigeonhole. The quintet's Denmark home and reputation for lazily shimmering music prompted almost knee-jerk categorization alongside fellow Scandinavians like Sigur Rós and fellow atmosphere-makers like Animal Collective, even though their music never really fit either template. With their proper third album Magic Chairs, Efterklang change the factors in their equation — different inputs, some subtraction and addition. They end up with more pleasant results, which some might unfortunately see as minimal forward progress.
Efterklang of 2010 are instrumentally quite far afield from Efterklang of 2004, horn and string sections sitting where Books-like glitch once did. For work from an allegedly post-rock artist, Magic Chairs features a whole bunch of clear singing and reserved arrangements, none particularly overwrought or progressive. Tracks like "Full Moon" and "Mirror Mirror" naturally flow from 2007's Parades, increasing the live instruments and toning down the technology.
There's a first sonic layer that draws reactions and comparisons to new wave survivors trying to make continued headway as the 1990s dawned. Efterklang v3.0 incorporates material referencing Bryan Ferry circa "Mamouna," Thomas Dolby circa "I Love You Goodbye," and Howard Jones' digitized blue-eyed soul. Opening track and first single "Modern Drift," for example, finds Casper Clausen's vocals mimicking Wang Chung's "Dance Hall Days" over a reeling piano figure.
But Magic Chairs further borrows from more contemporary efforts in chamber pop, and seems to suffer for it. From the cavernous bass and subtle samples of "I Was Playing Drums" to the zither and plaintive, hiccuping vocals in "Harmonics," Efterklang's theatrics are painfully subdued. They rarely percolate beyond the climax of "The Soft Beating" and what seems to be the album's sole example of aural optimism, "Scandinavian Love." Efterklang might have once been victims of mistaken genre identity, their electronica masquerading as post-rock. On Magic Chairs, however, they find themselves mired in orchestral indie-rock, just part of another genre's madding crowd.
Similar Albums:
Beirut – Gulag Orkestar
Sufjan Stevens – Illinois
Dirty Projectors – Bitte Orca
Download at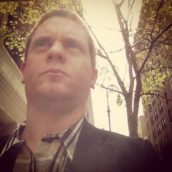 Adam Blyweiss
Adam Blyweiss is associate editor of Treble. A graphic designer and design teacher by trade, Adam has written about music since his 1990s college days and been published at MXDWN and e|i magazine. Based in Philadelphia, Adam has also DJ'd for terrestrial and streaming radio from WXPN and WKDU.