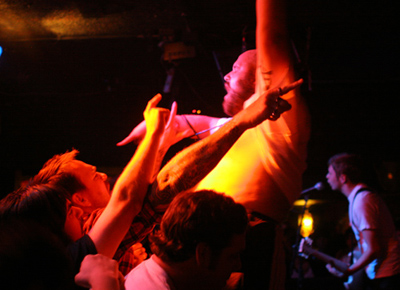 The first time I attempted to catch Fucked Up live, I was engulfed in a giant swarm of people on a pedestrian bridge in Austin, Texas. The band played an unofficial show after hours (roughly around 2:30 a.m.) during SXSW, yet word got around to enough people that eventually more than 1,000 people showed up to crowd the bridge, and probably even double that. By the time the first band up played their first chord, people began swirling and smashing together, to the point that I couldn't really tell what was going on. In retrospect it was a pretty amazing experience, but as far as the music was concerned, I could barely tell what was going on.
Suffice to say, I wanted to actually be able to see Fucked Up live, and their appearance at The Casbah in San Diego made up for the first, unsuccessful attempt. Los Angeles' punk favorites Mika Miko opened the show with a high-energy set, complete with a telephone receiver used as a microphone. But even their spunky punk rock sound wasn't adequate preparation for the unstoppable power that Toronto's Fucked Up harnessed in their chaotic, awe-inspiring set. In fact, the club was eerily calm beforehand, just like the quiet before that goddamn tornado tears the roof off of your grain silo. (To be fair, The Casbah's always chill…just not at a hardcore show).
As frontman Pink Eyes took to the stage, he pleaded for a moment of silence from the crowd to honor fallen hero Lux Interior of The Cramps, who had died that afternoon. And those ten long seconds merely heightened the anticipation for the furious set of progressive hardcore to come. Boasting a three-guitar attack, Fucked Up takes the hardcore aesthetic to a new plateau, making a sound that's not only more dense than most of their contemporaries, but more melodic and complex at that. This isn't anything like the bands I caught in high school, shouting over 1-minute blasts of explosive power chords. Fucked Up are a uniquely sophisticated hardcore band.
That said, fists still flew, beers were thrown, people moshed, slammed and piled on top of one another. The crowd was absolute bedlam. But it was incredibly fun to watch both the adrenaline-fueled crowd and Pink Eyes' antics. For those who haven't had the benefit of seeing it first hand, Pink Eyes is a bit like the hardcore equivalent to Les Savy Fav's Tim Harrington. As the band kicked off their incendiary set with the epic assault of The Chemistry of Common Life opener "Son The Father," Pink Eyes swung his microphone around like a lasso, then subsequently caught it, all the while growling at the writhing audience. He crawled atop bar tables, put his arms around patrons, put on numerous hats, even posed for a photo, grinning giddily with two unsuspecting fans. And this was all before he bared his ass, mind you. In the meantime, the band careened their way through tracks like "Crooked Head" and "No Epiphany," sounding incredible and overwhelming, leaving a case of ear-ringing that didn't vacate for about 24 hours.
After three or four songs, before the band got revved up for another, Pink Eyes mentioned that Fucked Up was nominated for a Juno award. He proceeded to make a promise to his SoCal audience: "If Fucked Up wins a Juno, I will personally set Chad Kroeger's hair on fire."
Then Fucked Up proceeded to do just that, figuratively speaking, to everyone in attendance.