Gang of Four : Return the Gift
I found that essence rare/ it's what I look for
My relationship with Gang of Four began in high school, as I discovered a used copy of their Infinite Zero reissue of Entertainment at The Wherehouse in Temecula. Long since out of print (even as a reissue), I was thrilled, no…elated to have found such an amazing and essential album, tossed aside in the bargain bin. (I found many other odd gems in the same store, including a copy of The Cure's Japanese Whiskers and the original pressing of Stereolab's Switched On) From the first play, I was blown away, completely gobsmacked by the rough-hewn and angular sounds coming from my stereo. Not only was I amazed at how truly amazing and forward-thinking the music and Socialist themed lyrics were, but it also struck me how frequently other bands had ripped them off. Whether he cares to admit it or not, every Steve Albini riff is essentially a reading from the book of Andy Gill. Rage Against the Machine was another band that openly borrowed from GO4, right down to the propaganda illustrations in their videos and live act.
One drawback to my newfound love of Gang of Four, however, was the realization that I would never be able to see them live. It was something I had come to accept pretty readily, however, as they had broken up long before I was even aware of their existence in the first place. Then 2005 comes along, my own knowledge of music deeper and broader, and all of a sudden, every other band is a Gang of Four tribute band. While it's impossible to deny that many of today's best bands are influenced by them, some don't bother to do more than recycle their sound. It was only natural, then, that a band as groundbreaking and peerless as Gang Of Four return to give everyone a lesson in discriminating between the original and a carbon copy.
I had to regain my self-respect/So I got into camouflage
Following a reunion tour and several festival appearances comes Gang of Four's first studio album in 14 years, titled Return the Gift. However, it's not their first album of new material in that much time, as that actually remains to be released (should the band stay together long enough for that to happen). Instead, it's a collection of re-recorded songs from their first three albums, Entertainment, Solid Gold and Songs of the Free. That in mind, it's awesome to hear Gang of Four in action again. Though I'm still a little more giddy about the prospect of seeing them live, a new recording will keep me psyched in the meantime.
Return the Gift, to longtime fans, won't seem all that new because, obviously, these songs have been around for some time. Yet, it seems like a natural way for the band to re-emerge. Instead of diving headfirst into new material, the band wanted to be on top of their game, recording their classic songs with the intent to make them sound fresh and new. And one of the primary motivations behind renewing these songs is to make the drums sound bigger, as a longtime gripe the group has had with their early recordings is that the drums sounded flat and not as powerful as they could be. On that front, they succeed, as just about every song finds the drums popping and exploding, though arguably few fans would have agreed with them.
Many of the tracks sound similar to the originals, just a little louder. The drums crash much heavier, the guitars are a little more distorted, and the bass sounds more metallic and trebly, though in a few exceptions, the songs do sound markedly different. The opening re-recording of "To Hell With Poverty" is much more explosive and deafening than the original. "Why Theory?" sound more abrasive, thanks to Andy Gill's noisy guitar, while "Anthrax" sounds stark and eerie. "What We All Want" rocks out and grooves a lot harder than the more subdued original, and the odd ambient noises in the new version of "Capital" make it another standout, particularly for those who don't own Another Day/Another Dollar, and not many do. Still, "I Love A Man in Uniform" is possibly the greatest inclusion, a less polished and glossy version than the one on Songs of the Free.
I think a change would do you good
Return the Gift is far from the first of its kind. Leeds peers The Mekons re-recorded 15 of their oldest songs for their Punk Rock album, Bonnie "Prince" Billy released his Greatest Palace Songs as all new versions of his older material, and even U2 re-recorded their B-side "The Sweetest Thing" as a major single in 1998. But here, Gang of Four isn't attempting to reinvent themselves, they're just preparing the world for their return. A remix album is in the works, and who knows, maybe this is just a stepping stone on the way to some new material. It may not seem totally necessary for these songs to have been re-recorded, but the fact of the matter is that they do sound pretty awesome. It is not meant as a replacement for the original versions, just a new and different way of looking at them. And if nothing else, it made me even more excited to catch their live act.
Similar Albums:
Gang of Four – Entertainment
Mekons – Punk Rock
Wire – The Third Day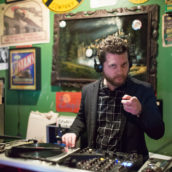 Jeff Terich
Jeff Terich is the founder and editor of Treble. He's been writing about music for 20 years and has been published at American Songwriter, Bandcamp Daily, Reverb, Spin, Stereogum, uDiscoverMusic, VinylMePlease and some others that he's forgetting right now. He's still not tired of it.