The Best Albums of March 2021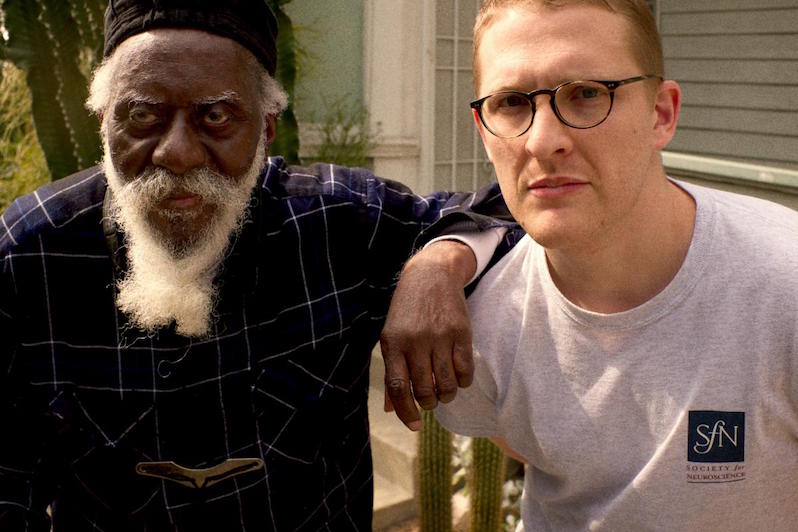 We're feeling optimistic right now at Treble. Maybe it's the increasing availability of Covid vaccines, the container ship becoming unstuck from the Suez canal, or the return of My Bloody Valentine, but we feel a little like celebrating. And we're doing that the best way we know how: by offering even more monthly music recommendations. We've been posting our favorite albums of the month for a few years now, but starting this month, it's getting a bit of an upgrade. In addition to the dozen or so albums we loved each month, we're adding two more sections, one for the best reissues of the month (labels are somehow finding a new way to unearth untold amounts of buried treasure), as well as albums we missed from the past few months. Because we always missed something, and we can't just keep it to ourselves. So this month we have 18 recommendations, new and old (mostly new), to share, just a few days before Bandcamp Friday at that. Our favorite albums of March has a little something for everyone, but move quickly—the next one of these is just 30 days away.
---
Armand Hammer – Haram
(Backwoodz)
What We Said: The shadowy tone that always lingers at the edges of Armand Hammer's cryptic and cutting rap remains, but sunlight breaks through the blinds more often this time. – Jeff Terich
---
Jon Batiste – We Are
(Impulse!)
Bandleader and musician Jon Batiste's explosive and energetic We Are mixes jazz, funky beats, Motown-like string arrangements, and Marvin Gaye-like vocals. The end result is a style all his own. In a current climate of hostility and tension, Batiste makes room for anger through his emotional songwriting, which leaves plenty of room for fun bursts of R&B. One moment intimate ("Cry"), and at another clapping along with a gospel-like tune ("I Need You"), and another rapping about injustice and stereotypes ("Whatchutalkinbout"), Batiste touches all corners of humanity. The peak release of his career thus far, We Are finds Jon Batiste coming into his own and creating a musical vision of far-reaching implications and achievements. – Konstantin Rega
Listen: Spotify
---
Floating Points, Pharoah Sanders & The London Symphony Orchestra – Promises
(Luaka Bop)
What We Said: There's not a moment on the entirety of this album's nearly 47 minutes that isn't gorgeous; pick a random spot, drop the needle, and find yourself among the most aching, elegant moments of sound to emerge all year. – Jeff Terich
---
Mare Cognitum – Solar Paroxysm
(I, Voidhanger)
What We Said: [T]he more Jacob Buczarski looks to the stars, the more his poetic ruminations reflect back to home, culminating in his most critically scathing album yet: Solar Paroxysm. – Forrest James
---
Kelly McFarling – Deep The Habit
(Self-released)
Using steel guitars, easy-like-Sunday-morning melodies, and six-string twang, Deep The Habit from Atlanta-born, Bay Area-based singer-songwriter Kelly McFarling is a cool hang, on any day. She's spent the last decade around San Francisco, self-releasing three albums, with songs that meld together Georgia earthiness and California cool down. I'm not so sure when I got comfortable with the folk, rock, alt-country part of the pool, maybe that's McFarling fault. How dare she—moving my levels with that breezy Stevie Nicks roll 'em if you got 'em '70s energy. In ten songs and 43 minutes, Deep the Habit's soft textures and weighted blanket security moves from snuggly-joint smoking comfy-to millennial Bonnie Raitt's steadiness. McFarling the bandleader and vocalist wields out the gut-wrenched honesty, and then on a dime, gives up that sleight ball-busting swagger, with that crooked audio smile. McFarling, with that chill presence, is on my list to go see when these quar-times cease. I'm gonna need it. – John-Paul Shiver
---
Of Montreal – I Feel Safe With You, Trash
(Self-released)
What did we expect Kevin Barnes to do over quarantine? The Of Montreal frontman maintained an 18-month album cycle even in the busiest of touring years, so it's no surprise that he spent 2020 recording one of his longest, most sprawling albums to date. I Feel Safe with You, Trash sees Barnes playing to his strengths—singalong anthems like "Queer As Love," or the Bowie-esque vamping of "Aries Equals Good Trash"—while twisting his traditional psych pop into new contortions (like on the sugar-rush plunderphonics of "True Beauty Forever"). It's a record about isolation that manages to not feel claustrophobic, a rare COVID album that feels exuberant, not depressive. – Sam Prickett
---
Genesis Owusu – Smiling With No Teeth
(House Anxiety)
Genesis Owusu's debut finds him making a sort of theatrical sense out of the horrors of everyday life. Shapeshifting genre experimentation and poetic lyricism reveals a highly conceptual project in at least two acts. The first of two black dog characters, introduced with the drivingly upbeat dance song "The Other Black Dog," ends up being an extended metaphor for depression, a stand in for the growing Stockholm syndrome voice inside your head. The very calculated contrast between this dark story and the smooth pop music is the heart of the first act, emulating a fake smile. "Too many nets cast into fishless lakes / Too many smiles cracked with no teeth." The second act opens up more directly about the outside world and Owusu raps more and more about everyday racism. The songs harden and his tone sharpens. Even without such a heady depth, the sheer variety of style is captivating. – Forrest James
Listen: Spotify
---
Pino Palladino & Blake Mills – Notes With Attachments
(Impulse!)
What We Said: Notes With Attachments is a loose and freewheeling pursuit of groove, casting aside notions and compulsions toward pop songcraft in favor of a joyful and inspired fusion. – Jeff Terich
Listen: Spotify
---
serpentwithfeet – Deacon
(Secretly Canadian)
What We Said: Through arrangements and melodies that fall slowly and quietly giving only temporary pauses for bombast, serpent proves that there is still a respite to be had in embracing love. – Brian Roesler
---
STR4TA – Aspects
(Brownswood)
What We Said: From snout to rear, it's almost too funky for its own good. – John-Paul Shiver
---
Sunburned Hand of the Man – Pick A Day to Die
(3Lobed)
What We Said: Pick A Day to Die is, after more than two decades of playing, performing, exploring and deconstructing, one of the strongest summaries of Sunburned Hand of the Man's musical universe to date. It's as accessible and musically curious as they've ever sounded, and just as disorientingly eclectic. – Jeff Terich
---
Thirdface – Do It With a Smile
(Exploded in Sound)
What We Said: The dark times have gotten comfortable and don't plan to pull up stakes just yet, but what Thirdface offer on Do It With A Smile isn't so much a salve for the resulting anxiety so much as a reminder to stay angry, or at the very least, harness its white-hot anger as fuel to keep on going. – Jeff Terich
Great Albums We Missed
Black Dresses – Forever In Your Heart
(Self-released)
Black Dresses make wildly unpredictable music, equally nightmarish and heartwarming. Satisfyingly chunky guitar riffs bring metal-pop vibes that never remain straightforward, while spasmodic electronic glitches interrupt perfectly danceable beats. Resolution is never guaranteed, but sweetly rewarding. Precise phrasing highlights rhyming, and then contrasts with a slurred semi-spoken word drawl. Melodic Auto-Tune flows indistinctly with harsh screamo. Each song is a duet, and both Ada Rook and Devi McCallion alternate vocal styles throughout, often shifting in the middle of verses. When Rook's voice breaks on a particularly harsh verse in "Silver Bells" we hear the two of them stop and check in, like "are you OK?" Then later, with the fourth wall properly broken, Rook's indignation takes on layers of condemnation: "The pain I write about / So I don't fucking die / Interpreted as everything / I've got to offer in this life / FUCK NO!!!!!!!!!!!!!!" – Forrest James
---
Cower – BOYS
(Human Worth)
The UK's become a hotbed for increasingly strange, experimental post-punk, art-punk and prog-punk of late, but Cower just might be the most blistering and brutal of them all. Their sound is a furious take on noise rock that's decidedly more Daughters than Slint, all jagged corners and instruments played with paint-chipping intensity. On their album BOYS, the only idea that ever gets repeated is the one that dictates they play as hard and as furiously as they can, though in moments like "Arise You Shimmering Nightmare," there's a psychedelic seductiveness that creeps up in between their moments of sweat-drenched, vein-popping fury. Even at their least aggressive, Cower deliver a work of sheer nastiness. (But also human kindness: The band is donating a percentage of proceeds of the album to the Hackney Foodbank.) – Jeff Terich
---
Karima Walker – Waking the Dreaming Body
(Keeled Scales)
Karima Walker's Waking the Dreaming Body sways back and forth between dreamlike guitar-driven folk/Americana compositions and environmental ambient tracks textured by Walker's field recordings. Together, these songs blur the edges of landscape and consciousness. On the opening track, "Reconstellated," Walker sings, "Draw a line to the stars inside of me," affirming a web of interconnection that encompasses earth and sky. On the 13-minute ambient highlight, "Horizon, Harbor Resonance," swelling synths fade out to make way for the swells of wind. Parallels such as these make for a remarkably cohesive listen, even as the album shifts stylistically from song to song. – Tyler Dunston
Best New Reissues
Horace Andy – Dance Hall Style / Wayne Jarrett – Showcase Vol. 1
(Wackies)
These two titles from the famed Wackies catalog have been given a much desired vinyl repressing courtesy of Basic Channel, who had previously issued these classic dub/reggae albums a few years back. Each one is a prime example of the studio sonics and arrangements in innovation that made the Brooklyn dub pioneers legends—soulful roots songwriting with production that turns everything completely upside down. The fiery fuzz guitar in Jarrett's "Every Tongue Shall Tell," the cascading percussive echoes in Andy's "Money Money," the constant feeling that the size and shape of the room keeps changing—it's all part of a legacy of mind-bending production and engineering work, and that they're back in print (for the time being) is reason enough to celebrate. – Jeff Terich
Listen: Spotify (Horace Andy)/ Spotify (Wayne Jarrett)
---
Gang of Four – 77-81
(Matador)
Originally slated to be released late last year, this chronicle of Gang of Four's early years is a necessary education in post-punk-funk agitprop. Ahead of their time and on their own wavelength even in an era when dozens of bands were rewriting the rules of punk and reshaping its sounds, Leeds' Gang of Four matched an undeniably funky rhythm section with vocalist Jon King's social commentary on consumerism, capitalism and colonialism and the late Andy Gill's twitchy guitar scrape. The studio albums in this collection alone are worth the price, but Matador's meticulously packaged box set likewise includes a live set, plus demos and non-album material, all of which only further showcase why Gang of Four weren't just one of the most vital bands of their time, but even now, more than 40 years after their debut. – Jeff Terich
---
New Age Steppers – Catalog
(On-U Sound)
The New Age Steppers weren't so much a band as an idea—a collective organized and produced by Adrian Sherwood that brought together figures from both the worlds of reggae/dub and post-punk, and in turn those artists (The Slits' Ari Up, The Pop Group's Mark Stewart, members of Aswad and Creation Rebel, etc.) seemingly redefined every style of music they touched. Sherwood's On-U Sound label reissued the collective's complete catalog, including a set of rarities titled Avant Gardening, making available some of the wildest and most boundary shifting dub recordings of the 1980s. Start with the group's self-titled debut, a twitchy and disorienting set of post-punk riddim-and-raucousness that's often strange, frequently stunning, but never predictable. – Jeff Terich
---
Support our Site—Subscribe to Our Patreon: Become one of our monthly patrons and help support an independent media resource while gaining access to exclusive content, shirts, playlists, mixtapes and more.