Ganglians : Monster Head Room
As the halfway point has already come and gone, 2009 is looking more and more like 1994. Part of this is thanks to veterans like Dinosaur Jr., Sonic Youth and Yo La Tengo releasing new music, reinforcing their vitality long after their respective breakthroughs. But as new artists go, there's been a sort of lo-fi renaissance in the last couple years, as numerous 8-track rockers have emerged with delightfully fuzzy singles and albums, recalling a time, in spirit if not in sound, when Sebadoh, Pavement and Guided by Voices ruled the college rock charts. Vivian Girls, Blank Dogs, Woods, Wavves, Crystal Stilts and Kurt Vile have all taken turns at unleashing static-ridden jams chock full of hooks and nostalgia, and most of them on Woodsist Records, for that matter.
Sacramento's Ganglians, as well, have issued their own set of lo-fi indie pop symphonies on Woodsist, titled Monster Head Room. But Ganglians' brand of lo-fi pop takes on a decidedly less claustrophobic and more euphoric direction, taking fewer cues from Joy Division and Velvet Underground, and more from The Beach Boys and Neil Young. As such, there's a ragged and rustic, warm and open sound to Monster Head Room, still fuzzy but in a much more inviting manner. I'd almost feel inclined to use the term `freak-folk' if it weren't such a dated term, but there is such an organic, folky sound to Ganglians' tunes that even when the group is at their most psychedelic and bizarre, what they create is ultimately likable and accessible, and bathed in sunshine rather than the faint glow of a distant neon sign.
For many of Ganglians' peers, tape hiss is merely part of a multi-tiered approach toward obscurity and effects-addled haze, but here, the group doesn't so much hide behind effects and distortion as dance and play among them, their old school lo-fi sound feeling more incidental than fuzzy for fuzzy's sake. "Voodoo," a five-minute wonder of shimmering guitars and Beach Boys-like harmonies, finds the group creating a dazzling fantasy world from their gorgeous arrangements and just the right amount of bizarre sonic treatments. Ultimately what shines through, however, are their gorgeous melodies and celebratory rhythms. "Lost Words" eases into a twinkling, jangly indie pop piece, beautiful and bittersweet, with lots of infectious handclaps and the oft-repeated phrase "taking trips to the grocery store."
Ganglians take few opportunities to sneak in tracks shorter than four minutes in length, but when they do, the results make for lovely, light-hearted breaks from some of their sprawling, spectacular epics. "Candy Girl" is one such example, a fun and bouncy Beach Boys-like tune mixing lovely harmonies with goofball yelps in a way that dares the listener not to smile at their ingenious lunacy. And "Modern African Queen" is one of the simplest, but prettiest tracks, just acoustic guitar and voices harmoniously co-existing in a perfectly concise ballad. Yet when Ganglians stretch out, they unleash the full potential of their scruffy, psychedelic abilities. "Valiant Brave" is a true jaw dropper, just shy of seven minutes long, erupting into a dense psychedelic rocker with shades of Love and Crazy Horse, thereby creating an epic with greater emphasis on rocking the fuck out. Meanwhile, "The Void" starts off simple enough before descending into one freaky, drugged-out ambient haze. The groove-heavy "100 Years" is propelled by some monster riffs, albeit ones treated with the right amount of reverb, creating the one instance in which they might sound at home alongside Crystal Stilts. And "Crying Smoke," bright and twangy, is simply a great pop tune with little fuss and a lot of heart.
Fuzzy and crackly Ganglians' songs may be, the static only serves to enhance the sun-soaked psychedelia that the group dispenses. It's like the sepia tint on an old photograph, or the frayed edges on an old newspaper. It's comforting rather than intrusive, but most of all, it's just a recording technique, and what matters most are Ganglians' songs, which are so full of life and joy, they'd sound magnificent no matter what technology played a part in their creation.
Similar Albums:
Akron/Family – Love Is Simple
Neutral Milk Hotel – In the Aeroplane Over the Sea
Grizzly Bear – Veckatimest
MP3: "Lost Words"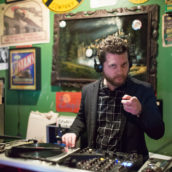 Jeff Terich
Jeff Terich is the founder and editor of Treble. He's been writing about music for 20 years and has been published at American Songwriter, Bandcamp Daily, Reverb, Spin, Stereogum, uDiscoverMusic, VinylMePlease and some others that he's forgetting right now. He's still not tired of it.