Hall of Fame: Sleater-Kinney – The Woods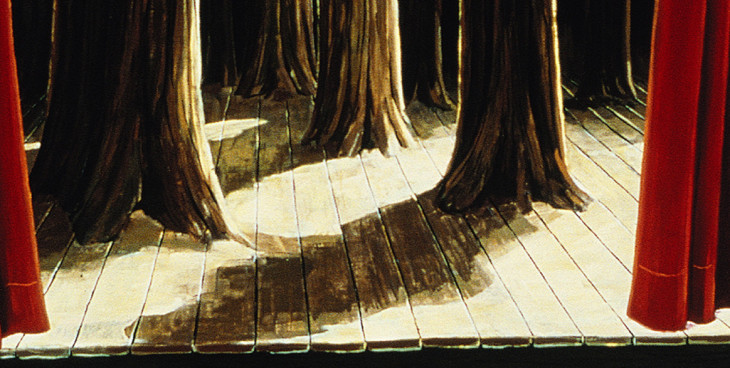 Treble is celebrating its 10-year anniversary by posting a series of articles that reflect the last 10 years of music, including a series of Hall-of-Fame essays on significant albums released between 2003 and 2013. These are albums that left a significant impact not just on us, but also music on a greater scale (but mostly on us). We'll be posting a new reflection on a significant album from the past 10 years every day for the next few weeks.
---
I'm going to be perfectly honest with you. I didn't get into Sleater-Kinney up until about two years ago. My introduction to Carrie Brownstein came much the same way as many others' did, with the beginning of Portlandia and her new band, Wild Flag. The humor at the heart of Portlandia — satirizing yuppie/hippie stereotypes of eating organic and carrying reusable grocery bags — resonated with me while I was living in Santa Cruz. But deeper listening and extensive reading of music blogs only deepened my interest in Brownstein.
Her transition from indie superstar to writer/actress is an interesting and fairly unusual one. Though she's a major part of a heartwarming and funny show, Brownstein is also a very talented (and underrated) musician. Wild Flag released their outstanding debut 2011, which captured the energy of a dynamic group of four women who had been playing rock music for more than 20 years each. And it was through Wild Flag that I discovered Sleater-Kinney.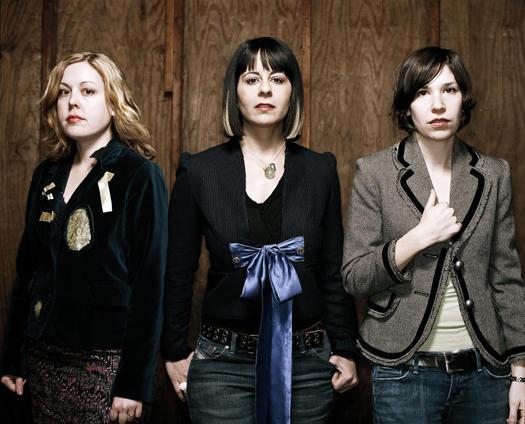 Since debuting with a fairly obscure self-titled debut in 1995, the group released a string of really great post-riot-grrrl punk records. Dig Me Out and The Hot Rock are two such great entry points into discovering the band — and essential listening at that — but no album is more potent, sharp and emotional than their final release, The Woods. By the time I discovered this jaw-dropping record, Sleater-Kinney were well into a long hiatus and each member had moved on to other successful endeavors: Carrie Brownstein with Portlandia and Wild Flag; Janet Weiss continuing her work with Quasi, a collaborative project with Zach Hill and Pearl Jam's Matt Cameron cleverly titled Drumgasm, and likewise playing with Brownstein in Wild Flag; and Corin Tucker temporary breaking from music to focus on being a mother, later re-emerging to form The Corin Tucker Band.
Sleater-Kinney never really broke up, much like punk greats Fugazi. But living in a world without the gift of being able to hear this band's combined talent continue to thrive is disappointing, to say the least. Given, there have been some bands, like Savages, who have risen to the occasion, displaying elements of the same sound and attitude on debut album Silence Yourself. But it's still not close to what Sleater-Kinney crafted. Their hiatus, which began more than seven years ago, seemed so abrupt, and it almost felt like they practically vanished, a mere memory of a band. But critics still speak fondly of their influence. One Beat just celebrated its 10 year anniversary last year — inspiring a few thinkpieces on the occasion — and it sounds as modern as ever. However, The Woods holds a special distinction as being a grand finale to a long and incredible, if sometimes overlooked career. And drawing another parallel to Fugazi, much like how The Argument is held in esteem as a great final entry, The Woods is Sleater Kinney's magnum opus, an album they had been working toward through their entire career.
In a 2005 interview conducted by Pearl Jam's Eddie Vedder, the band discusses the process of the album and what the sessions were like under famed producer Dave Fridmann (Flaming Lips/Mercury Rev). Brownstein notes that Fridmann was overly critical of the bands past work, claiming all their previous records sounded the same and was reticent in offering any positive feedback to them. Similarly, Weiss recalls the goal of making The Woods was to create something, "…intense, heavy and aggressive. We pushed ourselves so hard, almost to the point of irritation." From the clenching opener, "The Fox," it's apparent the emotion was built up and ready to blow. Tucker's vocals seem to echo as she wails from her pipes, "Oh Fox! Is this love? Can you tell me? What is love?" Vedder comments in his interview, that the vocals on "The Fox" are nothing short of mesmerizing. Tucker retorts, "I think this whole record kept pushing in this territory of doing something so different and so outside of ourselves." "The Fox" — an explosive, breathtaking standout on its own — sets the stage for nine more tracks beaming with emotion and intensity. "Wilderness" describes the fictional story of a couple, moving to the Pacific Northwest. Brownstein and Tucker trade off separate verses, describing a very grim tale of a break up gone wrong, ending with Tucker's re-hash of the chorus, "All the little wishes have gone dry."
Released as a single, "Jumpers" is one of many highlights featured on The Woods, narrating a tale of loneliness, depression and suicide. Despite its darkness, though, "Jumpers" is a monumental track featuring some of the best guitar playing from Brownstein and Tucker, who practically blow out the damn speakers as they tear through their riffs. Strangely enough, the music video for "Jumpers" served as an analogous text for Brownstein's post-Sleater-Kinney career. Most of the music video takes place in an office setting with a main protagonist who leaves the cubicle by flying away over a city. After the band ended, Brownstein actually took a job at an advertising agency for six months as she discussed on Wait! Wait! Don't Tell Me!, but didn't seem to fit in with having a regular day job. Of course, Brownstein retraced her steps and returned to music and television.
The Woods' true tour-de-force suite doesn't come until the final two tracks, "Let's Call It Love" and "Night Light." While split up into two tracks, Brownstein notes in Vedder's interview, that both songs were done in one take. Considering the former stretches to an incredible 11 minutes and immediately transitions without notice into the latter, it's more accurately a 15-minute rock suite that really shows off the band's talents. Sometimes it feels some part of you is torn away, just hearing all three women playing their best and composing one of the most vicious rock songs released.
While it may sound, from a listener's perspective, that The Woods was an exciting record to make, all three members note that it wasn't. Brownstein recalls a lot of crying, tension and the album not being a simple process. Deeper insight into these tracks, considering its content and tone, would indicate that it's most likely coming from band breaking out of their comfort zone — and very nearly breaking. Clocking in at about 50 minutes, The Woods is an album that takes its toll on a listener. From Weiss' ferocious drumming to Brownstein's guitar ripping and finally Tucker's haunting vocals, The Woods isn't just another album, it's a monument in rock music.