Have A Nice Life : Sea of Worry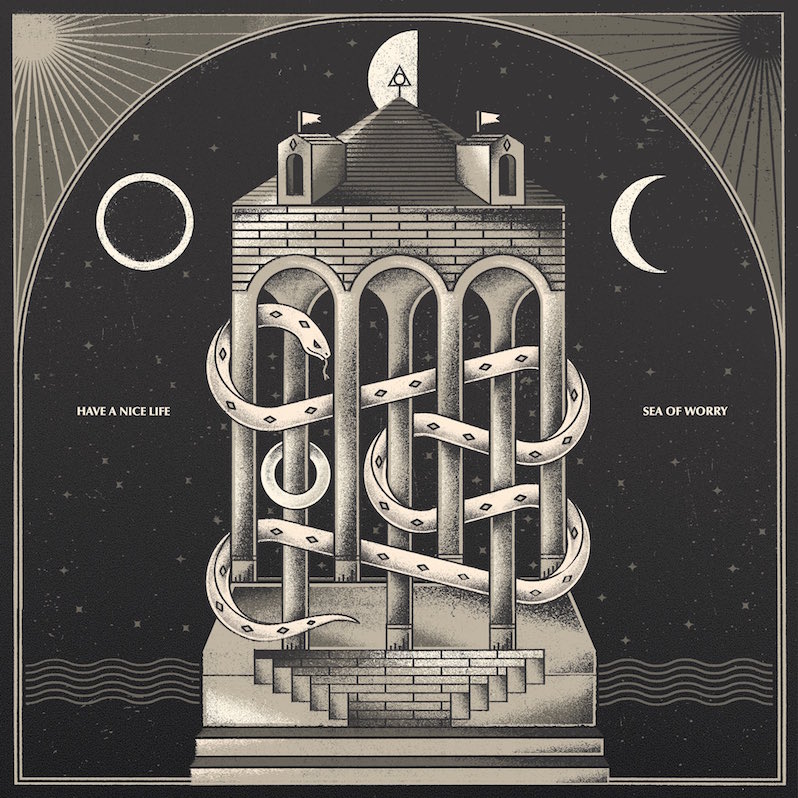 From the ambitious and haunting melancholy of Deathconsciousness to the depressive fervor of The Unnatural World, Have a Nice Life have spent a great portion of their time crafting albums that are designed to reflect a genuine worldview that is immersed in darkness, or perhaps submerged in nihilism. These albums are as philosophical as they are coherent with vocalist Dan Barrett and guitarist Tim Macuga's life experiences and influences. The single most interesting aspect about the band's third album, Sea of Worry, is that it displays a growth and maturity that is equally as startling and profound.
Sea of Worry is a new venture for the group. Now expanded to a full band, the dynamism and inherent sound of the group has expanded to unprecedented heights. Sea of Worry is divided into two halves, each of which operates in distinct fashion from one another. Through this dichotomy we see that while both sides lyrically steadily caress the boundaries of an existential oblivion, they operate in two different aesthetic forms. It's effectively the present meeting the past, realized in a far more rigorous effort. As an album, both sides, both halves avoid the sometimes directionless (although brilliant) spirals of their prior LPs but instead operate with a fixation and calmness that conveys maturation and planning.
The first half begins with the title track, which leans heavily into post-punk with blurry guitar tones and a pulsating bass that mummifies the track in subterranean trenches of abyssal black. Its chorus is once more a testament in its brutal honesty: "Fell every tree in the forest/Put a bullet in every poet/Flatten every mountain/Level every hill/You'd best believe it/Cause they fucking will." The message is bleak, the potentiality for living in a dystopian corporatized environmental apocalypse is something we are already living, we just choose not to accept it. Tonally this song is upbeat, but don't be fooled, there is a snarling mass of lyrical brutality below the surface.
Continuing the gothic dancehall explorations, the pop aspirations of "Dracula Bells" benefits from Macuga's articulate guitars. It's the second half of the track that should dispel any notions of the band severing ties with their former sounds. After a break, a bassline emerges that is so grisly it sounds like its neck is being scraped across the concrete, while the drum set is blown out into smithereens against a soundscape of jagged pianos. Dan's vocals calling the track into a decadent mass of apocalyptic noise. "Science Beat" acts as a wonderful palate cleanser, while keeping the momentum of the album going. Beautifully harmonic, contemplative and rich, there's a velvety overlay to its production that floats into ethereal space, closing with Dan's vocal track laid out in endless repetition of one of the most hauntingly beautiful lines in HANL's storied career: "All along/ I've felt an invisible hand guiding my errant heart/I consume and am consumed in part."
The first half closes surprisingly with "Trespassers W," a veritable pop goldmine. It's also one of HANL's oldest tracks, appearing off demos from ancient yesteryear. Its howling delayed guitars and simplistic percussive structures play off each other beautifully, but its second half escalates, playing more with volume and tonality. It's perplexing, but ultimately a fitting way to end the first half.
The second half opens with "Everything We Forget," and its tonal shift couldn't be more abrupt. Ascendant, cosmic, and beyond reach, it's a soundscape so pummeling that its base congruent harmony resembles that of a Gregorian chant, a droning choir that percolates along deep keyboard note accents. Its beauty is equalled by its anxiety and forward focus. The foreboding "Lords of Tresserhorn" is a shining gem, a track rife with anguish and fear, returning to the starting point of "Cropsey" from The Unnatural World, carrying a similar repetition that builds into a beautiful harmony of sonic structures collapsing on one another. There are immense striations of mutated titanic kickdrums and digital instruments tuned into a spectral consciousness. It is beautiful and pure and lacks the inherent menace of "Cropsey." That's also why it is ultimately more terrifying.
Sea of Worry ends with one of the most powerful tracks within the group's entire discography: "Destinos," a 14-minute, sprawling epigraph, and a thesis of the current band. Curiously, it's another reworked track of old. The song starts with a sample of an extreme, crazed and borderline incoherent gospel rant, so when Macuga's guitar arrives it's like an angel's whisper, a savior from the madness that encloses the listener. It's also deeply apocalyptic, owing far more to Deathconsciousness' brand of contemplative angst, but like all moving pieces of Sea of Worry, infinitely more refined and nuanced. It's a layered affair of hymns so corrosive they feel frail, yet sound impossibly robust. It's within this layered space of warm reverb drenched processions that Have a Nice a Life embody a powerful new sound.
Sea of Worry is thematically focused on vulnerability, acknowledging that stability is inherently tied to vulnerability as its anchor. That maturation and acceptance are often devoid of grace, and all that we hope to arrive at or understand is fleeting. What is expected can and will be taken away, vanquished, witched into ether. Nothing is guaranteed, and it is with this mantra and burden in our hearts that there is a modicum of solidarity within us. For the pain we inhabit and reconcile, breathe and attempt to clench between our fists is shared. We are not alone in this sea together. Where it takes us, however is a different story altogether.
Similar Albums: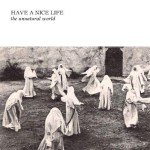 Have a Nice Life – The Unnatural World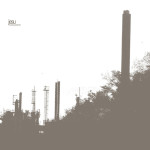 Jesu – Conqueror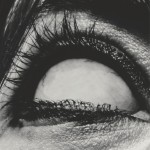 A Place to Bury Strangers – Pinned