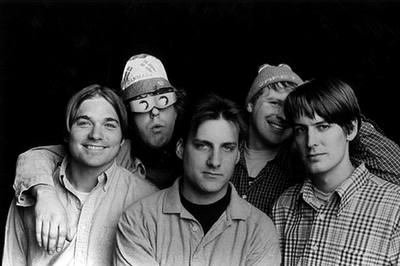 It's been an incredible year for indie rock fans. Merge Records turned 20. Polvo came back. Dinosaur Jr., Sonic Youth and Yo La Tengo proved that after decades of history, they've still got the same magic. We got a handful of great new bands like The xx, The Big Pink and The Antlers. And then we got more reunions and reissues than we could have ever possibly hoped for, starting with Sunny Day Real Estate, continuing with The Jesus Lizard, and culminating with indie rock's most sacred of cows—Pavement. And it was around this point that 2009 also became an incredible year for indie rock haters.
Within mere hours of the confirmation of Pavement's reunion, the backlash started. Anyone who ever had a gripe with Stephen Malkmus or Spiral Stairs came out of the woodwork, lobbing complaints that they could never recreate the spark they once had, or even that they never had it in the first place. Considering how dicey some reunions can be, or at the very least how underwhelming they often are, I can certainly understand the skepticism, even the general grumpiness. But something about hearing that Pavement once again had plans to take to the stage after parting ways ten years ago gave me a certain little glimmer of hope, and a tiny, cynicism-free feeling of joy. Now, I'm not so naive to believe that the band is getting together just for the pure satisfaction of giving their fans something they've been missing. No, there's likely some money involved in there somewhere, and after having seen how fast the first confirmed shows sold out, it's all but guaranteed that each show on their 2010 tour will follow suit.
Still, I don't care if Pavement gets a shitload of money out of the deal (and it's probably a shitload less than Blink 182 got), I can't help but smile at the idea of seeing this happen. Like probably 99 percent of readers of this site, I have a long history with the band's music. Buying Slanted and Enchanted used on hearsay alone was one of the better decisions I've made at a record shop. I've listened to Crooked Rain, Crooked Rain so many times I can probably recite it verbatim, though I've never really tried. And seeing them live shortly before their breakup, with a girl who, unbeknownst to me at the time, would become my wife, ranks as one of my best live show memories.
I'm not apologetic about the soft spot I have reserved for Pavement, and there's not a single person reading this that doesn't feel the same way about any number of other bands. And my affection isn't limited to Pavement. I was just as geeked on Sunny Day Real Estate, though I didn't get tickets to see them, unfortunately. But I'll admit that even I was surprised at my own reaction. Indie rock and I have a strange relationship. In high school, it was all I cared about; that and girls. I chased import Stereolab singles, studied the Elephant 6 collective, snatched up as much of the Matador discography as I could afford and read Magnet cover-to-cover on a bi-monthly basis. And I was almost guaranteed to find something new and exciting just by thumbing through the "indie" section at Lou's Records. It's hard not to feel nostalgic about those days.
It's pretty much because of a shared love of indie music that Treble even exists, but after a few years, right at the tail end of 2006, a switch went off in my head. After reviewing hundreds and hundreds of indie rock records for this Web site and a variety of other magazines, I had reached a breaking point. I couldn't handle any more flubbed chords, cracking voices, superfluous accordions or lo-fi tape hiss. I hated Islands. I hated Mates of State. I hated Cold War Kids (well, still do actually). I hated anything considered "blog-rock," and I wanted to take a sledgehammer to any album by a watered-down Joy Division, Neutral Milk Hotel, Pixies or, yes, Pavement. For a few solid weeks all I wanted to listen to was Mastodon, Scott Walker or Ghostface Killah. And, quite frankly, I feel the same pangs every now and again.
The thing is, I couldn't really stay away from indie rock that long. It's nearly impossible. I'd almost wager that 99.75 percent of all music, somehow, could technically be considered "indie rock." Consider how many artists are on independent labels; major labels are nigh obsolete at this point, and even Warner Bros. and Sony have their respective Built to Spill and Modest Mouse. It's practically inescapable. In fact, just about everyone who has even picked up a guitar could, by some metric, be considered indie rock. But nomenclature and distinction wasn't the problem, it's more that, to so many of those who have strapped on a guitar, indie rock has a narrow definition. And it's a minority of them who choose to challenge that definition.
Music journalist and Parts & Labor alum Christopher Weingarten recently blamed blogs and crowdsourcing for encouraging the prominence of mediocrity. To some degree, he's got a point. While the emergence of more alternative sources of music criticism and hype have shown that underdog bands and unknown sounds can get a fighting chance, it's just as easily shown that one can get too caught up chasing the next Clap Your Hands Say Yeah when leaving oneself open to something else entirely would better recreate that sort of initial thrill of discovery. I've been there; come to think of it, I've bought my share of terrible albums under the assumption that they sounded like Jawbox or The Apples in Stereo.
Irritating as it may be to run into one source after another recommending bands with more outlandish names than melodies, it's important to remember that indie rock, as a term, is fairly broad. So broad, in fact, it approaches meaningless. Consider that all of the following can somehow be classified as indie rock: Tortoise, Broadcast, Fucked Up, Antony and the Johnsons, Why?, Lightning Bolt, Animal Collective, Cut Copy, Black Mountain, The Boredoms, Gang Gang Dance and Belle and Sebastian. If there's a common thread it's in principle, rather than in sound. But that's exactly why, in theory, it should provide a bottomless well of promise for those whose tastes only allow for one Spoon, half an Interpol and zero Tapes `n' Tapes.
This year has seemed particularly fertile for indie music, starting off with a jaw-dropping career high from Animal Collective, which was followed up by similarly stellar feats by The Dirty Projectors and Grizzly Bear. Bat For Lashes and St. Vincent released their own unique and kickass variants on ethereal pop. No Age and HEALTH took big leaps forward. The Antlers released one of the most gorgeous pieces of music committed to tape in quite some time. And Bradford Cox somehow manages not to stop moving, ever. These names could mean very little to some, and if, when you hear the words "indie rock," all you can think of is Fleet Foxes, then maybe I can't help you. But for those willing to look past the '90s throwback slacker-rock bogeyman, it's a fertile field for certain.
I've come to recognize that I will probably always have a fondness for indie rock, whatever that means. And I approach the Pavement reunion with cautious excitement, preparing myself for something underwhelming while remaining giddy on the inside over just the sheer principle of it happening. And I also approach it knowing that the group inspired thousands of half-assed imitations, but I don't begrudge them that. It's an inevitable side effect of doing something worthwhile. The great thing about indie music is its other inevitability: eventually, after enough cycles of rehashes and retreads, something truly new and different will come along.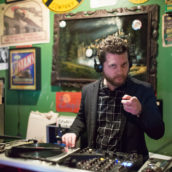 Jeff Terich
Jeff Terich is the founder and editor of Treble. He's been writing about music for 20 years and has been published at American Songwriter, Bandcamp Daily, Reverb, Spin, Stereogum, uDiscoverMusic, VinylMePlease and some others that he's forgetting right now. He's still not tired of it.