Interview: Dinosaur Bones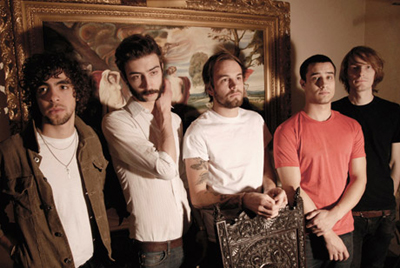 In March, Toronto quintet Dinosaur Bones released their debut album, My Divider. It's a mixture of moments of quiet, subtle progression, juxtaposed with bursts of visceral post-hardcore, reminiscent, at times, of mid-'90s acts such as No Knife or Chavez. The band has a hectic schedule of touring looming, though they just put another SXSW notch under their belts. With a little time back home in Canada, however, frontman Ben Fox talks to us about the new album, choosing music over college and keeping their songs from becoming too aggressive.
Treble: So, you just got back from SXSW; how many shows did you play while you were there?
Ben Fox: We played three full on shows, a couple acoustic shows and a radio session. We've played at least two or three shows since then. One was a crazy art party, which was very strange, but kind of fun. There were a bunch of middle-aged people getting hammered and looking at art.
Treble: When writing the new album, My Divider, did you have a particular theme or underlying idea that you wanted to explore?
BF: Not consciously, no. The songs on this record were part of a new project and new musical direction for most of us. The goal was just to be as honest as possible, sincere.
One of the big things that's at the front of my mind is to make sure that everything that's happening is happening for a reason. A lot of the music I like has a little drama or conflict. I favor music with a sense of emotional weight to it. It was kind of cool because he had played in other bands, so it was kind of a clean slate.
Treble: Tell me about the songwriting process. Where do the songs begin, and how do they evolve?
BF: I usually write the songs, and kind of demo them to varying degrees. Sometimes it's just a skeleton. Generally after I demo the songs, I'll bring them to the band and then we all work on them, to kind of make them make sense.
Treble: How much time did the band spend working on the album?
BF: As far as recording the album, we had a good, full month, which is a crazy luxury for us. We had never been able to take the time to experiment in the studio before. Most of the music we've made with other projects has been much more rushed. Have the songs ready, practice, practice, practice, get in, record, and get out. It was nice to take the time to flesh these out more.
Treble: There seems to be a great contrast between more subdued, subtle sounds on the album, juxtaposed with moments of intensity. How much of a challenge is it to maintain that balance?
BF: It's funny, because I demo the songs, but the way they always end up sounding live or on recording is a lot more aggressive than how they started out. It's more of a challenge to rein them in from getting too in your face. If you listen back to the demos, it's kind of night and day. But I kind of like that conflict — melancholy, but aggressive.
Treble: So, it's more a matter of reining things in before the songs get too aggressive?
BF: Totally, it requires discipline to reel things back. But our live shows are quite a bit more sonically aggressive than people would probably expect. That's something we to try to save, though, so that there's a bigger conrast. So some of it is more low-key, but when it hits it hits.
Treble: I understand you actually left college to pursue music full time. How did you ultimately reach that decision?
BF: I was in this situation, where, I'm from Toronto, but I was going to school in Montreal. And I was really separated from all the musicians and infrastructure I needed to get the band off the ground. I tried to get it going in Montreal, but it just wasn't happening. So, as it started to pile up, I realized I had to go back to Toronto and do it.
Treble: Did you have a moment of hesitation before committing to it?
BF: There was, initially, but as time went by, I realized it was dominating my thoughts, and the decision became easier and easier.
Treble: When you're not performing or recording, how do you spend your time?
BF: Most of us have crappy day jobs, so that eats up a lot of time. Our schedule has gotten crazy, lately, which is kind of cool. So we're actually not around that much. We've really only been home a few days since the album was released.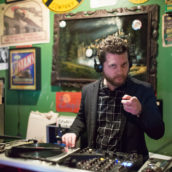 Jeff Terich
Jeff Terich is the founder and editor of Treble. He's been writing about music for 20 years and has been published at American Songwriter, Bandcamp Daily, Reverb, Spin, Stereogum, uDiscoverMusic, VinylMePlease and some others that he's forgetting right now. He's still not tired of it.