It's somewhat ironic that Islands' second album Arm's Way, the band's first since founding member J'aime Tambeur left the group, is considered to be their first "band" album. It's odd to think that a band could truly come to form a semi-permanent whole without one of its founding members, but then again, given this band's history, it makes more sense than logic may lead one to believe. Islands' first album Return to the Sea was more of an indie rock house party, with players throwing things at the wall, without even bothering to see what would stick. Backed by members of Wolf Parade, Arcade Fire and some video game champs, Tambeur, Nick Thorburn & Co. paired orchestral arrangements with smart-assed lyrics, tossed raps in the middle of rock songs, dropped some calypso tracks between lo-fi folk tracks, sandwiched them between some nine-minute epics, called themselves Islands and put some icebergs on the cover.
With Thorburn's onetime songwriting partner no longer interested in being part of a band, Nick surges forward with a fully fleshed-out band and records Arm's Way, a bigger, proggier rock `n' roll record with as much variety as Return to the Sea, but a bit more in the way of a cohesive listening experience. With Arm's Way, Thorburn and his merry band beef up their arrangements, keeping the same emphasis on strings and style-shifting, yet playing up their rock aspect to a greater extent. One will not find nearly as many songs in the vein of "Joggin' Gorgeous Summer" or "Don't Call Me Whitney, Bobby," but rather many with the ambition and wide scope of "Swans."
Arm's Way opens majestically with the rock opus "The Arm," built upon big rock riffs and sweeping strings, bringing to mind the spectacular sounds of fellow Canadian outfits Destroyer and Sunset Rubdown. From this first song there is great promise, though this initially gave me a bit of pause, as the best song on Return to the Sea, unfortunately, was the first one. Thankfully, that trend doesn't continue with Arm's Way, as the group sustains the energy and power of that first track with "Pieces of You," a Man Man-like true story of murderous teenagers in Montreal. "J'aime Vous Voir Quitter" could be read, by title alone, as a message to former Island J'aime Tambeur, though the song is far too silly to be taken all that seriously, particularly with the Soca breakdown in the middle.
"Abominable Snow," which has been a part of the band's repertoire, reportedly, since The Unicorns, is a mighty standout, both in its unstoppable melody and accounts of (what else) abominable snowmen "through the snowy parts of Canada." The hard-grooving new wave of "Creeper" is likewise outstanding, and maintains the dark themes that are interwoven throughout the album: "Right from the start, I was stabbed in the heart/ didn't know I wasn't breathing, didn't know I had been bleeding."
Given that the band has taken to more greatly inflated prog tendencies (which should be evident from that weird-assed album art), many songs throughout Arm's Way undergo a sort of transformation. "Kids Don't Know Shit" begins with a hushed melody before exploding into a rock anthem with a Bowie-influenced sound. "In the Rushes" juxtaposes intricate string plucks with a dub-like guitar scratch before breaking down into a flamenco interlude. Nowhere are Islands' musical journeys more exciting than on "I Feel Evil Creeping In," a subdued yet no less heroic feat of melodic wonder that finds Thorburn's dark and dramatic moods at their peak. And "Vertigo," all 11 minutes of it, is as exhausting as they come, but well worth it.
Islands have come a long way in two years, yielding a solid album in Arm's Way. Given its near 70-minute running time, it's hard to take all of it in one sitting. Yet Islands, as a band, have shown considerable growth with this album, revealing their true potential and an even more sinister side to their art-rock compositions.
Similar Albums:
Sunset Rubdown – Random Spirit Lover
The Fiery Furnaces – Widow City
Malajube – Trompe L'oeil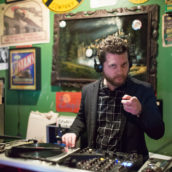 Jeff Terich
Jeff Terich is the founder and editor of Treble. He's been writing about music for 20 years and has been published at American Songwriter, Bandcamp Daily, Reverb, Spin, Stereogum, uDiscoverMusic, VinylMePlease and some others that he's forgetting right now. He's still not tired of it.