John Carpenter : Lost Themes III: Alive After Death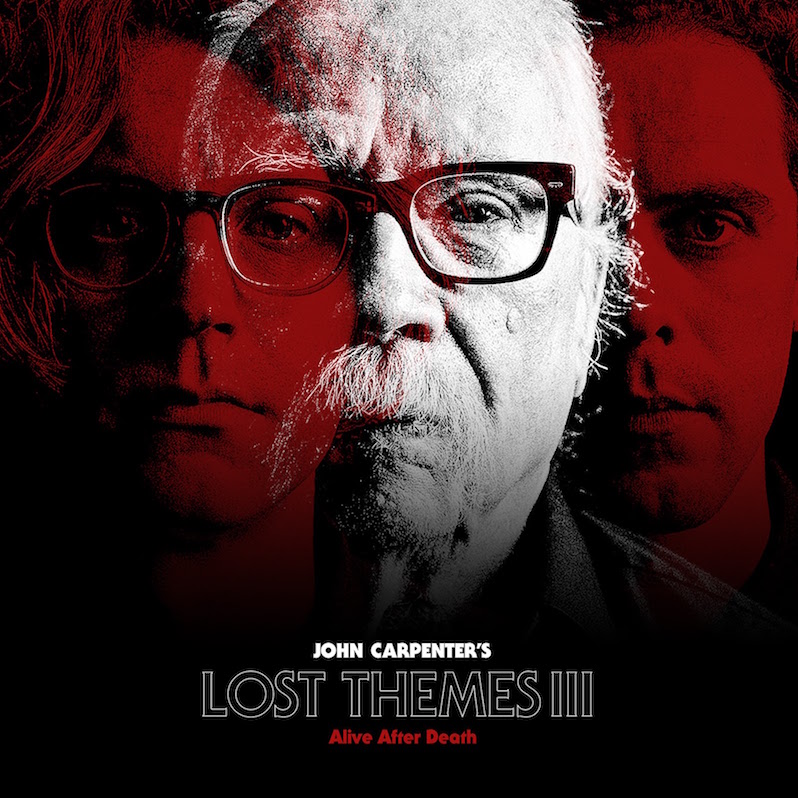 John Carpenter didn't necessarily set out to inspire a generation of electronic artists—scoring his own films was just a way to save a buck, and synthesizers were the simplest tool to use. But it seems he has embraced his fatherly legacy, perhaps convinced by his recording partners godson Daniel Davies and son Cody. Like the second installment, Carpenter's Lost Themes III is more deeply layered than ever, resounding with the reciprocal influence of Carpenter's musical progeny: Gunship, Zombi, and Umberto, just to name a few. 
To describe some of these songs feels akin to spoiling a movie, such are the twists and turns, but just like watching Halloween (for the first or umpteenth time) we all know what's going to happen—the fun part is going along for the ride. Like any work of Carpenter's, if you take it too seriously it loses some of its appeal. Equal parts cool ambiance to searing bite, ominous introspection to fist-pumping badassery, this record runs the gamut of the Carpenter aesthetic in delightful variety. Where previous releases demanded our attention, Alive After Death invites us along. There are multiple track long stretches of mostly ambiance, before building back up to rip-roaring force. 
Opening and title track "Alive After Death" jogs our memory, immediately taking us into Carpenter's world with his trademark synths scattering around, stark and spacious. "Weeping Ghost" is the most immediately gratifying, driving and forceful, a straightforward rhythm cut open by bending synths with a winking dazzle of 80s glam. Mostly ambient tracks "Dripping Blood" and "Dead Eyes" do have their own appeal, but mostly serve to build the sense of tension and wonder, all leading to the centerpiece of the record: "Vampire's Touch." A driving pulse crowned with the hallmark simplicity of piano and soft synths gives way to skittering percussion, building ominously until that guitar comes growling in and you know you're done for.
The Lost Themes project works best when it serves as an outlet for Carpenter's creative overflow, showcasing the new heights he can go when unconcerned with accentuating a film. If there's a criticism to levy, it would be one of indulgence: heroic anthems without the complexity of an anti-hero forcing us to examine our own desires, and villainous motifs stripped of the extended metaphors about our society. This music shouldn't satisfy us, it should prompt us to go rewatch some great films. Or better yet, to follow the master's lead, let our darkest fantasies run amok and see where our own minds take us.
---
Label: Sacred Bones
Year: 2021
---
Similar Albums: